Chapter 19: The Job Application Process
Venecia Williams
Explain how to prepare for the job search
Describe the differences among functional, reverse chronological and combined résumés
Discuss what features are required in each type of résumé
Identify the main sections of a cover letter
A number of complex communication situations arise during the process of searching for, applying to, interviewing for, and accepting a new internship or job. The stakes are high as you consider how to position yourself as a professional in your field and it is deeply personal, so many people often feel unsure of themselves or nervous about this process. Your application materials are not just forms to fill out, but strategic and persuasive communications that will need to be customized for each potential employer and at every phase in your career. As with any type of communication, these skills take practice and preparation.
Starting the Job Search
The job search is more than finding a job posting for which you fulfill the requirements. This planning phase allows you to gather the information and language that you need to make yourself a strong applicant. It is important to know yourself and your field as you gather information.
Know Yourself
As you begin the process of finding and applying for employment in your chosen field, it is important to take stock of your education, technical skills, and the experiences and characteristics that make you an ideal employee and co-worker.  This self-assessment is the foundation for building strong job materials. Beyond evaluating your skillset, this is also an opportunity to take stock of the types of environments you will thrive in:
Do you work better independently or in groups?
Have you always imagined working for a large company, with the structure and perks that offers? Or do you see yourself working on a smaller team, perhaps taking risks for a project you believe in personally?
Do you like developing new ideas and planning? Do you like seeing through a complex project to the finish?
Use this information as you search for potential jobs and evaluate employers. Seeking out a work environment and job that suits your strengths and preferences will give you an advantage in the job search and in your career.
Know Your Field
Use the resources available to you (career services, job websites, networking events) to find positions.  Go to career fairs or industry conferences and make connections.  Keep yourself informed and up-to-date on the projects and initiatives happening within your chosen field and especially of those employers that most interest you. This is not something you only do the night before a career fair or an interview – expose yourself to these ideas and discussions over a long period of time. These types of resources are a great place to get started:
Organizations and conferences. Connecting with and simply being aware of organizations in your industry will expose you to current ideas and developments in the field. Most host conferences on a regular basis and even just reading the call for presentations or the titles and abstracts from a recent conference will introduce you to new terms and concepts, laying the groundwork for future learning or research.
Company blogs or white papers. Most companies "talk to" the public or the industry in some way to manage public perception, promote accomplishments, and (often) recruit employees. These might be highly technical or more casual or promotional in tone, depending on the company culture, industry, and their goals; any of these provide valuable insights.
Social media. Following both companies and individual professionals will introduce you to their work, concerns, and developments in the industry. It also might make it easy for you to get exposed to these ideas as part of your regular online habits.
Local networking or meetup groups. Professionals often hold events at a local level to meet each other and learn about what other companies in the area are doing. These might be purely social or they might include learning opportunities in the form of talks and presentations.
Soft Skills
In the process of completing the self-assessment, you probably discovered that you have lots of skills and strengths seemingly unrelated to your field. It's important to remember that even unrelated experiences have taught you "transferable skills" – skills that may not be technically related but are considered important to any field. These "soft" skills are consistently ranked high on employer lists of desired attributes and include organizational skills, leadership abilities, teamwork experience, communication skills, problem-solving, meeting deadlines, and so on. In the job search process, it is important to be able to describe your previous experiences in language that employers recognize as valuable. Figure 19.1 lists some common skill attributes and ways to describe them.
Organization Management & Leadership
Research & Planning
Communication
Interpersonal
Other

Initiating new ideas

Coordinating tasks

Being detail‐oriented

Managing or directing teams or groups

Coaching

Selling ideas or products

Decision‐making

Managing conflicts or problems

Managing budgets

Forecasting

Coming up with ideas

Identifying problems

Developing solutions

Solving problems

Imagining alternatives

Gathering information

Analyzing and evaluating information

Setting goals

Defining needs and requirements

Speaking effectively

Writing concisely

Listening attentively

Facilitating group discussion

Providing appropriate feedback

Being tactful

Negotiating

Persuading

Interviewing

Editing

Being sensitive to feelings and moods of others

Listening

Developing rapport

Providing support

Motivating

Negotiating

Sharing credit

Teaching/training

Delegating

Cooperating; working with a team

Managing time effectively

Setting and meeting goals

Being a self‐starter; self‐motivated

Working independently

Enlisting help when needed

Meeting deadlines

Being diligent; tenacity to get the job done; follow‐through

Being responsible and reliable
Figure 19.1 | Phrasing for Common Skill Attributes
Know the Job
Oftentimes, a job description describes the "perfect" candidate. The advertisements are a long list of every possible skill, attribute, and set of experiences a company wants in a potential employee. However, realistically, very few people may have all the qualifications listed. Employers will likely have in the backs of their minds the skills they consider transferable or learnable, and it is in your best interest to figure out where the employer may be willing to make skill and/or experiential trade-offs.
When you find a job advertisement, read it several times and highlight keywords and skills. Note what specific qualifications are required for the position and the language used to describe these qualifications (such as "must have," "needs," "should be," and "ideally"). Compare this to the qualifications you have that are the same or transferable and note how you can effectively and specifically describe your qualifications to address the needs and wants outlined in the job description. In your cover letter and résumé, it then becomes your mission to persuade the employer you should be interviewed (and then hired) based on your qualifications and transferable skills.
Designing an Effective Résumé
A résumé is a document that summarizes your education, skills, talents, employment history, and experiences in a clear and concise format for potential employers. The résumé serves three distinct purposes that define its format, design, and presentation:
To represent your relevant professional information in writing
To demonstrate the relationship between your professional information and the problem or challenge the potential employer hopes to solve or address, often represented in the form of a job description or duties
To get you an interview by clearly demonstrating you meet the minimum qualifications and have the professional background help the organization meet its goals
Before you start writing, it is important to first consider the rhetorical situation for this particular type of communication. What is the intended effect? What are you trying to accomplish? Who is your audience? How will they be accessing and reading your document? Each decision you make about what to include in your résumé and how it should look should be made with these factors in mind, plus more, based on your knowledge of the specific employer or position.
What to Include in Your Résumé
Résumés have several basic elements that employers look for, including your contact information, objective or goal, education and work experience. Each résumé format may organize the information in distinct ways based on the overall design strategy, but all information should be clear, concise, and accurate. The content in your résumé should be carefully selected to present the best, most applicable qualifications for a particular employer.
Contact Information
The contact information section is often located at the top of the document. The first element of the contact information is your name. You should use your full, legal name even if you go by your middle name or use a nickname. There will be plenty of time later to clarify what you prefer to be called, but all your application documents, including those that relate to payroll, your social insurance number, drug screenings, background checks, fingerprint records, transcripts, certificates or degrees, should feature your legal name. You should also include your address, phone number(s), and email address. If you maintain two addresses (e.g., a campus and a residential address), make it clear where you can be contacted by indicating the primary address. For business purposes, do not use an unprofessional email address like sexiluvr93@hotmale.com or tutifruti@yafoo.com. Create a new email account if needed with an address suitable for professional use.
Career Objective
The career objective part of your résumé is relatively simple to customize for an individual application. Your objective should reflect the audience's need to quickly understand how you will help the organization achieve its goals.
Summary of Relevant Qualifications
The summary of relevant qualification gives you the chance to highlight your relevant experience and qualifications, and it gives the recruiter an overview of what will follow in your résumé. List four to eight bullet points with qualifications or experience specifically connected to the job requirements. Note that some applicants opt to include career objective or summary of relevant qualifications.
You need to list your education in reverse chronological order, with your most recent degree first. List the school, dates of attendance, degree, and any certifications received. You may also want to highlight relevant coursework that directly relates to the position.
Work Experience
List in reverse chronological order your employment history, including the positions, companies, locations, dates, duties and skills demonstrated or acquired. You may choose to use active, descriptive sentences or bullet lists, but be consistent. Emphasize responsibilities that involved budgets, teamwork, supervision, and customer service when applying for positions in business and industry, but don't let emphasis become exaggeration.
Skills
The skills section is optional but allows you to highlight a broad range of skills and qualifications, which can be useful. Include any applicable skills related to technology, communication and equipment.  However, keep in mind that you do not want this list to be redundant. If you can better show these qualifications through descriptions of your experiences, that will have more impact.
Other relevant qualifications
If you have received awards or honours; given presentations; published papers or other materials; or have other qualifications of note and relevance to the position for which you're applying, you can list these in an appropriately named section on your résumé.
Activities
An activities section is not required, however, listing your involvement in activities in the community and professional organizations can reflect well on your interest in the field, your motivation, and your time management skills.
References
You may choose to include references at the end of your résumé, though simply writing "references available upon request" is more common (and often more appropriate).
Résumé Formats
Résumés can be formatted in a number of ways, but the three most common are functional, chronological and combination. Figure 19.2 describes each format.
| | | | |
| --- | --- | --- | --- |
| Type | Function | Advantage | Disadvantage |
| 1. Reverse Chronological | Reverse chronological résumés (also called reverse time order) focus on work history. | Demonstrates a consistent work history | It may be difficult to highlight skills and experience. |
| 2. Functional | Functional résumés (also called competency-based résumés) focus on skills. | Demonstrates skills that can clearly link to job functions or duties | It is often associated with people who have gaps in their employment history. |
| 3. Combination | Combination résumés list your skills and experience first, then employment history and education. | Highlights the skills you have that are relevant to the job and provides a reverse chronological work history | Some employers prefer a reverse chronological order. |
Figure 19.2 | Common Résumé Formats
A chronological résumé, as illustrated in Figure 19.3, focuses on professional experience which is listed in reverse chronological order.
Whereas the chronological résumé focuses on employment history, a functional résumé, as shown in Figure 19.4, highlights relevant skills. A functional résumé is normally used when you do not have enough experience in the industry you are applying to or when you have many gaps in your employment history.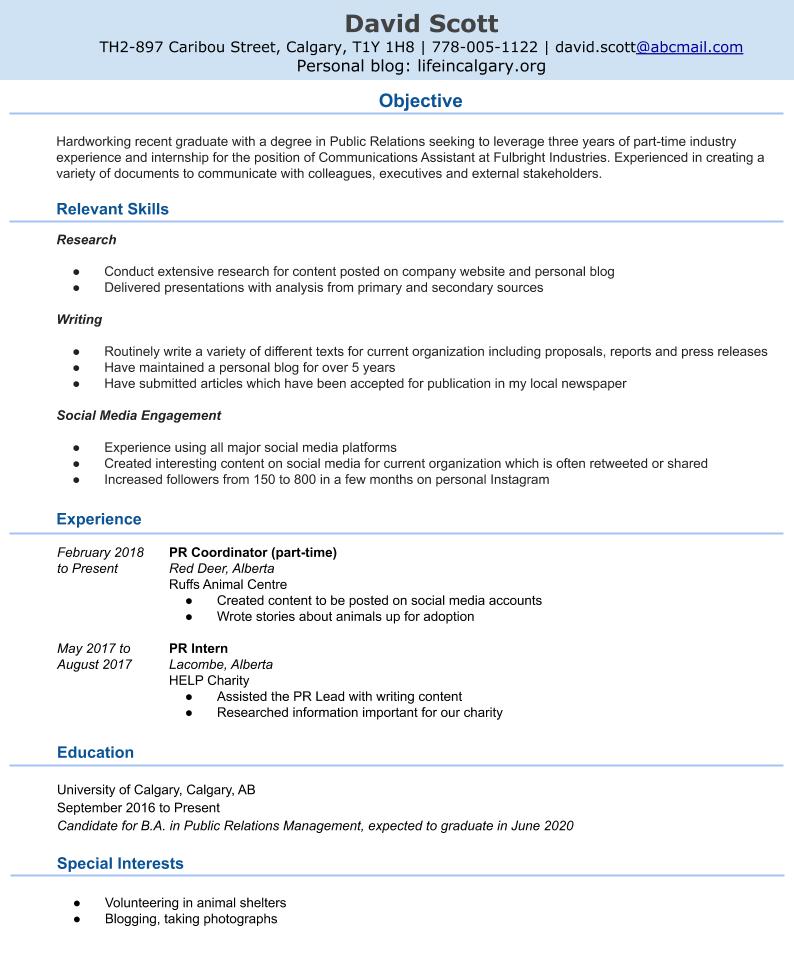 A combination résumé combines the reverse chronological and functional formats when both professional experience and skills are emphasized as demonstrated in Figure 19.5.
As you are planning what content to include in your résumé, know that information placed at the top of the document typically has the most impact. As you move down the page, though, lead with the most relevant, interesting sections, and organize the content to feature the experiences and skills that this employer will most value. You will have many questions about what you should and should not do as you are compiling and revising your résumé. You can try to find answers to these questions online, but once you know the basics, ultimately, you will need to make your own choices about the best way to present your qualifications.
If you are wondering whether or not to include a piece of information, focus on the audience's needs. Will they find this information valuable in making a decision about you as a candidate? Does it reveal something important about your skills, interests, and qualifications? Does it reveal something new about you that is not already revealed in the document?
If you are wondering how to present a piece of information, know that the options are endless, but, again, you will want to focus on the audience. Is the content presented in a way that is easy to see and understand? Is it logically connected to the information around it?
Be confident as you make these decisions. There are fewer "rules" than you might think; the challenge is to create a document that is not just correct, but that strategically reveals you as a potential candidate for the job. You don't want your résumé to look like a form or to be exactly like everyone else's. Look for ways to include those things that express your personality and passion—the things that make you unique.
Additional Résumé Writing Strategies
Once you have chosen the appropriate format and have included the appropriate content, you need to review your résumé to ensure that the length is appropriate, action verbs describe your skills and experience and that the layout makes your résumé easy to read.
Length
You may be tempted to extend your résumé to more than one page, but don't exceed that limit unless the additional page(s) will feature specific, relevant information that represents several years of work that directly relates to the position. The person reading your résumé will more than likely be sifting through many applicants and will not spend time reading several extra pages if the content is not directly relevant.
Use strong action verbs
Strong action verbs are words that you should use to describe your activities throughout the résumé, typically beginning each bullet point in the experience descriptions. These words should be varied (avoid repetition), vivid (be specific, descriptive), and honest (don't overstate your activities or experience).
| | |
| --- | --- |
| Strong Action Verbs | achieved, analyzed, assessed, built, calculated, collaborated, completed, coordinated, created, defined, delivered, designed, developed, documented, evaluated, examined, improved, interpreted, managed, monitored, prepared, presented, programmed, provided, reduced, resolved, reported, researched, resolved, supervised, solved, succeeded, supported, surpassed |
Visual Design Considerations
The content and language in your résumé, as discussed in the previous section, is the first priority, as you figure out how to explain your experiences and show the employer that you meet the requirements for the position. The visual design of your résumé—the way the information is presented on the page—also deserves some careful planning and consideration because it has an impact on the way your audience will be able to read and understand the information.
Remember that your reader (e.g., an HR representative, a campus recruiter) might be reviewing many résumés in a row and perhaps reviewing them quickly. An effective visual design can help ensure that your résumé is accessible and that it makes a good impression, which will make them more likely to consider you a strong candidate!
Here are some simple things to keep in mind as you are finalizing the design of your résumé:
Clear headings. Content needs to be categorized visually, with main section headings (e.g., Work Experience) and subheadings. Font size and type help visually organize the text on the page. All caps and bold are your best options for emphasizing headings and subheadings; italics and underlining are more difficult to read and should be used less often.
White space. A résumé that is full of dense blocks of text becomes difficult to read. Our eyes need white space to help us understand how information is connected and how it relates to the content around it. Add space above headings and subheadings.
Vertical alignment. To keep a document visually organized, similar headings and elements (e.g., a bulleted list) should fall along the same vertical line. This keeps the document clear and organized.
Coherence and consistency. The same types of information (e.g., company name, dates) should be presented in the same way—same text formatting, positioning in the section. This helps "train" the reader's eye, making sure they know where and how to find the information.
Fonts and typography. To ensure that your résumé displays correctly and is compatible with Applicant Tracking Software (ATS), it's best to use a common, standard, and professional font (Arial, Times New Roman, Tahoma). However, you can use more than one font—a serif font works well for headings alongside sans-serif fonts for body text.
Résumé Writing Tips
Here are four basic tips regarding how to approach writing your résumé:
Create multiple versions. A résumé should be customized to the specific job you are applying for and adapted based on your knowledge of the employer. You should also consider how you will be submitting the document to determine the best formatting.
Learn the conventions of your discipline. Not every professional context is the same. An engineer's résumé will likely look very different from a financial advisor's résumé simply based on the audience's expectations.
Eliminate errors from the document. Because the résumé is condensed and since it is used to evaluate you as a potential employee, there is little tolerance for typos or errors. Check grammar, spelling, design consistency, punctuation, and language. Then check it again and ask someone to review it.
Update on a regular basis. Even if you expect to stay in a job in the long term, take notes and gather information for your résumé every couple of months or after you finish a major project. It's difficult to remember the details of a complex project after the fact, so having that information documented is a huge asset.
Writing the Application Letter
Traditionally, the application letter or cover letter is a formal letter that accompanies your résumé when you apply for a position. Its purpose is to support your résumé, providing more specific details, and explaining in writing why you are a strong candidate for the specific position to which you are applying. It should not simply reiterate your résumé; it's an opportunity for you to make a case for your candidacy in complete sentences and phrases, which gives the reader a better sense of your "voice."
As always, it's helpful to start by first thinking about the audience and purpose for the application letter. What information does your reader need to glean from your letter? At what point in the hiring process will they be reading it? As you draft the letter, consider what you would want to say if you were sitting across the desk from your reader. It should be written in a formal, professional tone, but you still want it to flow like natural speech; this will make it easier for your reader to absorb the information quickly.
What to Include
It can be helpful to think about writing the application letter in sections or "blocks." This provides a basic structure for the letter. Once you have an understanding of this foundation, you can customize, update, and personalize the letter for different applications and employers.
Introductory Paragraph
Open the letter with a concise, functional, and personable introduction to you as a job candidate. This is your chance to establish the essential aspects of your qualifications and to set the themes and tone for the rest of the letter.
Name the position you're interested in (by exact name and number, if available)
Clearly state that you are applying for the position
Summarize your best qualification and how it's relevant to the position
Indicate you've enclosed your résumé for additional information
Optionally, you might also take the opportunity at the beginning of the letter to express your interest in working for this particular company and/or your passion for and interest in the field. This sets a nice tone and shows that you are engaged and enthusiastic. It is also an opportunity to demonstrate your knowledge about the employer and what they do.
Education & Academics Paragraph
The purpose of this paragraph is to paint a detailed picture of your training and credentials and how this is relevant to the position. Your opportunity in this paragraph is to explain the activities and knowledge you have gained and/or are developing that most matter for this position and employer. Carefully consider what the employer will value most about your educational experiences. If you have a lot of project management experience or several key experiences that you want to highlight, this information may be written in multiple paragraphs. Describe how your academics/training have shaped your understanding of the field you are entering and significant skills you are developing, but always tie it back to what the employer is looking for; stay focused on the information your audience needs and what they will care about.
Employment Paragraph
It is important for employers to feel that they are hiring responsible, reliable people. If you do have work experience in this field such as a previous job or internship, this is a perfect time to discuss that. If you have previous work experience not related to your field, this is your opportunity to describe the value of that experience—the value for you, but, more importantly, the value to your reader. Describe your previous work experience that shows you're a good employee and explain how this is relevant to the position. Be specific about the company, the time frame, your responsibilities, and the outcomes/results. Focus on your relevant and transferable skills.
Other Qualifications Paragraph (if applicable)
Awards you've received, publications you've achieved, and your activities and involvement outside of your academic life and work experiences, such as community organizations, clubs, and volunteer work, are great pieces of information to include that show you are a well-rounded, motivated person with good time management skills. Personal, human connections are an important part of the job application process, and describing some of these activities and interests can help your reader start to feel a more personal connection. Describe your specific actions and involvement honestly, while still trying to connect to transferable skills and the keywords in the job posting.
Concluding Paragraph
As you conclude the letter, tie everything together, politely express interest in an interview, and end on a positive note. Reiterate interest in the position and the employer, and provide contact information.
Letter Formatting Considerations
Your application letter should use formal letter formatting. In today's job market, where many applications are online, the letter might be delivered in a variety of different formats. For example, it might be a PDF file uploaded to an online application system or it might be simply sent in the body of an email. Make sure you submit your cover letter in the file format and way the job advertisement specifies.
Career Portfolios
A career of job portfolio, by definition, is a collection of samples of a person's work, typically intended to convey the quality and breadth of his or her achievement in a particular field.  A career portfolio–whether a physical or electronic version–is a place for gathering and maintaining documents important to your career. Think of it as a dynamic, expanded version of your résumé where you document and demonstrate your education, experience, and skillset. Where résumés and application letters are limited due to their genre-specific natures, the career portfolio can contain anything you want prospective employers to see. However, this does not mean that it should contain everything. It's important to be selective and to think about the items you choose to include.
As you gather documents, consider your chosen field.  What do employers in the field find valuable? What skills and abilities do employers in the field expect employees to have?  For instance, mechanical engineers might be expected to have design experience, project management experience, and effective communication skills. It might benefit a mechanical engineer, then, to include any schematics they have created, a strong project plan, and a writing sample or slide deck to document communication skills. Keep and maintain artifacts that showcase your strengths. Portfolios can be either electronic or physical.  A physical portfolio should be kept in an attractive binder, though an electronic version is easier to distribute and can be linked to on your résumé and LinkedIn profile.
Summary
Having a clear idea of your interests, qualifications and skillset are important as you embark on the job search. This knowledge will be useful to help decide which jobs suit your personal and career goals. While the information included in résumés tend to be standard, your presentation of the information can help you stand out as a strong candidate.
End of Chapter Activities
19a. Thinking About the Content
What are your key takeaways from this chapter? What is something you have learned or something you would like to add from your experience?
19b. Discussion Questions
After going through this chapter, is there anything you'd like to change about your current résumé?
Conduct an online search for job advertisements that detail positions you would be interested in, and note the key job duties and position requirements. Prepare a résumé.
When is a second page of your résumé justified? Explain.
Conduct an online search for resources to help you prepare your own résumé. Write a brief review of the Web site, noting what features you found useful and at least one recommendation for improvement.
19c. Applying chapter concepts to a situation
Arya is an international student who relocated from India to Canada to pursue her master's degree. Before relocating, she worked as a business analyst at MLK Global for five years. Arya is sure that she is an expert in this area and decides to seek a similar role for her internship. She finds a vacancy for a business analyst position at Intelcrow Financial Group, which is a world-renowned company. Arya hopes that if she is the successful candidate, her internship will lead to a permanent full-time role with Intelcrow.
Arya reads the job description and notices that the duties and responsibilities differ slightly from those of her previous job. However, she possesses skills and certifications that would help her excel in the role at Intelcrow.
Arya is worried she might not be considered for an interview because her experience is slightly different from what is required. She wonders if she should just lie about her experience and possibly get a chance at the interview or be completely honest and possibly miss out on this opportunity.
What advice would you give to Arya? Are there any other options?
19d. Writing Activity
Watch this video from TED.com on Looking for a job? Highlight your ability, not your experience. Summarize the video. Do you agree that applicants should focus more on ability instead of experience?
Attribution
This chapter contains information from Business Communication for Success which is adapted from a work produced and distributed under a Creative Commons license (CC BY-NC-SA) in 2010 by a publisher who has requested that they and the original author not receive attribution. This adapted edition is produced by the University of Minnesota Libraries Publishing through the eLearning Support Initiative, Business Communication For Everyone (c) 2019 by Arley Cruthers and is licensed under a Creative Commons-Attribution-NonCommercial-ShareAlike 4.0 International license, A Guide to Technical Communications: Strategies & Applications by Lynn Hall & Leah Wahlin, which is licensed under aCreative Commons Attribution-NonCommercial 4.0 International License and Online Technical Writing by David McMurrey and is licensed under a Creative Commons Attribution 4.0 International License.
References
Guffey, M. E., Loewy, D., & Almonte, R. (2019). Essentials of Business Communication, Eighth Edition. Toronto, ON: Nelson Education /Cengage Learning.
Indeed.com. (2020, July 10). Resume Format Guide (With Tips and Examples). Retrieved July 18, 2020, from https://www.indeed.com/career-advice/resumes-cover-letters/resume-format-guide-with-examples