Dr. Courtney Howard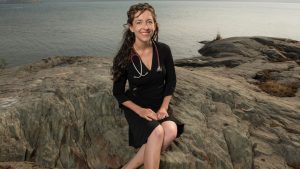 Dr. Courtney Howard is an Emergency Physician in Yellowknive's Dene Territory, a Clinical Associate Professor in the Cumming School of Medicine, University of Calgary, a Community Research Fellow in Planetary Health at the Dahdaleh Institute for Global Health Research, and Past-President of the Canadian Association of Physicians for the Environment (CAPE). Dr Howard worked in Djibouti for six months on a pediatric malnutrition project with Médecins Sans Frontières, and that experience drives much of her work on climate-related mitigation and adaptation. She has researched menstrual cups and wildfires, and led policy work and advocacy regarding eco-anxiety, vaccine equity, movement-building, active transport, plant-rich diets, fossil fuel divestment, carbon pricing, coal phase-out, hydraulic fracturing and with regards to Canada's Oil Sands. She led the 2017-2019 Lancet Countdown on Health and Climate Change Briefings for Canadian Policymakers and was the 2018 International Policy Director for the Lancet Countdown. Dr. Howard sits on the boards of the Canadian Medical Association and the Global Climate and Health Alliance, is the co-chair for advocacy for the WHO-Civil Society Working Group on Climate Change and Health, as well as being on the Steering Committee of the Planetary Health Alliance, and the Editorial Advisory Boards of the Lancet Planetary Health and the Journal of Climate Change and Health. When not in the ER or deep in a literature review she can be found dancing with her two young daughters on the shores of Back Bay in Canada's subarctic.
Dr. Melissa Lem
Dr. Melissa Lem is a Vancouver family physician who also works in rural and northern communities within Canada. President-elect of the Canadian Association of Physicians for the Environment and Founder and Director of PaRx/Park Prescriptions for the BC Parks Foundation, she is a long-time advocate for the health benefits of time spent in nature and ecosystem conservation. A widely published writer, she was the resident medical expert on CBC TV's hit lifestyle show Steven and Chris for four seasons and continues to appear on air as a regular contributor to CBC Radio and CTV News. Dr. Lem was the inaugural winner of University College's Young Alumni of Influence Award at the University of Toronto, a 2020 Joule Innovation grant recipient from the Canadian Medical Association, a 2021 World Parks Week Ambassador, and is a Clinical Assistant Professor at the University of British Columbia. She also enjoys collaborating with global colleagues on the Advisory Committee of the IUCN World Commission on Protected Areas Health and Well-being Specialist Group.
Raluca Radu, RN, MSN
Ms. Raluca Radu is a dedicated nursing professional with a deep passion for promoting planetary health and advancing knowledge in this realm. She has worked in both the public and private sectors as a clinical resource surgical nurse as well as in occupational health and safety locally and for a short duration in Northern British Columbia. In addition, she has been very fond of working in various educator roles, especially that of a Lecturer in the School of Nursing at the University of British Columbia in Vancouver, where she thoroughly enjoys being the lead for the Health Impacts of Climate Change course (Nursing 290). Ms. Radu values a learning environment conducive of positive behaviours as one that is inviting, safe to participate in, and a key determinant of success in education. Overtime, Ms. Radu has increased her understanding of the critical role served by health professionals to integrate the social determinants of health and apply an equity lens at each level of decision-making, in order to ensure all voices and stories of individuals who experience marginalization are lifted and included. This is even more critical as we face the largest crisis of the 21st century, climate change, which will only further exacerbate inequities. Ms. Radu is hopeful that through her roles as an emerging planetary health expert sitting on countless provincial and national committees, mentor, and educator she will inspire others to integrate sustainable principles into their practices and daily lives, such that we can ensure a Planet where biodiversity is protected and where future generations can thrive. Contact email: raluca.radu@alumni.ubc.ca. Be sure to follow Ms. Radu on Twitter @_Raluca_R.