Part III. The Discipline-Based Education Specialist's Handbook
9 – Developing Your Role and Skills
Summary
This chapter is directed at those in a Discipline-Based Education Specialist (DBES) role, and it provides more detail on elements of the job and advice for some common challenges encountered. It arises primarily from advice collected from experienced DBESs as they discussed and reflected on their role or as part of exit talks that were given at the end of their position. Thus, some of the information may be reflected elsewhere in the Handbook, but this chapter represents the types of words of wisdom which are often swapped more informally among DBESs from the departmental trenches.
While a description of the DBES role is presented in Chapter 2: What Is a DBES?, it is important to recognize that the role will necessarily vary in different departments and institutions, and that it may also be shaped by your background and interests. However, as some overarching principles, we encourage you to:
Think of yourself as a catalyst
Your department already has capable people who care about teaching, but your input, work, feedback, data collection, and analysis can facilitate new and greater possibilities than the status quo.
Think of yourself as a coach
You can provide feedback and support for faculty as they encounter the steep learning curve of implementing new teaching practices. Effective coaches observe, evaluate, and guide. See Gawande (2011) for more discussion.
Think of yourself as a change agent
To avoid situations where top-down pronouncements are made with no effect or bottom-up efforts peter out due to lack of support, change initiatives are best when someone is paying attention to the issues related to organizational change and fostering conditions for people to succeed. You can be this agent of change, marshalling efforts and cheerleading for change.
How do you start out in your department?
There are a variety of ways to help establish yourself in a department, however the best strategy for your situation will depend on your background (especially whether you were hired internally or externally) and department norms. The following suggestions are best considered as early as possible, as they could take a substantial amount of time in the first months of your position.
Engage as a member of the department
Be visible: attend seminars and social functions, drop into instructors' offices when their door is open, chat in the hall, etc. Attending faculty meetings, if your position allows it, can be very beneficial. These activities give you visibility in the department, more contact with faculty, and opportunities to promote the work of the initiative.
Establish your credibility in the discipline
This isn't always necessary, but don't hesitate to establish yourself as an expert in your discipline by giving a seminar on some of your work in the field, such as your dissertation research. This ensures credibility and commonality when working with faculty.
Observe instructor classes
Observing teaching in the department is an extremely important part of your own training; such observations give you a broader perspective for instructional practice beyond your own teaching, help you see the context behind and the results of instructional choices for individuals, and more generally provides a lot of information about the culture of teaching and student learning in a department. Conversations outside of the classroom are not a substitute for this in-person observation. See the SEI Course Observation guide for a framework for observing active learning courses.
Learn how to describe what you do
Develop an 'elevator speech', a brief, clear description about you and your role, to help you explain to faculty and staff what you do and how you can help. An elevator speech can take some time to develop. See Chapter 2: What Is a DBES? for descriptions of possible DBES tasks. The ability to explain your role is separate from getting the hang of the job.
Use your faculty leaders
Faculty champions in your department, particularly your departmental director, are very important; have them introduce you to faculty you will be working with and broker conversations about shared expectations for your work in specific course transformations. They can also clarify your role to the department, which may need to be an ongoing process in order to reach those faculty who were not directly involved at the start of the work.
How do you integrate further in the department?
While getting established can take time, you will want to build on early gains even as you continue to seek out or are tasked with new projects. For more ideas in generating interest and persuading faculty, see Chapter 8: Partnering with Faculty.
Build relationships
Taking a deliberate approach to building working relationships in your department supports your overall work and can foster a community around teaching that might otherwise not emerge. You may target specific individuals who seem interested in trying new techniques. You might also take on tasks to help you integrate, such as producing monthly newsletters for the department, updating a project summary website, creating two-page guides about teaching, hosting teaching and learning 'brown bag' discussions (attendees bring their lunches to a meeting), and more.
Don't forget about other staff in the department. You will probably be making requests of the office staff, IT, or your institution's teaching excellence center that may be somewhat unusual. Things will run more smoothly if they know a bit about your role in the department and you make your requests as graciously as possible.
Establish your scholarly expertise around teaching and learning
In the SEI, DBESs who took their role as an educational scholar and departmental resource seriously were particularly effective in departments. Faculty came to recognize that those DBESs had valuable and unique expertise, which resulted in more effective working relationships. Many DBESs have commented on the importance of having both disciplinary and pedagogical expertise in achieving the respect of the faculty. One example of dissemination of this scholarly expertise was the monthly newsletter, the EOAS-SEI Times, produced by UBC's Earth, Ocean and Atmospheric Sciences department.
Teach courses
It can be very useful to teach, as this gives you credibility, lets you practice what you preach, and gives you a space in which you can invite faculty members to observe a technique that you would like them to consider using. If possible, it is best to delay teaching until after your first few months in the role to give you more time to establish yourself and to teach some courses, but this decision is usually not up to you.
Use monthly reporting to keep track of your intentions and accomplishments
Use regular reports to reflect on your own achievements, challenges, and insights. Monthly reporting ('forced accountability') may feel like a chore, but treat this as an opportunity to help with reflective practice. You can use these reports to log intentions, actions, and outcomes. You might also track specific correspondence with faculty. This provides essential information for your reflection and progress, as it allows you to more strategically plan your work on your own and with your supervisor. Since change can be incremental, it is useful to track your progress as a motivational tool to see how much has been accomplished.
Understand your relationship with the central organization
There is likely a unit outside the department that is in charge of monitoring, advising, and perhaps managing funding for the overall, cross-departmental effort. Ideally, it will include people who can support you in ways the department cannot. To best make use of this central unit:
Make sure you know who your supervisor is — is it someone in the department or in the central unit?
Discuss management-related issues occurring in your department: is the chair supportive, and how will you engage with them? Is there a concern with the director? What will you do when the director is away for a while?
Go to the central unit for advice on teaching and learning projects, such as suggestions for literature and design ideas from other disciplines, or measurement/evaluation ideas.
Submit regular (e.g., monthly) reports to the central unit and meet with them regularly as a department team for feedback, as well as on your own when needed.
Ask the central unit for advice about publishing, including suitable cross-disciplinary publications or conferences for your work.
How do you develop your skills as a DBES?
It can take a while to get the hang of this job; rely on your community to help you learn the ropes, and don't embark on this new professional path all alone! If you have access to a DBES community and regular meetings, make sure to participate. If not, you may find a community among educational developers in more traditional learning and teaching centers who have many of the skills that are needed by a DBES. See Chapter 3: DBES Success and the UBC-specific summary of reflections from Science Teaching and Learning Fellows (UBC CWSEI's term for DBES) for more discussion on skill development.
Methods for developing your expertise in teaching and learning
Read in the education literature, particularly within your discipline. Being well-read will give you good ideas to suggest to colleagues, allow you to share articles of interest, and help you back up suggestions you make. Former DBESs highlight this as one of the most important items in professional development for the job.
Observe classes. This is valuable in multiple ways; see "How do you start out in your department?" in this chapter.
Attend workshops through units such as a teaching and learning center.
Use online resources for development in content areas. Lynda.com, for example, offers many quality professional development courses, and some campuses have access to online courses.
Attend disciplinary teaching conferences and national events. These are also fantastic venues for presenting results of your work in posters or talks.
Facilitate workshops, speaker series, or other discussions for faculty (including 'brown bag' discussions), either in your department or in partnership with a teaching and learning center on campus.
Learn about educational research methods. In particular, we find it is important to learn how to:

Apply statistics for social sciences. See Field (2013) and STLF Quantitative Analysis Discussions, written by former DBESs.
Use qualitative methods and their associated evidence. These may not be a part of your background but are vital in education research.
Teaching and learning resources that we have found effective
How Learning Works (Ambrose and Bridges, 2010)
Scientific Teaching (Handelsman et al., 2006)
Getting to Yes (Fisher, Ury, and Patton, 2011)
How to Write a Lot (Sylvia, 2007)
Discovering Statistics using R/SPSS (Field, 2013)
Thinking, Fast and Slow (Kahneman, 2011)
An Introduction to Evidence-Based Undergraduate STEM Teaching (CIRTL MOOC, offered regularly)
UBC CWSEI's list of Recommended Papers
Methods for improving your professional skills
Improve your time management and organization skills. You will likely be juggling projects in a way that is new to you, and you will also likely be responsible for data management for your department's measurement efforts.
Attend campus workshops related to professional work. You might attend workshops on project management, education, communication, leadership/academic leadership, change management, etc.
Attend conferences about leading change. See the Accelerating Systemic Change Network's list of professional development opportunities for change agents.
Meet regularly with other DBESs, both inside and outside of your department. Most DBESs mention community as their biggest support. There are suggestions for community building in Chapter 3: DBES Success, and for some possible structure for one-on-one discussions, see Metacognition STLF Meetings (MetaSTLF).
Facilitate DBES training sessions. Senior DBESs will benefit tremendously from facilitating training sessions on teaching and learning, and from sharing lessons learned in their role with other DBESs.
Submit regular activity reports, reflecting on your progress and needed skills.
What are common challenges faced by DBESs?
While most people who have held DBES positions so far have found the work very rewarding, there are definitely some inherent challenges, though the specific nature of those challenges varies by local context.
Volume and variety of work
DBES work is generally fast-paced, and involves more contacts and 'people work' than a research setting. It also requires more attention to medium- and long-term issues compared to a typical teaching position which can be very focused on the needs of the immediate teaching term. As a result, a DBES can be pulled in several directions: in being attached to specific courses, they are beholden to the teaching schedule, but they also need to attend to big-picture issues such as continuing their own learning and writing up results along the way.
To the extent that someone will be setting expectations and monitoring progress, the DBES will often be the closest approximation to a project manager in a given project. This is not project management in a formal sense, and typically there is little or no experience with standard project management principles in university departments, outside the business school. Investing in your own ability to manage your time and priorities is valuable, so learning some of the known principles is advisable. For project planning considerations, UBC CWSEI has a Google Doc of time and project management ideas to consider.
Maintaining morale
How do you keep your own morale up in the face of slow progress or even pushback regarding your transformation efforts? How do you keep frustration from becoming a self-fulfilling prophecy ("the faculty involved don't want to do this so I won't even try")?
You may need to remind yourself that change takes time, which can be tough if you are in a relatively short-term position. As with anyone learning something new, faculty will need reasons to try new teaching approaches (e.g., they address a gap, the faculty have been compelled by some evidence, and the approaches are within their comfort level) and to continue these practices (e.g., enough attempts/practice with feedback to see success). Be realistic about expectations and try not to get discouraged. Commiserating with other people in a similar position can be a big help, as can documenting your own progress.
Publishing research
Those entering a DBES position often have research experience in their department's discipline, but not in education (related to the field directly or otherwise). Embarking on meaningful research in education will require a lot of reading and practice, though you can certainly be scholarly about educational work in ways that vary in terms of rigor and recognition.
It is important to recognize when a result (and your reporting of it) is 'good enough' versus waiting for it to be 'the best'. Make a trade-off between getting it out there versus sitting on something for years and years, wanting to do a little more. Take advantage of accessible opportunities to publish or present when they are available: submit a detailed report with a summary to your department, show a poster at a local showcase for projects (e.g., annual poster session), give a lunch-and-learn talk in your department, present in a conference's preliminary reports session, etc.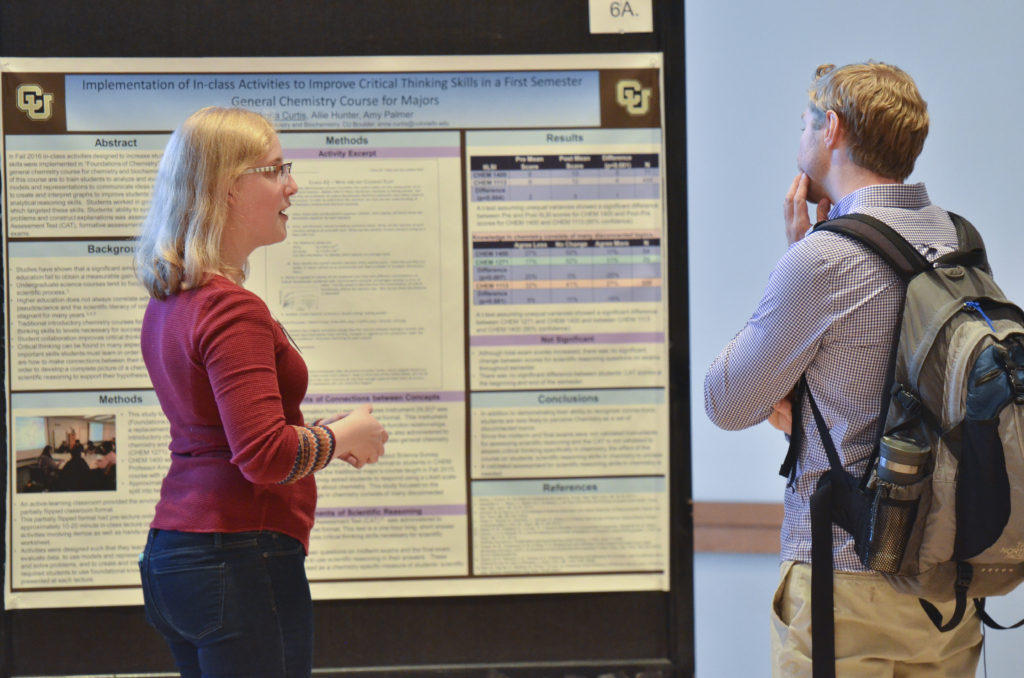 You can also try to find partners for consultation or collaboration on campus that are familiar with the kind of research you are undertaking, whether more senior (faculty member in education, psychology, statistics) or more junior (graduate students with experience in relevant methods and analysis). It is also worth considering your work in terms of the Scholarship of Teaching and Learning, which has different community standards compared to discipline-based education research or more traditional education research venues.
Combating isolation
You may have a team in your department with multiple DBESs working at the same time, but if/when you are a solo DBES in a department it can be isolating. Be sure to ally with your departmental director as much as possible and meet regularly with any other DBESs in your department or other departments to reflect on goals, progress, action items, and challenges. For some possible structure in this process, see Metacognition STLF Meetings (MetaSTLF).
There are likely other people on your campus working on teaching and learning projects, perhaps in other departments or as part of a central teaching and learning support unit. Partnerships with these people can be valuable as you learn more about what is needed in your department. For example, educational technology support may not be a major focus of your work, but if the department is looking to you for your input/expertise in this, you will want to be familiar with the teams that do support this on campus, what types of workshops might be available, etc. These connections can also be a helpful way to learn about professional development opportunities.
Considerations for DBESs in specific types of positions
Because the roles and responsibilities of a DBES will vary according to their background and the needs of their department, there is no universal model for such a job, and a DBES's rank (e.g., postdoc, instructor) can vary across departments or institutions. Below are some considerations for two common types of DBES positions.
Junior-ranking DBESs, such as postdoctoral fellows
Postdoctoral or contract faculty positions have been the most common job ranks in the earliest SEI and SEI-like programs; from an organizational perspective these are much easier to fund and deploy in a department. Below are some challenges which may occur in such positions.
The temporary nature of the position limits its reach
Realize you can only do so much because your position is only a few years in duration; change can take a long time. Think of yourself as a catalyst, rather than needing to shoulder all the change.
Rank difference with faculty requires you to earn their respect
You can establish your credibility in the discipline as well as develop and establish your expertise in teaching and learning. You can also leverage this junior status by positioning yourself as an interested novice, requesting expert faculty input to guide your work and potentially getting more honest feedback than if you were an equal colleague.
Impostor syndrome reduces your self-confidence
The DBES position may be a career change for you, moving from an area of relative comfort (your research area from graduate school) to one where you are a relative novice. This can create a sense of professional discomfort known as 'impostor syndrome' (Sakulku, 2011). This can be combated by investing in your own professional development and realizing that once you are even modestly capable in issues of teaching and learning, you will still likely be considered expert relative to others in your department. Seek out mentors inside or outside your department, such as discipline-based education researchers or those involved in faculty development, who can help support your professional development in teaching and learning issues and in education research.
Non-faculty status results in lack of visibility
Learn to actively market yourself, engaging in the department through knocking on doors, going to faculty meetings, producing newsletters, hosting 'brown bag' discussions, and other strategies discussed elsewhere in this chapter.
Lack of positional power limits your ability to get things done
Rely on your departmental director to help you navigate the institution and advocate for resources and support. In general, get support when you need it from the department and the central unit; don't wait. As your position may be unusual to people at your institution, you may need to check with multiple people to fully answer some questions. This rank difference can also impede your ability to accomplish bureaucratic tasks, such as arranging surveys, gathering student test results, purchasing software, reserving rooms, and arranging for research ethics approval.
Your unique status in the department can be a barrier to collegial interactions
To avoid isolation, form communities within the department, with DBESs in other departments, with others on campus, and with people attempting similar work at other institutions. As of this writing, several national networks (TRESTLE and ASCN) serve to connect people working in instructional change across institutions.
Instructor-ranking DBESs
In some cases, part of an instructor position has been carved out for DBES work. People in these positions have an advantage in that they are an established colleague with an identifiable rank and known credibility in terms of teaching. They may also have more access to campus supports, such as teaching and learning centers, than postdocs. Below are some challenges which may occur in such positions.
Lack of time limits your ability to engage in the work
There is a lot of learning to do as a DBES, and teaching experience only helps establish some of this expertise. Since you will likely only have a portion of your position devoted to DBES work, it will be difficult to both learn and be productive (generate course materials or other sorts of results) compared to a full-time person attempting the same work, even if they are more junior. Try to establish appropriate expectations for your work, including time for ramping up (when possible) and for professional development, while finding manageable early projects to demonstrate the value you provide.
Full-time teaching requests eliminate DBES time
In some cases, the department's teaching demands can cause the time allocated to DBES work to disappear. This is an issue for the initiative's organizers more than the individual faculty member, but it does mean you should be careful to demonstrate the value of your expertise and DBES work to help push back on this encroachment. Keeping careful records of your progress and achievements can help.
Impostor syndrome reduces your self-confidence
Even if you have a well-established teaching record, you may be new to the research side of teaching and learning. This lack of perceived expertise can create a sense of professional discomfort known as 'impostor syndrome' (Sakulku, 2011). This can be combated by investing in your own professional development and realizing that once you are even modestly capable in issues of teaching and learning, you will still likely be considered expert relative to others in your department.
Marginalized status results in lack of visibility and clout
In research-focused departments, it is possible for teaching-focused faculty to be marginalized. Learn to actively market yourself, engaging in the department through faculty meetings, newsletters, 'brown bag' discussions, and other strategies. Demonstrate your expertise and value through workshops and other venues, including reminding faculty of your contributions to the department (such as procuring funding or improving student retention) visible. Build coalitions with faculty champions and/or committees. Ask your chair or other faculty champions to help you advocate for resources and support, or to supply needed information.
What are the career paths for DBESs?
There was some initial concern among leaders in the SEI whether there would be a suitable long-term career path for DBESs, given the novel position. That fear has since been laid to rest, as DBESs are often in high demand due to the training and experience they receive in evidence-based teaching, course design, faculty development, and educational research and evaluation. Some common career options include:
Teaching positions
Instructor or lecturer positions are popular career paths for former DBESs; in a few cases, the department in which the DBES served as a fellow hires the DBES, who then plays a long-term role in the department as a champion of educational innovation. In Canada, tenure-track teaching faculty positions are increasingly available and are the most common career path for fellows from the UBC CWSEI. Some U.S. universities have long-term teaching faculty positions.
Discipline-based education researcher
Some DBESs with a strong interest in education research have successfully entered tenure-track faculty positions with a focus on education research, been employed as research associates, or conducted independent work as evaluators of educational projects.
University teaching center staff and leaders
Some DBESs have been hired into leadership roles at university centers for teaching and learning.
Parting thoughts
It's okay if your particular job doesn't look quite like what is described in this Handbook; due to the variety in department cultures, teaching mandates, and existing personnel, DBES-type jobs will draw on the principles we have mentioned above but will play out in many different ways for each person. These types of positions can be an opportunity to learn a great deal about teaching, learning, and the research around them, and to join an emerging community of scholars fostering improvements in classrooms for many thousands of students while helping faculty towards more rewarding teaching experiences. Welcome!
In order to develop more fully in their role, DBESs should consider the following approaches:
Think of yourself as a catalyst, coach, and change agent
Marshal efforts and cheerlead for change.
Provide feedback and support for faculty.
Integrate into the department
Be a visible member of the department, building relationships strategically.
Develop an elevator speech for your role.
Establish your credibility in the discipline, and in teaching and learning.
Keep track of your plans and accomplishments with monthly reports.
Understand your role in the department and in the central organization.
Develop your skills as a DBES
Engage in substantive professional development around issues of teaching and learning.
Develop your professional skills as well, such as time management.
Use campus resources, the literature, and the DBES community for your development.
Be aware of common challenges faced by DBESs
Manage your time and priorities to avoid being overwhelmed by the work.
Remember that change takes time; be realistic about your expectations for change to avoid becoming frustrated in your work.
Publish your research before it is perfect to further your career.
Engage with on- and/or off-campus communities to combat isolation in your role.
Be aware of the challenges of the DBES role in specific positions (postdoctoral fellows or instructors).
For further reading
SEI resource documents:
Annotated bibliography
Gawande, A. (2011, October 3). Personal best. The New Yorker. Retrieved from https://www.newyorker.com/magazine/2011/10/03/personal-best.
Describes the importance of peer coaching in professional improvement.
Sakulku, J. (2011). The impostor phenomenon. International Journal of Behavioral Science, 6(1), 73-92.
Reference describing the phenomenon of women believing that they may be exposed as intellectual frauds, despite high achievement.
Wieman, C. (2017). Improving how universities teach science: Lessons from the Science Education Initiative. Cambridge, MA: Harvard University Press.
Authoritative resource on the SEI model and its impacts, including a detailed description of the rationale for the SEI, lessons learned, and data on departmental outcomes.