Appendix 4: Feedback on Activity 7.5 Broadcast or communicative
From the list below:
a learning management system
a blog
online collaborative learning
Twitter
virtual worlds (e.g. Second Life)
a podcast
an open textbook
1. Determine which is a medium and which a technology, or which could be both, and under what conditions.
| | |
| --- | --- |
|  learning management system |  either: technology as software, medium when used for course delivery |
|  blog |  medium (WordPress or other blog software is the technology) |
|  online collaborative learning |  medium |
|  Twitter |  either, but mainly a medium |
|  Virtual worlds |  medium |
|  podcast |  medium |
|  open textbook |  medium |
2. Decide where, from your experience, each medium or technology should be placed on Figure 6.4.3. Write down why.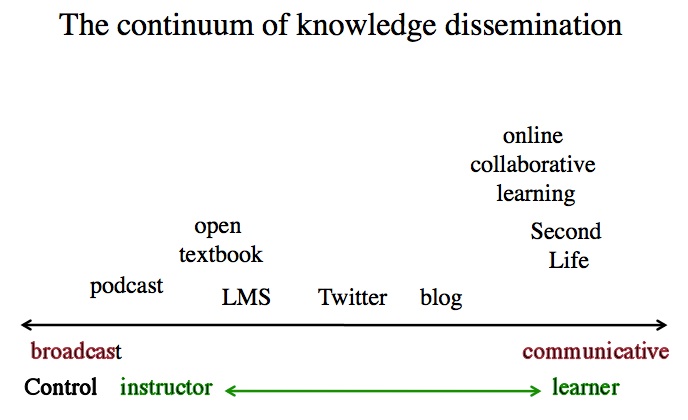 3. Which were easy to categorize and which difficult?
Difficult:
online collaborative learning, because it is highly communicative but the teacher has a good deal of control over the medium
Twitter, because it is definitely under the control of the learner, but it is also as much a broadcast as a communicative medium.
With both these, I gave more importance to the broadcast/communicative dimension compared with the control dimension.
4. How useful?
Understanding where different media are likely to fit on the broadcast/communicative dimension will help in choosing media, depending on my epistemological position. If I want a high level of student activity and interaction I would tend toward more communicative media. If I am more concerned with information transmission and comprehension, I would tend to use more broadcast media. However, in most cases I would want a mix of both. Knowing where each medium 'fits' on this dimension is one component I could use in my decision-making.