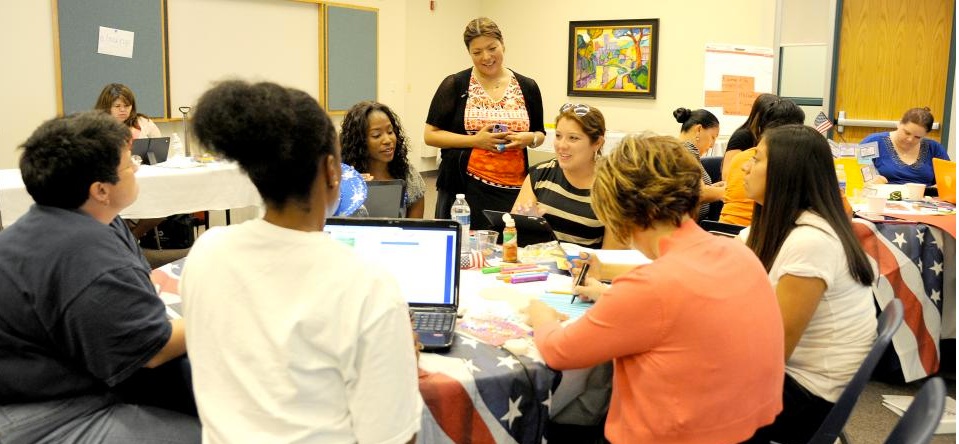 There is no easy solution to the problem of reducing class size to numbers that will ensure all students can be helped to develop the knowledge and skills needed in a digital age. Alex Usher in his blog One Thought to Start Your Day examines different ways to allocate teaching loads to instructors, resulting in classes of different sizes. However, teaching load is usually organised at a departmental level. Too often, an individual instructor has little choice over the size of class to which they are allocated. 
Whatever the course design, face-to-face, blended or fully online, large numbers of students per instructor limits what is possible pedagogically. It is extremely difficult to teach the higher level skills of critical thinking, problem-solving and collaborative working in very large classes. Nevertheless, there are several successful approaches to re-designing these large introductory courses of 1,000 students or more, involving the use of blended learning. See for instance:
The following design attempts to build in at least some opportunities for the development of high level skills in a very large class:
create a team to design, develop and deliver the course; the team will include a senior tenured professor, four TAs, plus an instructional designer and web/multimedia designer allocated to help with the initial design;

the senior professor acts as a teaching consultant, responsible for the overall design of the course, hiring and supervising the work of the TAs, and designing the assessment strategy/questions and rubrics, in consultation with the rest of the team;

nearly all content is provided online through a combination of short videos and textual material designed and loaded on the LMS; this is largely the work of the senior professor working with the instructional designer, assisted by the TAs, before the course begins;

computer-marked assignments are used to mark student comprehension and understanding, and to provide automated feedback/guidance; there is an end-of semester computer-marked assignment that provides an individual mark for each student;

students are allocated to groups of 33, and each of the TAs is responsible for eight student groups, or 250 per TA;

each TA acts as the day-to-day link for each of the 33 students in each of the eight groups they are responsible for;

each class of 33 is divided into five sub-groups of six to seven students, who work on two projects a semester; the first project is not assessed, but is subject to student peer review, using guidelines/rubrics established by the senior professor; the second project is assessed by the TAs (roughly 40 assignments per TA), again using rubrics designed by the senior professor. The projects aim to develop specific, pre-identified skills, such as critical thinking, problem solving, and collaborative working.

students in each group of six or seven work through online discussion forums or face-to-face on each project, depending on convenience to the students. The discussion forums are lightly moderated by the TAs, mainly to ensure that students are on topic and respectful to each other; if serious issues arise, these are referred to the senior professor;

TAs mark the group assignments, following rubrics decided earlier, and the senior professor monitors and calibrates the marking between instructors; for each student their group mark (50%) is added to their individual mark (50%) from the end-of-semester computer-marked assignment;

the senior professor meets for one hour a week with a different group of 33 students three times a week either face-to-face or synchronously online; this means that every student gets at least one hour of personal interaction with the senior professor during the semester. The sessions are used to discuss key issues in the course and focus on the pre-determined skills development. 
Whatever detailed design is done, these large courses should have a clear business model to work with, which basically provides an overall budget for the course, that includes the cost of the TAs, and takes account of the students numbers (more students, more budgeted money), but allowing the senior professor to build the team as best as possible within that budget. TAs would receive a briefing on responsibilities, online mentoring, assessment marking, for which they would be paid in addition to or as part of their teaching contract.
Ideally though the organization of teaching should not result in such very large classes, if at all possible. However, the principle of team teaching should be considered for all classes with more than 30 or so students.
Reference
Sana, F. et al. (2011) A Case Study of the Introductory Psychology Blended Learning Model at McMaster University The Canadian Journal for the Scholarship of Teaching and Learning, Vol. 2, No.1
Usher, A. (2019) Managing Class Size One Thought to Start Your Day, Higher Education Strategy Associates, September 18
Activity 14.5 Designing a team approach
1. Assume you have a class of 1,600 students for which you are responsible. You have the resources to hire two adjunct faculty and six TAs. How would you design the class?
There is no feedback for this activity.