Module 3 – Sample Lesson Plan
On this page you will find the corresponding lecture content for Module 3 – Guiding Engineering Work with Social Context. The sample lesson plan includes the following:
Student learning outcomes
Lecture slides
Lecture notes and activities
Lesson Summary
You may download any or all of this content and adapt as you wish to implement it in your class.
Student Outcomes
Lesson Plan – Student Outcomes
At the end of this lesson and accompanying assignment, students will be able to:
Knowledge
Critique personal, local and professional enforcement of colonial priorities across cultural boundaries
Recognize Indigenous legal and social authority in the consultation process
Produce a strategy to champion Indigenous values and knowledge in an engineering project (purpose, preparations, research and knowledge gaps)
Skills
Use The Aboriginal and Treaty Rights Information System (ATRIS) system to access local consultation considerations.
Articulate the connection between personal, communal and professional values
Identify intercultural knowledge gaps
Attitudes
Relate engineering practice to it's local context through the practice of recognizing & synthesizing various ways of knowing
Act transparently when outlining the purpose and knowledge gaps when creating a knowledge strategy document
Lecture Slides
The lecture slides for this module are embedded below. Feel free to download and adapt the content as you see fit into your course(s). 
Lecture Notes and Activities
The following lecture notes and activities parallel the content that are in the lecture slides – you may also use this for your reference when teaching this module's content to your class. You may want to share the lecture notes with students to enrich their learning. A downloadable document with the lecture notes and activities can be found at the bottom of this page.
Guiding Engineering Work with Social Context
Important Statistic: Only 0.5% of enrolled undergraduate engineering students attending Canadian universities identify as Indigenous (Domsy & Rodrigues, 2020).
This is nearly a tenfold underrepresentation in contrast to the self-identified Indigenous population in Canada. With such a marginal representation of incoming engineers with a primarily Indigenous perspective, it is no wonder that colonial engineering projects have displaced Indigenous context, even within their own unceded territories. Take for example the construction of the Site C hydroelectric project in B.C. Treaty 8 territory. The UN Committee on the Elimination of Racial Discrimination stated in 2019:
"The Committee is concerned about the alleged lack of measures taken to ensure the right to consultation and free, prior and informed consent with regard to the Site C dam, considering its impact on Indigenous peoples' control and use of their lands and natural resources," (The Council of Canadians, 2019)
It is reflexive to take our personal "way of knowing", our fundamental notions of truth for granted when we are surrounded by those who share our same perspectives. Ways of knowing are often in flux and are influenced by our locality. This means that our ways of knowing are shaped by those around us. The underrepresentation of Indigenous peoples in engineering poses a significant challenge for non-Indigenous engineers: How can we ensure that local Indigenous rights, values and priorities are being met through our work, in both treaty and unceded territories?
This can be done by:
Making explicit the non-technical underpinnings of personal beliefs, company standards, and engineering practice
Considering the locality of belief, values and ways of knowing
Respecting Indigenous governance and knowledge before commencing engagement
Step One: Making Explicit the Non-Technical Underpinnings of Personal Beliefs and Engineering Practice
Although engineers require a strong technical, and scientific understanding of their field of work, the practice, engineers are asked to make ethical and value judgments on behalf of those affected by their projects with limited access to stakeholder perspectives and information. This standard is exemplified in the first guideline in the Engineers and Geoscientists of British Columbia's (EGBC) Code of Ethics, to:
hold paramount the safety,  health and welfare of the public,  the protection of the environment and promote health and safety within the workplace.
The primary, overriding responsibility of an engineer in British Columbia is to hold paramount a list of three notions of value, which may carry different meanings depending on social context. To take for example the notion of health, the Canadian First Nations Health Authority, visual depicts the First Nations' perspective on Health and Wellness as follows:
The EGBC code of ethics requires that engineers use their professional opinion to decide whether a project holds paramount health. Engineering decision-making is so complex that the most important ethical guidelines are left to personal interpretation. How does an engineer objectively take into account the complex health, safety and welfare needs of stakeholders with a variety of backgrounds? Engineers do not have a universal answer to this question and must rely on non-technical skills to resolve the complexity. There is a risk that engineers must minimize, this is the knowledge gap between the engineer and those affected by the scope of their projects.
Step Two: Considering the Locality of Belief, Values and Ways of Knowing
Recall that Indigenous is a term in Canada that refers to First Nation, Metis, and Inuit Communities. There are at least 634 culturally distinct First Nations, according to the Assembly of First Nations (Assembly of First Nations (AFN), n.d.), it is important to specify that Indigenous community priorities, values and beliefs are highly variable. There is no particular, one size fits all set of values to follow, and so work alongside Indigenous communities must be rooted in locality. It should come as no surprise that values are different depending on locality, this is the case across national boundaries as well.
Please scan the global map found at this link, outlining the number one priority of over 100 000 respondents in an ongoing survey conducted by the Organization for Economic Co-operation and Development (OECD).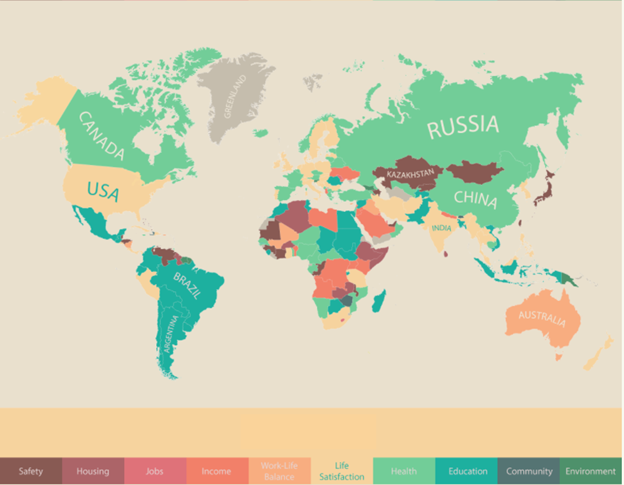 Despite the small sample size (100 000 among ~8 billion), what can be seen from this map is that the priorities of geographically distinct populations are variable.  For example, Brazilian respondents prioritize education, health and safety while the Indian respondents value life satisfaction, health and income. Engineering projects that seek to embody the priorities of these geographically distinct groups of respondents would need to take into account the locality of belief and values. The Japanese and Indian respondents could discuss and justify their priorities with one another, but there is no "one size fits all" solution to guide engineering design. Finding project priorities that champion the local culture must be understood through the beliefs and values of local people, with as little assumption and influence from the engineer's beliefs as possible.
Even large organizations like OECD with their resources and reach cannot gather a completely accurate picture of values across geographic regions. And there is a reason why assumptions are an important part of engineering work. Good assumptions allow engineers to undertake successful projects without having the impossibly complex "complete picture". What is important is that the limited resources that are available to engineers are used efficiently. In engineering projects, this can be done by considering Indigenous consultation protocol as well as aboriginal and treaty rights for the locality affected by engineering work.
Step Three – Respecting Indigenous Governance in Engineering Projects
As reaffirmed by the Canadian Constitution Act of 1982, Aboriginal people in Canada have distinct rights flowing from their status as the original peoples of Canada. These include:
Aboriginal title (ownership rights to land)
rights to occupy and use lands and resources, such as hunting and fishing rights
self-government rights
cultural and social rights
These rights vary from group to group, and also include the duty of the Canadian Government to consult, and where appropriate, accommodate Indigenous groups when it considers conduct that might adversely impact potential or established Aboriginal or treaty rights. This duty is affirmed by several cases in the Supreme Court of Canada as well. (Government of Canada, 2019)
Considering the unique relationships and histories of Indigenous communities in Canada, it can oftentimes be difficult to source information on appropriate consultation of communities, since Indigenous governments have pre-existing consultation and accommodations protocol. The Aboriginal and Treaty Rights Information System (ATRIS) is a useful tool for engineers who seek to respect Indigenous governance in their engineering work.
The Aboriginal and Treaty Rights Information System (ATRIS)
ATRIS is a Web-based, geographic information system intended to help users identify the location of Aboriginal communities and display information pertaining to their potential or established Aboriginal or Treaty rights. ATRIS provides access to narrative records and maps that can be used to assist governments, industry and other interested parties in determining their consultation obligations and in carrying out their consultation research. In particular, ATRIS provides users with up-to-date information (both site-specific and general) on treaties and agreements, claims and assertions, court cases and decisions, and consultation related information and links narrative records with their specific geographies on the interactive map of ATRIS, enabling users to locate Aboriginal groups, in relation to a specific project area, for instance, and to know what their respective established or asserted rights are. A guide for research within ATRIS can be found here.
How Can ATRIS Be Used in Decolonization of Engineering Work?
ATRIS is a valuable resource for engineers as it provides a wealth of community specific information that can guide and frame consultation at the pre-consultation stage. This is one of many sources of information that can be immensely useful in pre-engagement, to ensure that you have a strong grasp of publicly available information of the community. Since many Indigenous community leaders, Elders and administrators take on a variety of roles and responsibilities, pre-consultation research demonstrates an appreciation for cultural, legal and historical context. Also, remember that the information presented on ATRIS reflects the current state of the land, and titles and land claims can and will change over time. Do your best to stay updated on the land politics of the region(s) you are working in.
Other sources of information to consider in the pre-consultation stage:
The websites and information of communities
Colleagues who  have  worked  with  or  consulted  with communities in the area
The databases  and  records  of  other  government  departments and agencies, provinces and territories
Traditional Use  Studies,  for  example,  those  prepared  in  the  context  of  Environmental  Assessments
Press coverage  and  public  statements,  in  which  Aboriginal  groups  have  asserted rights
A Note on Working Alongside Elders
In many First Nations, Métis and Inuit cultures, Elders and community leaders play a respected, vital role in knowledge keeping and decision making. Oral histories continue to be a cornerstone of Indigenous ways of knowing, where beliefs, values, worldviews, language and ways of life are transmitted through storytelling and oral lessons. Having a wealth of lived experiences, Indigenous Elders are often a strong reference point for community beliefs, practices and values. They are often recognized within their communities through a formal community selection process.
The importance of Elders is emphasized across virtually all cultures maintaining an oral tradition and often fulfilling knowledge roles in a particular domain of traditional knowledge, for example as traditional midwives, herbalists, ceremonialists, orators and advisors. Elders generally do not set fees when asked to teach and share, but it is customary for the person making a request to compensate elders for their services. The amount and kinds of gifts that are shared are indicative of the value assigned to the service. (Council on Aboriginal Initiatives, 2012).
Many elders today are facing commitment overload, as traditional knowledge is sought after in a variety of contexts in health, culture and educational institutions. In many communities, it is considered contrary to traditional ceremonies, opening prayers, and land acknowledgements.
It is important to discuss if it is appropriate to include Elders in the consultation process on a case-by-case basis. If you do think it is important for you to include an Elder in the process, be able to articulate why you want to work with Elders so that you can be completely transparent. In your first meeting with the community, you will need to be able to clearly lay this out and provide adequate rationale.
Lesson Summary
Lesson Plan – Student Takeaways
A summary of the lesson can be found below:
Knowledge
Critique personal, local and professional enforcement of colonial priorities across cultural boundaries
Defend Indigenous legal and social authority in the consultation process
Skills
Identify The Aboriginal and Treaty Rights Information System (ATRIS) system to access local consultation considerations.
Attitudes
Relate engineering practice to its local context through the practice of epistemic equality
Downloadable Files
Downloadable Lecture Notes
Additional Resources
Code of Ethics: Engineers & Geoscientists British Columbia. (n.d.). Code of Ethics. Retrieved from https://www.egbc.ca/About/Initiatives-and-Consultations/Code-of-Ethics
Friesen, M.R. & Herrmann, R. (2018, December 12). Indigenous Knowledge, Perspectives, and Design Principles in the Engineering Curriculum. Proceedings of the Canadian Engineering Education Association (CEEA) Conference, June 3-6, 2018. DOI: https://doi.org/10.24908/pceea.v0i0.12964
Local vs Global Design: Currie, S. (2018, July 2). Global and local design. What's the difference? i3digital. Retrieved from https://i3digital.com/insights/global-and-local-design-what's-the-difference
Treaty Information and Crown Consultation Process: Indigenous and Northern Affairs Canada (https://www.canada.ca/en/indigenous-northern-affairs.html)
Sources
Assembly of First Nations (AFN). (n.d.). About AFN. https://www.afn.ca/description-of-the-afn/
Council on Aboriginal Initiatives. (2012). Elder Protocol Guidelines. Edmonton: University of Alberta. Retrieved from https://cloudfront.ualberta.ca/-/media/ualberta/office-of-the-provost-and-vice-president/indigenous-files/elderprotocol.pdf
Domsy, M., & Rodrigues, A. (2020). Trends in Engineering Enrolment and Degrees Awarded 2014-2018. Engineers Canada. Retrieved from https://engineerscanada.ca/publications/canadian-engineers-for-tomorrow-2018
Engineers & Geoscientists British Columbia. (n.d.). Code of Ethics. Retrieved from https://www.egbc.ca/About/Initiatives-and-Consultations/Code-of-Ethics
First Nations Health Authority. (n.d.). Traditional Healing. Retrieved from https://www.fnha.ca/WhatWeDoSite/TraditionalHealingSite
Government of Canada. (n.d.). ATRIS – Search. Retrieved from https://sidait-atris.aadnc-aandc.gc.ca/atris_online/Content/Search.aspx
Indigenous and Northern Affairs Canada. (2019, April 16). Government of Canada and the duty to consult. https://www.aadnc-aandc.gc.ca/eng/1331832510888/1331832636303
Organization for Economic Co-operation and Development (OECD). (n.d.). Better Life Index. Retrieved from http://www.oecdbetterlifeindex.org/responses/#CAN