Overview
This chapter describes the steps to export the 3-D Model into a variety of external data formats.
Export 3-D Model
The option to export a 3-D Model from Photoscan into dedicated, 3-D rendering software (e.g. AutoDesk Revit or SketchUP) allows animators and other visual artists work directly with the photogrammetric data produced in Photoscan. Available export options are;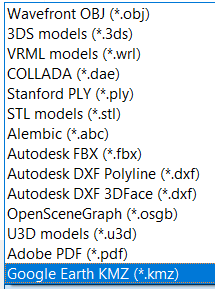 One of the most common and widely used applications that can be used to visualize 3-D models is Google Earth. To export the 3D Model, right-click on it in the Workspace and select Export Model…. Navigate to where you want to save the data set, enter a name, select a file format and click Save.
The suggested output parameters are shown in the screenshot below, but they may vary depending on the specific software and user requirements.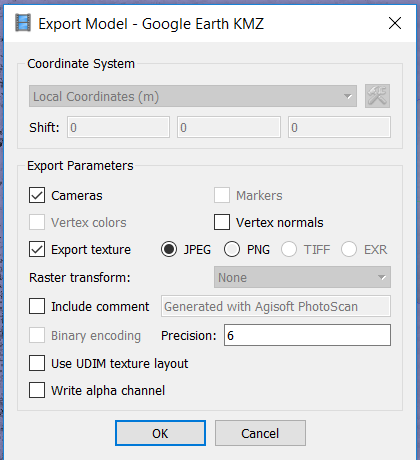 Once the point cloud is exported, double-clicking on it should launch Google Earth and the software will automatically navigate to the correct geographical location.