---
The Gods
The gods that choose to side with the Greeks are Hera, Athena, Poseidon, Hephaestus, and Thetis. The reasons for this are various. Hera and Athena have sworn vengeance against Paris after he decreed that Aphrodite was more beautiful than them. Thetis' only son, Achilles, fights for the Greeks. Lastly, the choices of Poseidon and Hephaestus are never clearly explained.
---
Agamemnon
Eldest son of Atreus, king of Mycenae, brother of Menelaos, and supreme leader of the Greek expedition. His enslavement of the daughter of the priest of Apollo, Chryses, is the action that sets in motion both the pestilence that opens the Iliad, and Achilles' refusal to participate into battle for most of the last year of the siege.
---
Menelaus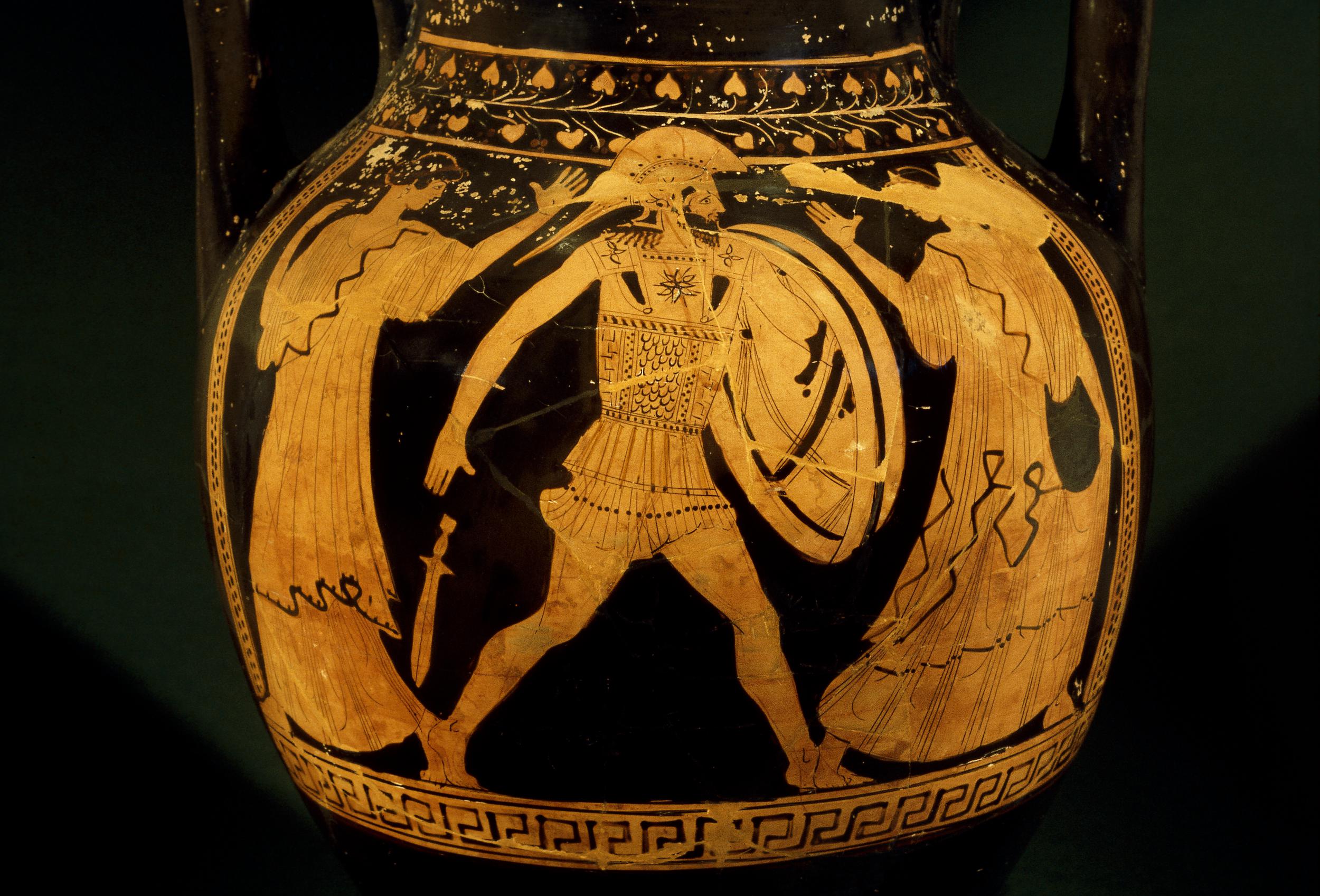 Youngest son of Atreus, king of Sparta, brother of Agamemnon, and husband of Helen. His attempt to conclude the war with a single combat against Paris is nullified when his opponent is spirited away by Aphrodite. At the end of the war he does not kill Helen, as other leaders had suggested, but takes her back home instead.
---
Achilles
Demigod, son of Peleus and the Nereid Thetis, leader of the Myrmidons, the strongest and most feared of the Greeks. His second set of arms forged for him by Hephaestus himself, including a fabulous round shield, becomes a coveted prize for the other Greek leaders after his death.
---
Patroclus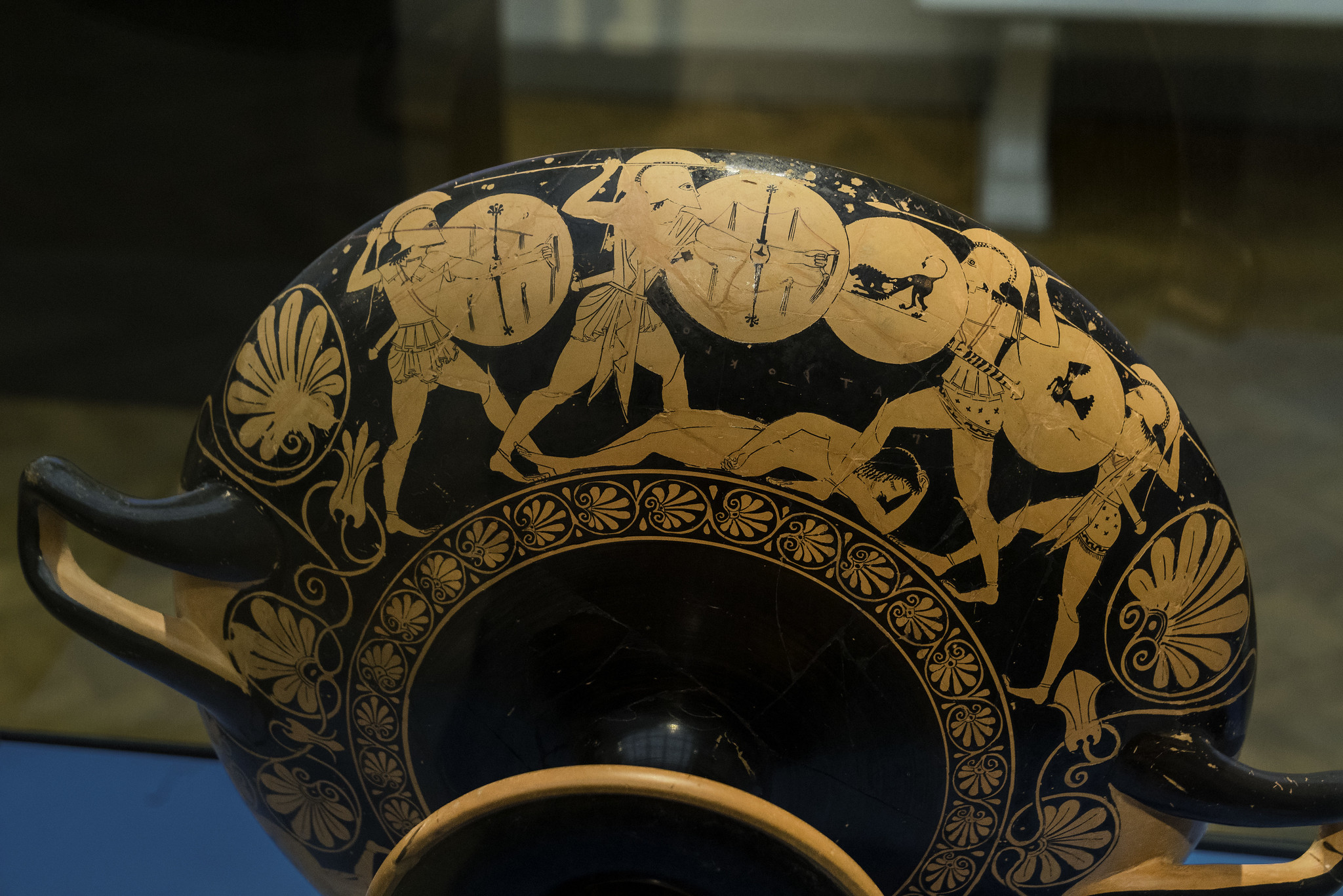 Son of Menoetius, exiled to Phthia after killing a man. Probable lover of Achilles (although never explicitly stated in the Iliad) and commander-in-second of the Myrmidons, he offers to join the battle wearing the demigod's armour and is killed by Hector with the help of Apollo.
---
Ajax the Greater
Son of Telamon, prince of Salamis, the mightiest of the Greeks (he is often referred to as 'bulwark of the Achaeans'). Bears a giant tower shield made of seven layers of ox hides and bronze which he uses to protect himself and his half-brother, the bowman Teucer.
---
Odysseus
King of the small kingdom of Ithaca, renown for his cunning ways, devious mind, and archery skills. He is the one who devises the stratagem of the Trojan Horse (with the help of Epeius and Athena), and obtains the armour of Achilles after the latter's death.
For further discussion of Odysseus, see chapter 30.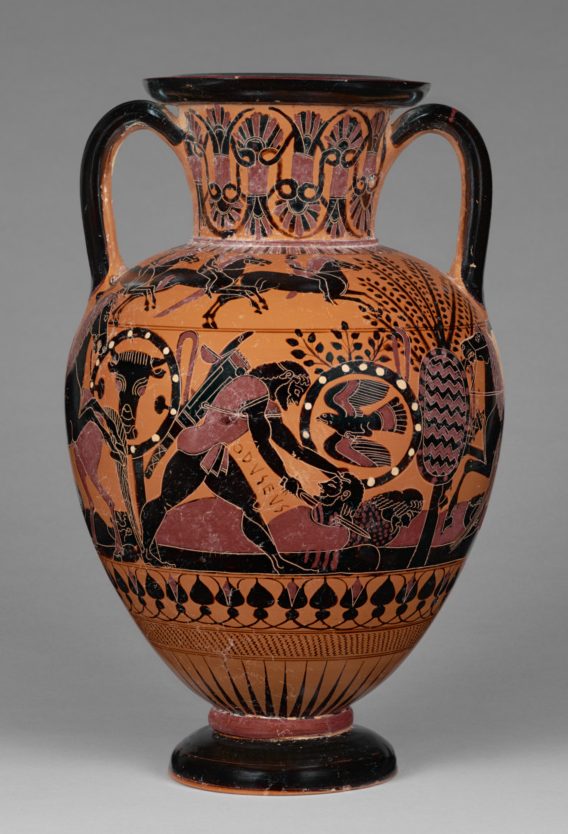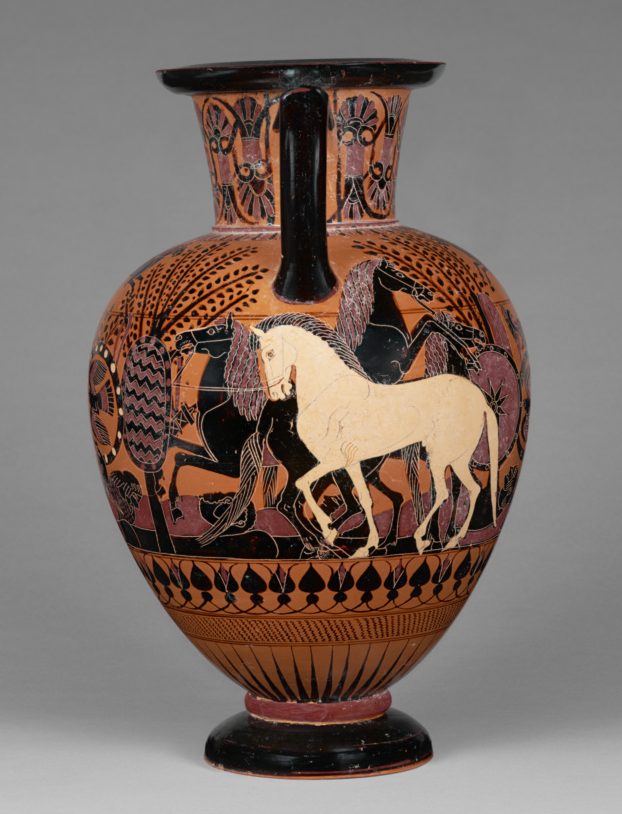 ---
Diomedes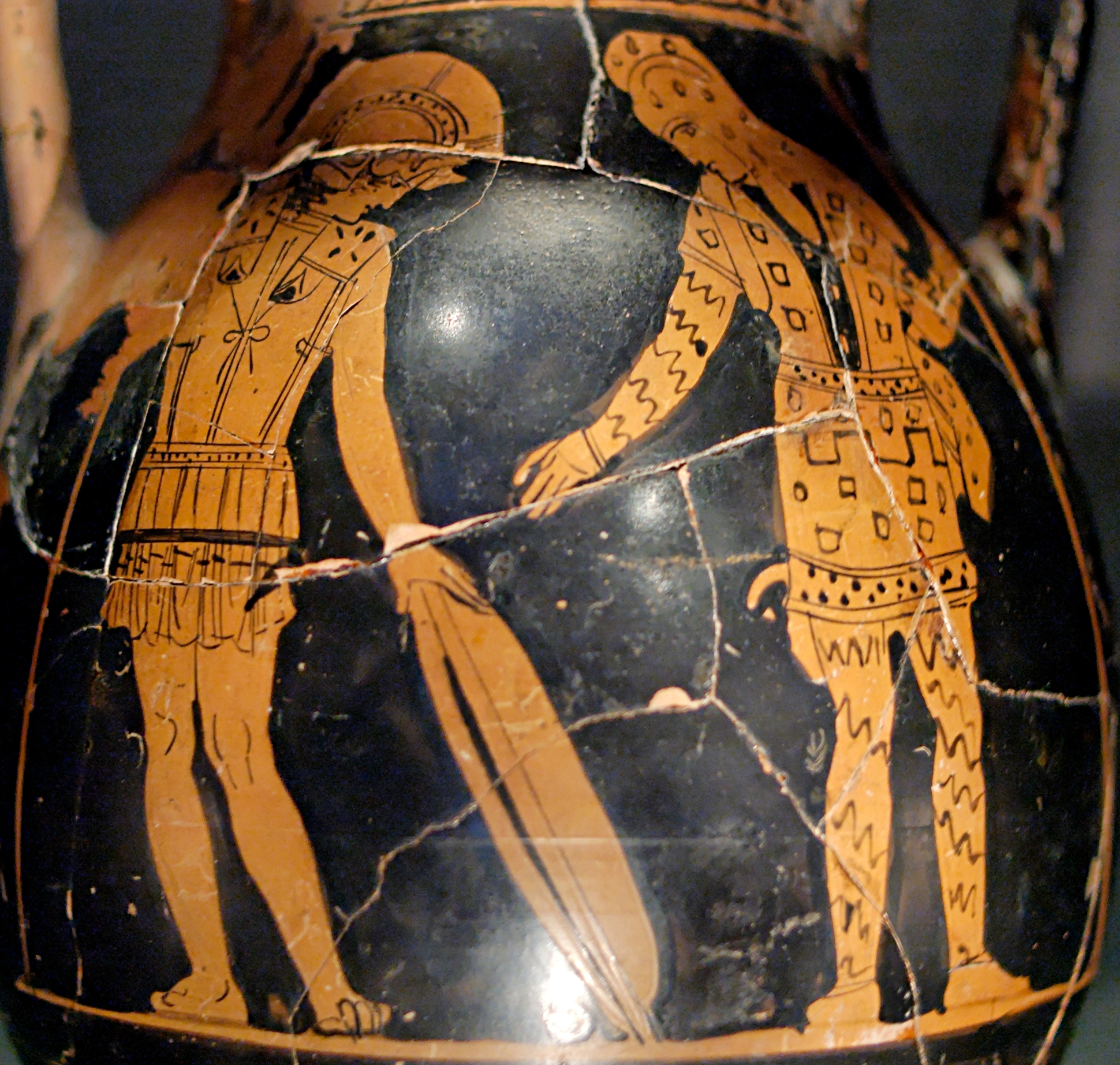 Son of the famed warrior Tydeus, he is one of the youngest Greek leaders, and the most feared after Achilles. Greatly favored by Athena, who allows him to spot the gods on the battlefield, he is often the partner in crime of Odysseus, with whom he steals the horses of king Rhesus and the sacred Palladion.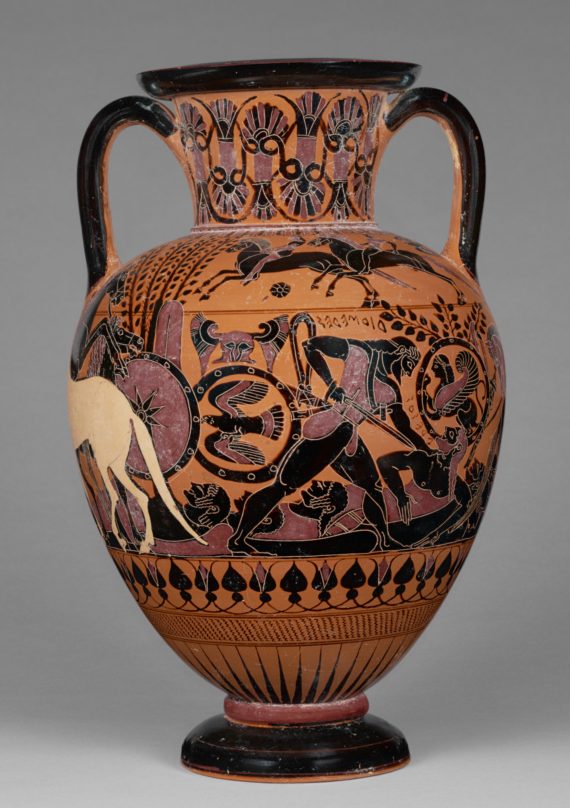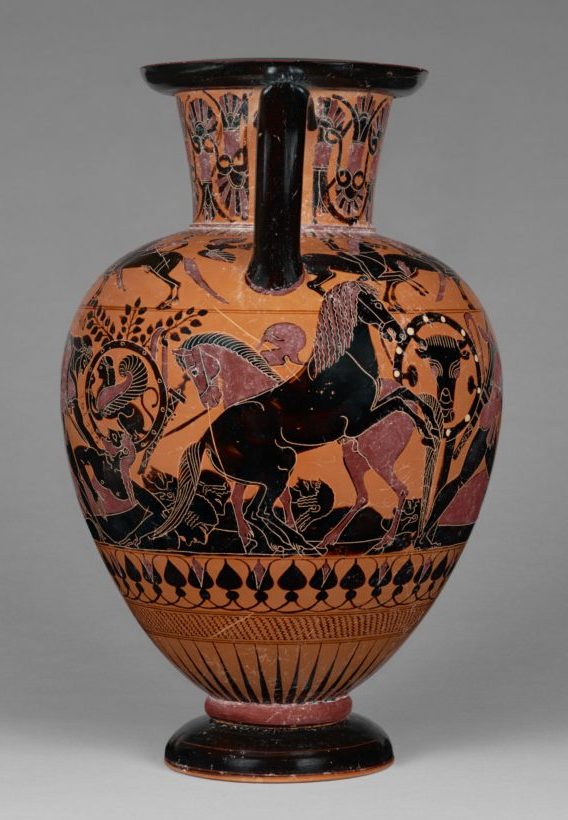 ---
Neoptolemus
Young son of Achilles, taken to Troy after his father's demise. Once the city falls, he commits dreadfully violent acts against the royal family and the rest of the citizens, and personally sacrifices princess Polyxena on his father's tomb.
---
Media Attributions