23

Perseus and Bellerophon
---
Births
Both Perseus and Bellerophon were monster-slaying Greek heroes. However, their individual stories became conflated by the end of the Classical period, a development that continued into the Renaissance and beyond. Since Perseus was the earlier, more culturally popular hero, Bellerophon's deeds are most commonly attributed to Perseus.
Birth of Perseus
[content warning: sexual violence, abduction]
The hero Perseus was the son of Zeus and and Danae, a mortal woman and the only child of King Acrisius of Argos. Acrisius asked the oracle of Delphi whether he would ever have a son. The oracle told him that he would not have a son, but that his daughter would, and he would be killed by his own grandson. To prevent the oracular prophecy from coming true, Acrisius locked his daughter up in a chamber with only a small opening at the top to let in some light and air. In this way he hoped to keep her from ever having sex and giving birth to a child.
However, Zeus saw Danae locked in the chamber and lusted after her. He changed himself into a shower of gold and rained down into the chamber, impregnating Danae. When Danae gave birth a boy, Perseus, Acrisius put her and her son into a wooden chest and set them out to sea, counting on them to drown.
The chest washed ashore on the island of Seriphos, where is was found by a fisherman, Dictys, the brother of the king of the island, Polydectes. Dictys gave Danae a home and raised Perseus.
Birth of Bellerophon
There is no significant myth about the birth of Bellerophon. He is a hero from Corinth, but his parentage varies greatly between sources. Homer's Iliad (see "Adventures of Bellerophon") states that Bellerophon is a son of , who was the son of , while other sources say that Bellerophon's father is .
---
Adventures of Perseus
The Quest for the Gorgon's Head
Perseus is best known for his quest to retrieve the head of the Gorgon Medusa. Polydectes, the king of Seriphos, wished to marry Danae, but could not do so because of her son Perseus. In an attempt to get rid of Perseus, therefore, Polydectes sent him to retrieve the head of Medusa, hoping that Medusa would petrify him, preventing him from returning from this quest
With the help of various divine figures, including Athena, Hermes, and the Graeae, Perseus travelled to the far reaches of the world and beheaded Medusa. Upon his return to Seriphos, Perseus used the head to turn Polydectes to stone and save Danae.
For further discussion of Perseus and Medusa, see chapter 20.
Andromeda
On his way back to Seriphos after defeating , Perseus passed through the region of ancient Ethiopia. There, he encountered the princess , who had been chained to a rock as a sacrifice to a sea serpent. According to Ovid's account in Latin, 's mother, , had boasted that she was more beautiful than the , and had sent the sea serpent (called Cetus) to punish the kingdom. and her husband then offered their daughter to the serpent to appease it. Perseus rescued and brought her back to Seriphos as his wife.
This myth has some parallels with the story of ' rescue of Hesione (see chapter 17).
---
Adventures of Bellerophon
The Chimera
Anteia, the queen of Argos, fell in love with Bellerophon. When he did not return her affection, she accused him of assaulting her, and told her husband Proetus to kill Bellerophon. Proetus did not wish to kill Bellerophon himself, so he passed the job off to his cousin Iobates, the king of Lycia.
Similarly to how Polydectes attempted to kill Perseus by sending him to fight Medusa (see "Adventures of Perseus," above), Iobates sent Bellerophon to kill the Chimera, assuming that he would die in the attempt. Bellerophon, however, defeated the Chimera and returned to Argos. Iobates attempted a few more times to kill Bellerophon by sending him to fight other enemies (the Solymi and the Amazons), but Bellerophon defeated them all. Impressed by Bellerophon's strength, Iobates stopped trying to kill him, and granted him land in Lycia.
Pegasus
The second famous deed of Bellerophon was his taming of the winged horse Pegasus, the child of Medusa and Poseidon (see "Adventures of Perseus," above). This deed is, however, often attributed to Perseus, who likely came to be associated with the Pegasus due to his killing of Medusa.
---
Deaths
Death of Perseus
Unlike many Greek heroes, Perseus has no notable myth attached to his death. Rather, it is said that he lived peacefully with his wife Andromeda for many years and fathered many children. He was also credited with the foundation of various cities, most notably Mycenae.
For further discussion of the foundation of Mycenae, see chapter 39.
Death of Bellerophon
After taming Pegasus, Bellerophon was said to have attempted to fly to Mount Olympus, the home of the gods. However, attempts by non-gods to reach Mount Olympus are never successful. The Giants Otus and Ephialtes, for example, piled up mountains in their own attempt to reach Olympus, but were promptly killed by Artemis and Apollo (see chapter 13). As punishment for his hubris, Bellerophon fell from Pegasus to his death.
---
Art and Symbolism
Perseus was one of the most popular heroes in Greek myth - and consequently one of the most commonly depicted heroes in Greek art. He was portrayed as a young beardless man, usually wearing Hades' cap of invisibility or Hermes' winged sandals (or both), and wielding a curved sword (harpe). He is also often holding a magic bag (kibisis). These items are related to his most famous heroic deed - and the scene in which he was most often depicted, the slaying of the Gorgon Medusa.
Perseus is generally shown either diverting his gaze while he kills the monster, or running away after the fact to avoid the wrath of the other two Gorgons. He can be accompanied by Athena or Hermes, the two gods who gave him the necessary magical equipment.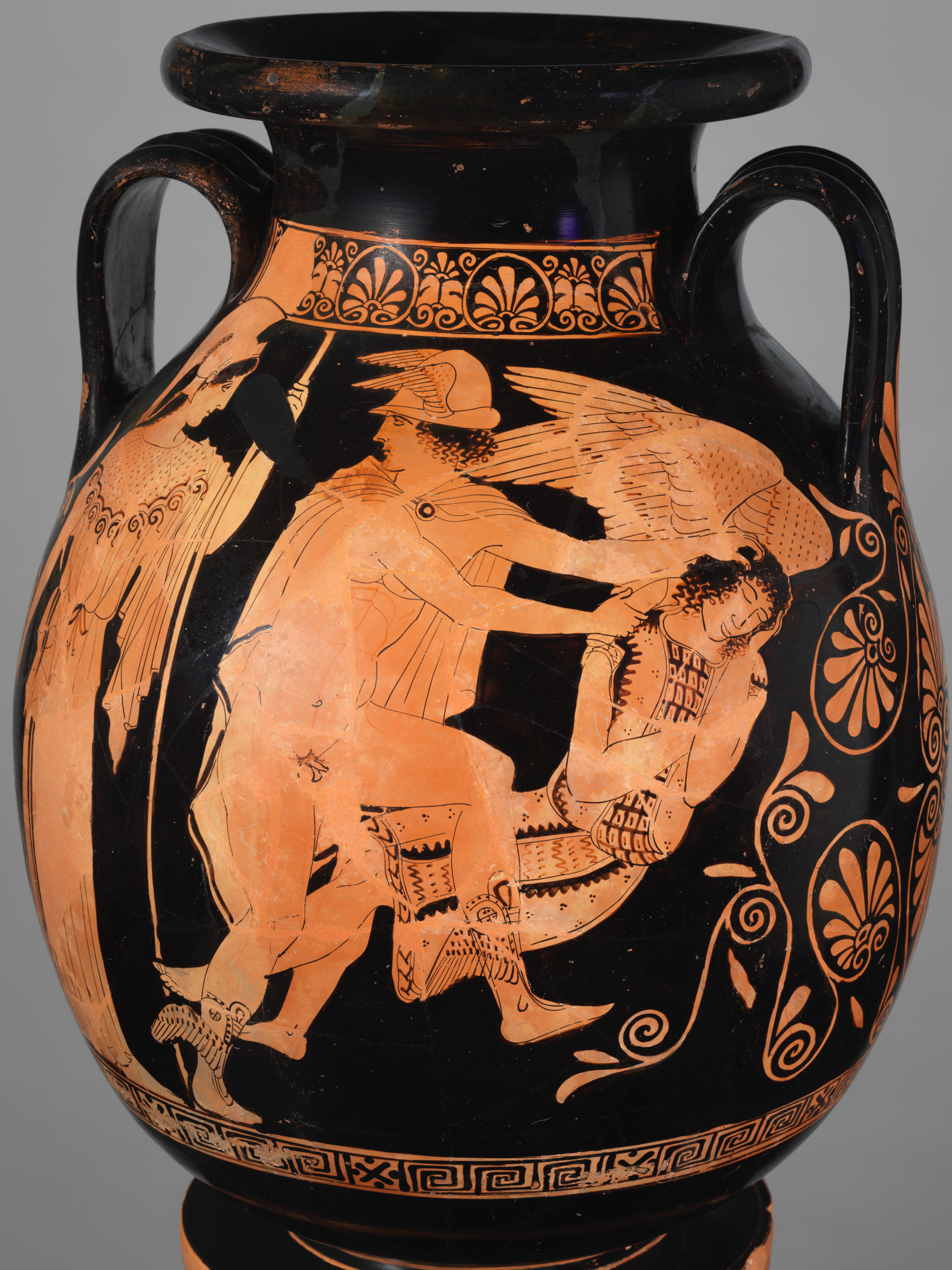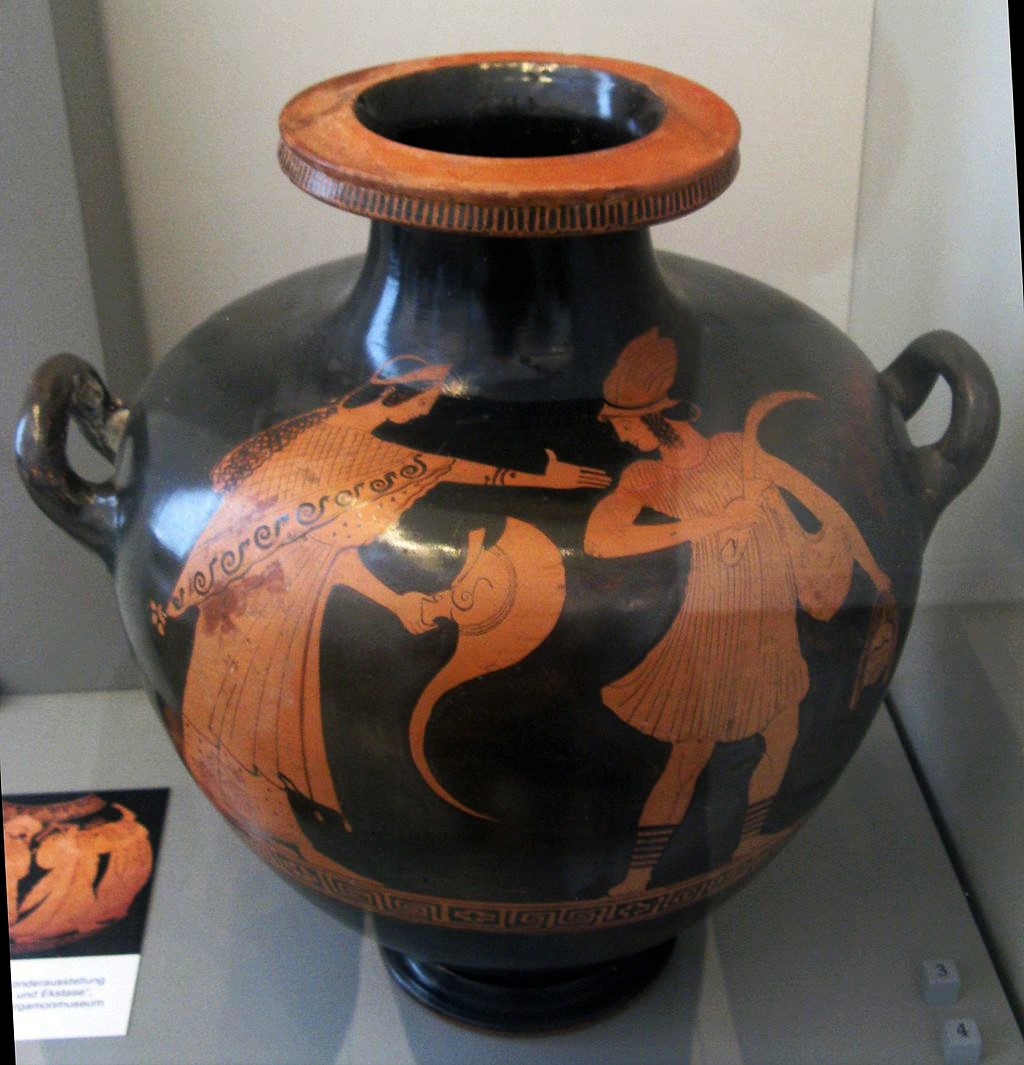 The second popular myth of Perseus represented in art was the rescue of princess Andromeda from a sea monster discussed above in 'Andromeda.' The hero is generally facing or killing the monster. He is wearing his typical attire (cap, sandals, sword); sometimes he is even riding Pegasus, freshly born from Medusa's blood.
The second hero, Bellerophon, is usually represented as a young beardless man. He is sometimes depicted wearing a Phrygian or Thessalian hat, and is almost always shown riding the winged horse Pegasus while slaying the Chimera.
---
Media Attributions and Footnotes
---