---
Birth and Early Adventures
Aethra, Aegeus, and Pittheus
The following content is adapted by T. Mulder from Mythology Unbound and is licensed under a CC BY-NC-SA license.
Theseus, like Heracles had a presumed mortal father and an actual divine father. He was the son of Aethra, the daughter of Pittheus, who was king of Troezen (a small town in the northeastern Peloponnese of modern-day Greece).
Aegeus, who was the king of Athens, was having trouble producing an heir, so he went to the Oracle of Delphi to ask for help. The Pythia (the priestess of Apollo at the Oracle of Delphi) said, "The bulging foot of the wineskin, O best of men, loosen it not until you have reached the height of Athens." As was typical with these oracles, the meaning was cryptic.
On his way home to Athens, Aegeus stopped off at Troezen to ask his wise friend Pittheus what the oracle meant. In ancient Greece, wineskins were made from a whole goatskin, and one foot of the goatskin was used for the spout. When the Pythia said, "Don't open the foot of the wineskin," she was literally saying, "Don't uncork the wine." The foot of the wineskin also resembled a penis and was a phallic symbol. So the Pythia was actually advising Aegeus not to have sex with any woman until he returned home, since the next woman he had sex with would bear him a son.
Pittheus realized the meaning of the oracle, but instead of telling Aegeus, he got Aegeus drunk and had him sleep with his daughter, Aethra. He did this because Aegeus was the very powerful king of Athens, and Pittheus wanted his future grandson to become king of Athens. The god Poseidon also had sex with Aethra later that same night, which Aegeus did not know, and so Theseus' parentage was ambiguous.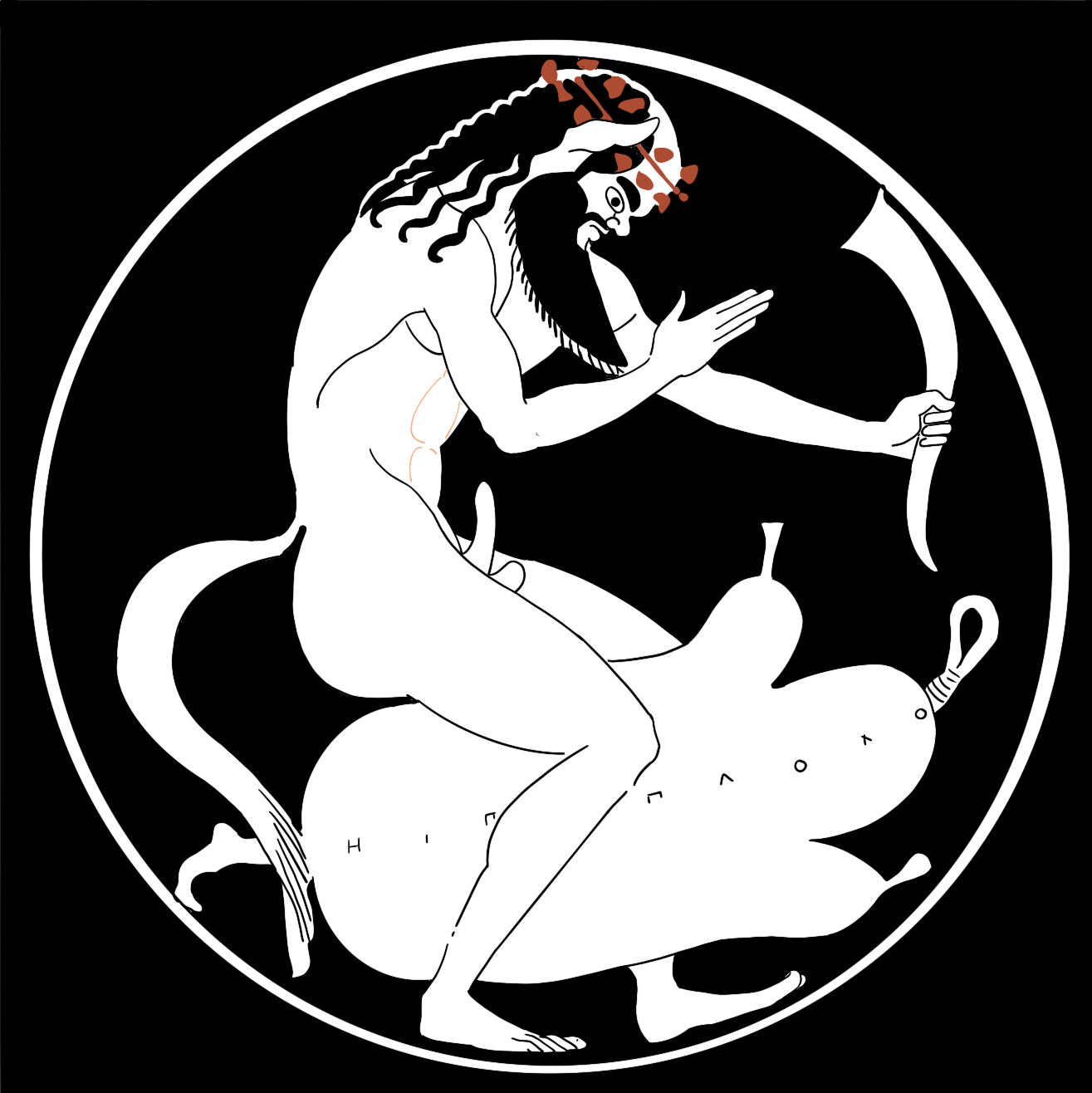 The Road to Athens
Theseus grew up in Troezen with his mother Aethra. When he was old enough and strong enough, Aethra sent him to Athens to be reunited with Aegeus. Theseus travelled to Athens overland on a notoriously dangerous road. On the road, he encountered many bandits, marauders, and beasts, all of whom he handily defeated, thereby making a heroic name for himself and making the road to Athens safe for all future travelers.
On the road, Theseus killed Periphetes, Sinis, the Crommyonian Sow, Sciron, Cercyon, and Damastes. These encounters are called the "Six Labours" of Theseus.
---
The Minotaur
The Tribute to Minos
After being reunited with his mortal father at Athens, Theseus learns that the Athenians are being forced to send young men and women as human sacrifices to King Minos of Crete, to be fed to the king's half human/half bull son, the Minotaur. He volunteers to be one of these youths. His intention is to kill the beast and free Athens from its obligation to King Minos. Theseus gets help from Ariadne, the daughter of King Minos, in navigating the labyrinth in which the Minotaur lives.
Ariadne
Minos' daughter Ariadne helped Theseus extensively in his conflict with the Minotaur in the Labyrinth of Minos. Theseus then brought her away from Crete, promising to marry her. Accounts vary as to what occurred afterwards. In the most common version of the myth (particularly in Ovid's accounts), Theseus abandons Ariadne on the island of Naxos, and Dionysus comes to her rescue. She then becomes an immortal goddess and the wife of Dionysus on Olympus.
---
Athens and Later Life
Theseus in Athens
After the death of his father Aegeus, Theseus inherited kingship of Athens. He was credited with creating many political institutions, and unifying Attica as the democratic state of Athens.
For further discussion of the foundation of Athens, see chapter 36.
After abandoning Ariadne, Theseus embarked on a mission, alongside his friend Pirithous, to find a wife.
Like Heracles, Bellerophon, Achilles, and other Greek heroes, his adventures included an encounter with the Amazons. Theseus (either with Heracles or alone) went to the Amazons and kidnapped their queen, called either Hippolyte or Antiope. Theseus and Hippolyte had a son, Hippolytus (see "Phaedra and Hippolytus," below).
Additionally, Theseus and Pirithous attempted unsuccessfully to kidnap Helen of Sparta and the goddess Persephone.
For further discussion of the Amazons, see chapter 23.
For further discussion of Theseus' descent to the Underworld to capture Persephone, see chapter 41.
Phaedra and Hippolytus
[content warning for the following section: mention of rape, suicide]
The following content is adapted by T. Mulder from Mythology Unbound and is licensed under a CC BY-NC-SA license.
Many years later, Theseus married Minos' youngest daughter, Phaedra, to smooth over relations with Crete. But when he brought Phaedra back to Athens, she fell in love with Hippolytus, his son by the Amazon queen, Hippolyte, who was now about nineteen or twenty years old (and much closer to Phaedra in age than Theseus was). Some say that Aphrodite had caused Phaedra fall in love because Hippolytus was a devotee of the virgin goddess Artemis. Since Artemis was a virgin, Hippolytus had vowed to remain a virgin as well, and Aphrodite took this as a personal affront. In any case, Phaedra was sick with love for the handsome young man. But despite her personal pain, she vowed never to breath a word of her feelings to anyone.
But Phaedra's nurse, who was an astute observer, figured out what was going on. She contrived to bring Phaedra and Hippolytus together, but he was aggressively opposed to this idea. Out of shame, Phaedra decided to kill herself. Before she did, she addressed a note to Theseus, falsely claiming that Hippolytus had tried to rape her. Despite Hippolytus' protestations, Theseus believed what he read in the note. He banished Hippolytus from Athens and called upon his own father, Poseidon, to punish the young man. As Hippolytus was driving his chariot out of Athens along the seashore, a terrifying bull emerged from the water. The horses were so frightened that they all reared up and ran in different directions. Hippolytus got tangled in the reins of his chariot and was eventually pulled apart by his horses. After this happened, Artemis told Theseus the truth.
The whole myth is most famously told by the Greek playwright Euripides, in his tragic play, Hippolytus, which won first place in the theatre contest at the Festival of Dionysus in Athens in 428 BCE.
---
Death
Theseus now had to live with the terrible truth that he had killed his own son, and for no good reason. He continued on as king of Athens, but life was never the same. He became moody and sullen, and he neglected his duties as king. The Athenians asked him to leave, and Theseus agreed. He decided to go to the island of Scyrus, Aegeus' homeland, and Lycomedes, the king of Scyrus, agreed to give Theseus some land that had once belonged to Aegeus. But deep down, Lycomedes felt threatened by the presence of such a great hero. As Theseus was walking with Lycomedes along the cliffs at the edge of the island, somehow Theseus tripped (or did Lycomedes push him?) and he fell to his death.
---
Art and Symbolism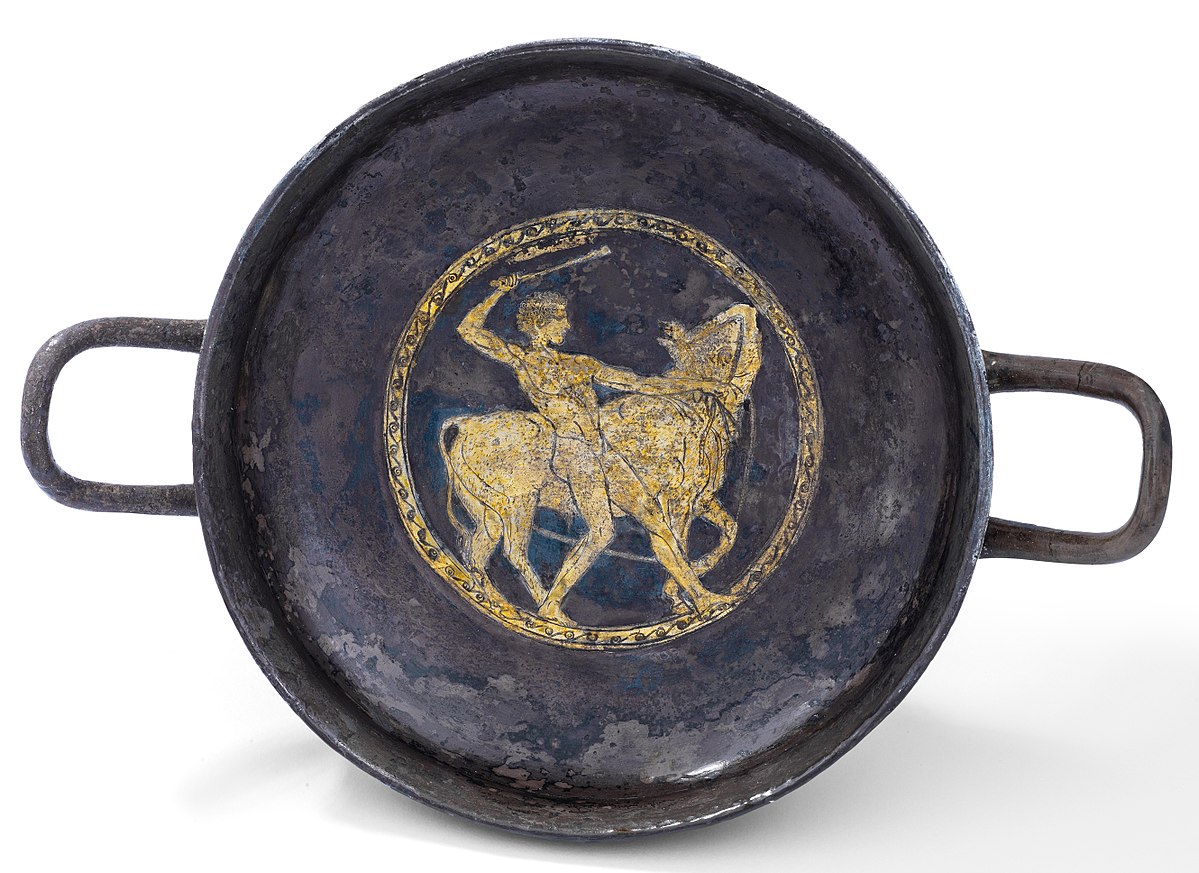 Theseus was the most popular Athenian hero, so his image is particularly prominent in Athenian art. He was usually represented as a young man, often beardless, sometimes wearing a wide-brimmed hat (petasos), and carrying a sword. As his appearance is not immediately distinctive, it is easier to recognize Theseus from the mythical episodes in which he was involved.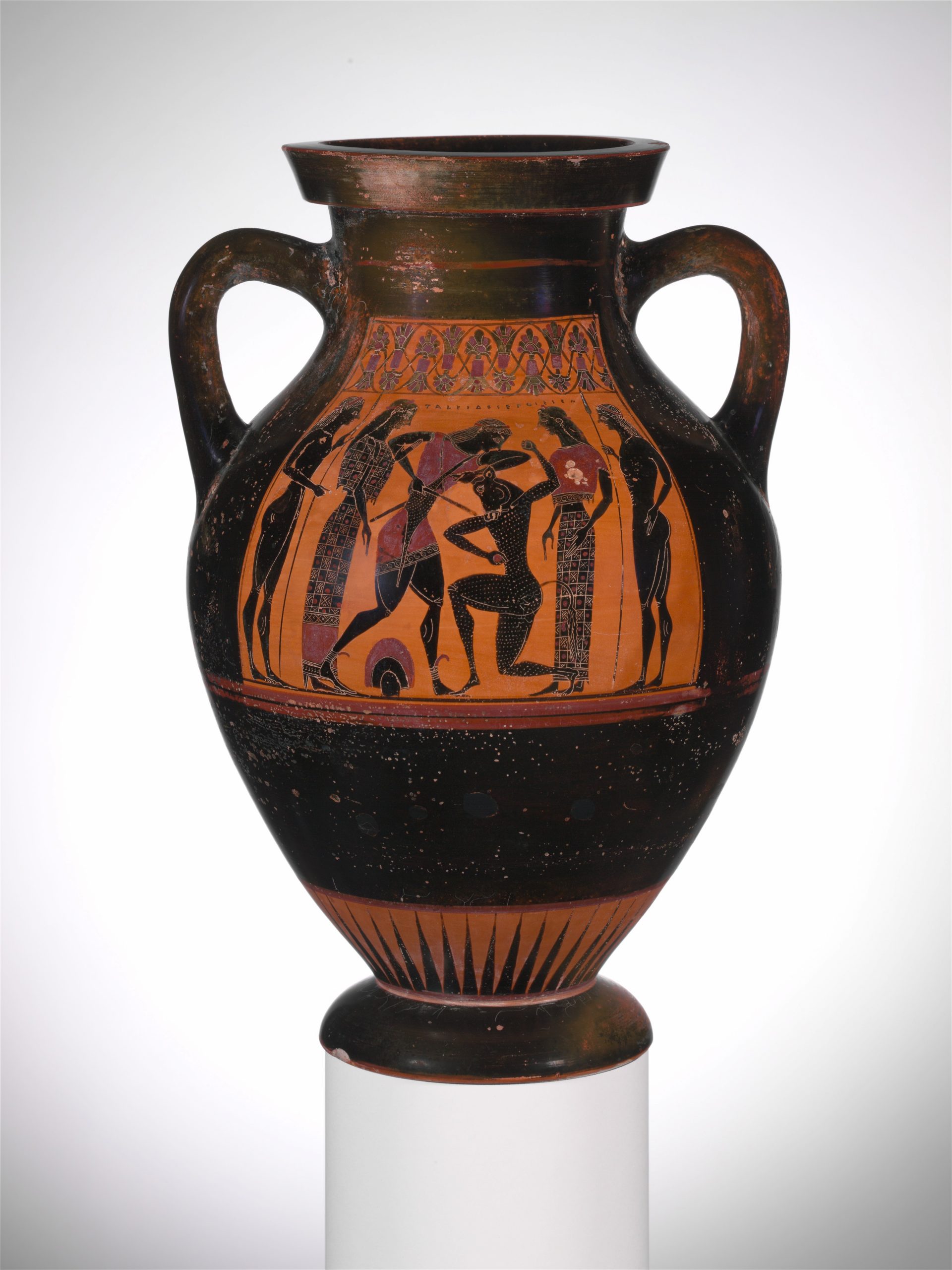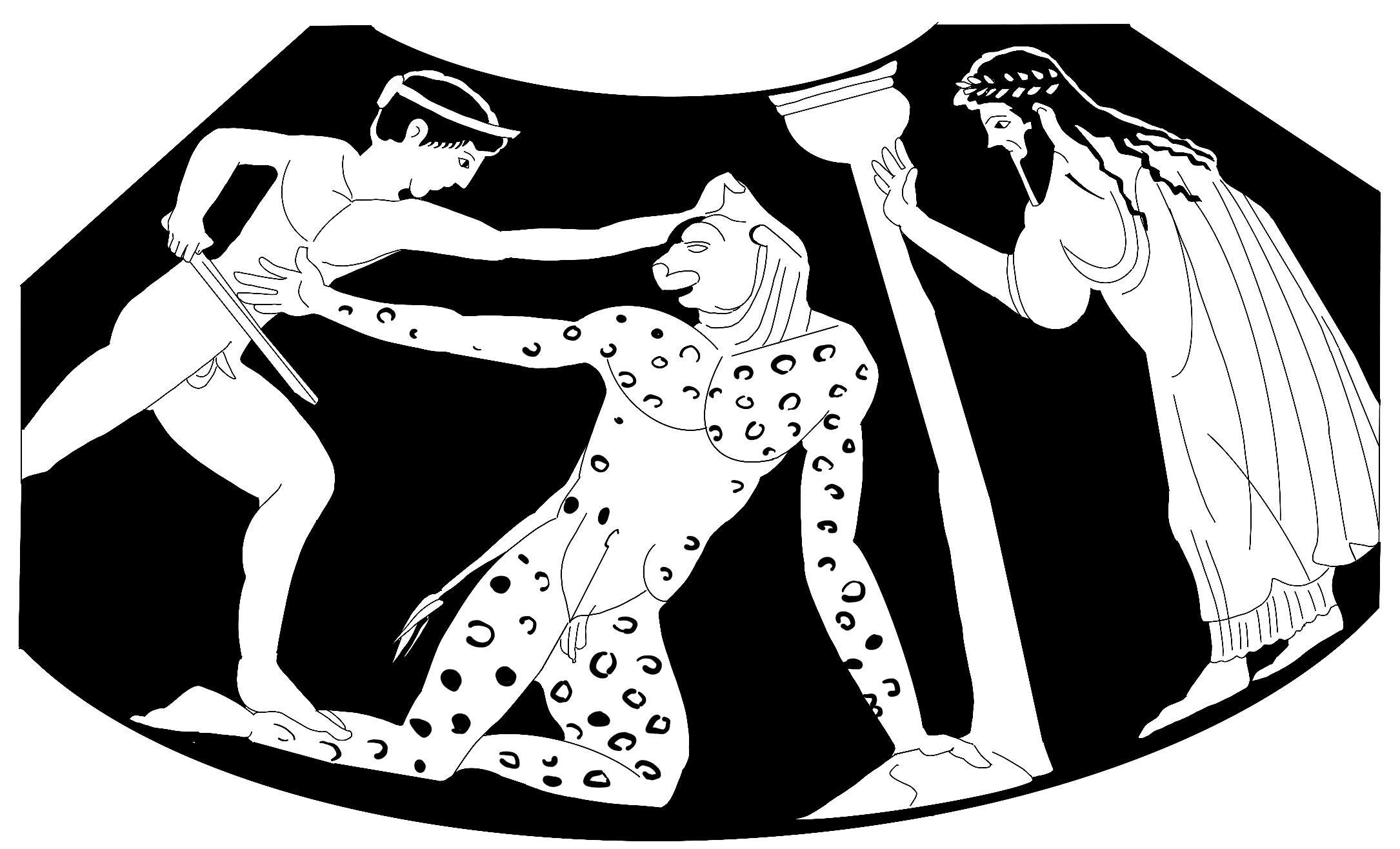 The most common scene depicting Theseus is the slaying of the Minotaur. The hero usually uses a sword to kill the monster; Athena or Ariadne are sometimes present.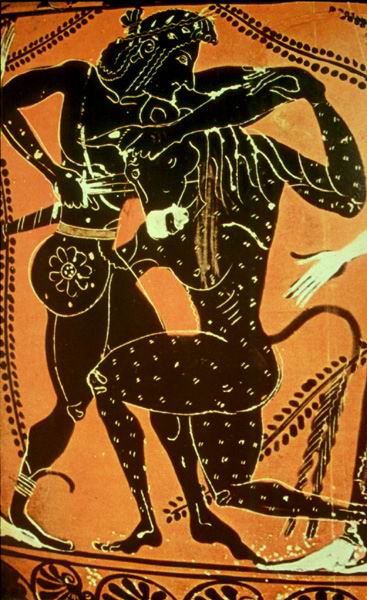 Another set of episodes often represented in art was that of the killing of various brigands on the way from Troezen to Athens, as well as the taming of the Bull of Marathon.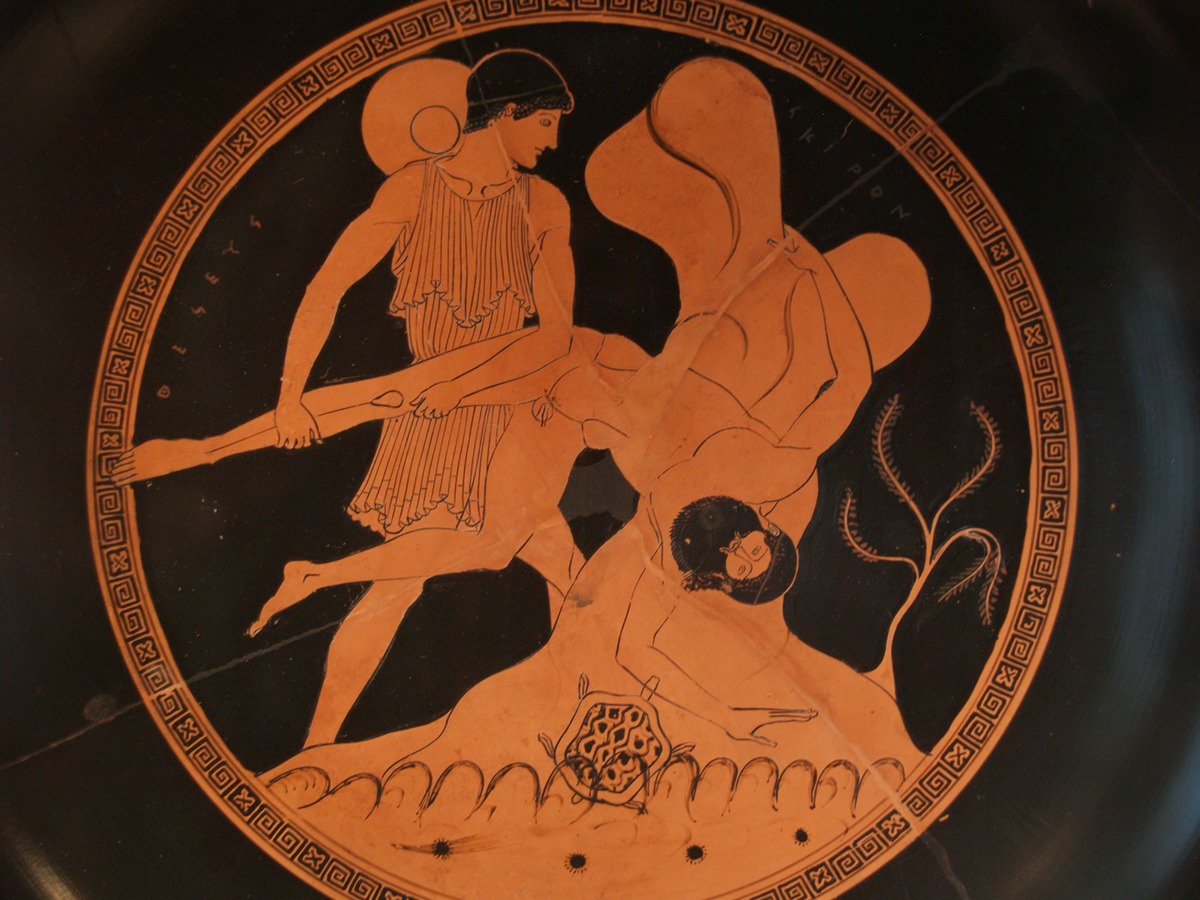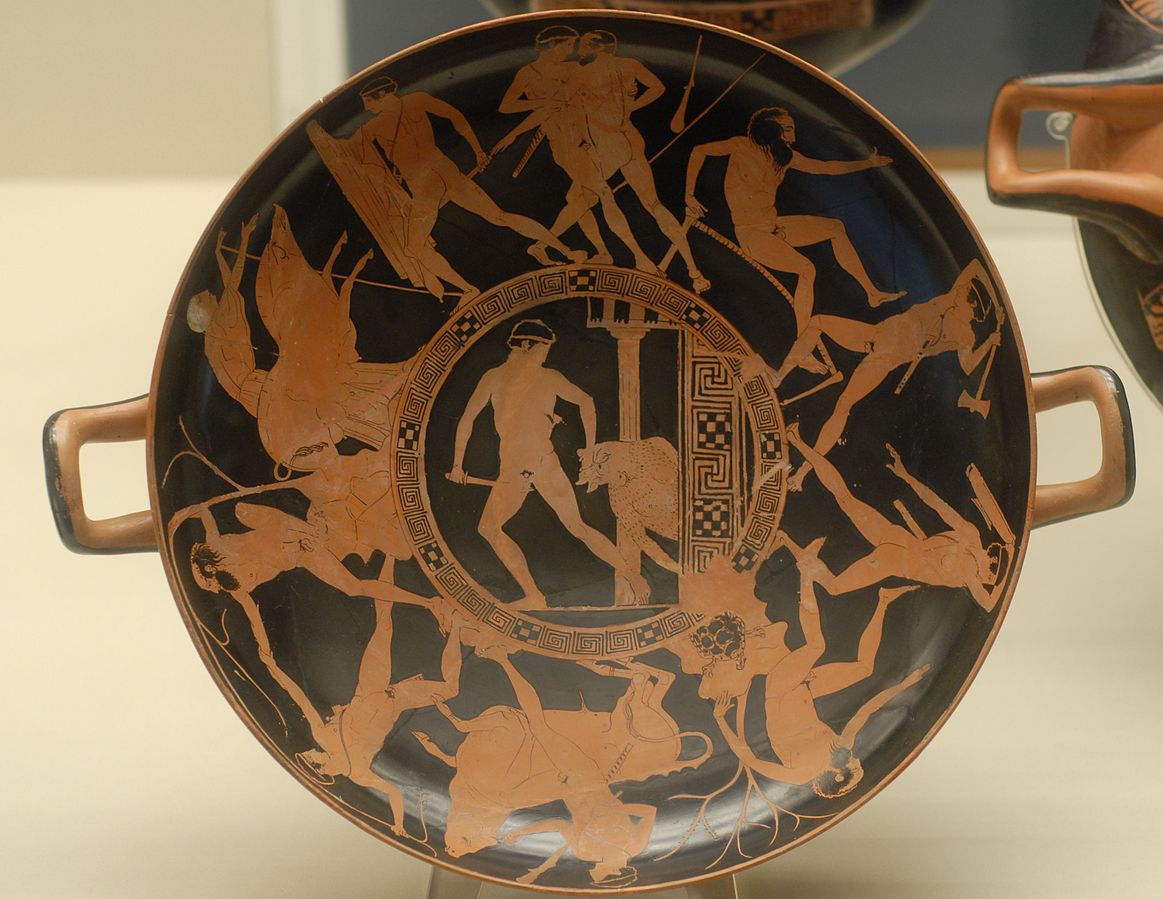 Theseus was also often portrayed kidnapping of the queen of the Amazons, Antiope, or that of young Helen.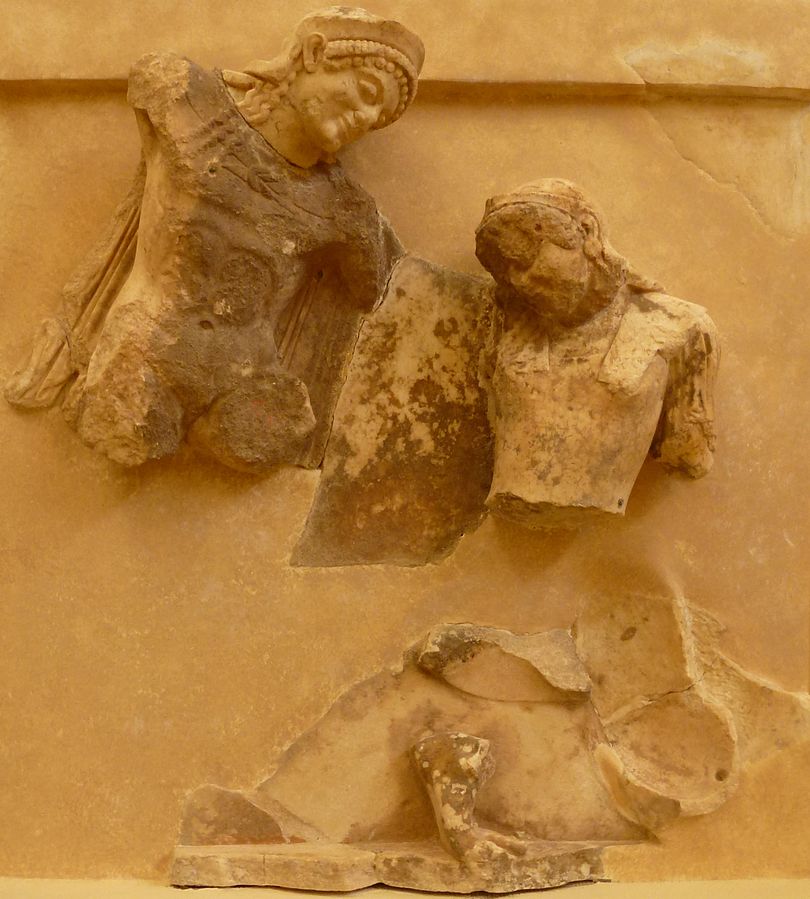 ---
Media Attributions and Footnotes
---