Zeus and His Dysfunctional Family
---
Origins
In the Greek mythological tradition, Artemis and Apollo were both the children of Zeus and Leto. This made them full siblings, unlike most of the younger Olympians, and in some traditions they were twins. Pseudo-Apollodorus (1.4.1) says they are twins, and that Artemis was born first and assisted her mother in the birth of her brother, thus reflecting her role as a goddess of childbirth.
As a young girl, Artemis goes to Zeus and asks that he give her a bow and arrows and nymphs to be her companions. She requests that she be allowed to remain a virgin forever and never marry or know the company of men.
---
Artemis in Action
Goddess of the Hunt
Artemis' main pastime was hunting in the woods with her nymph companions, who had, like herself, made vows of permanent chastity.
Actaeon
Several of Artemis' myths involve her protecting herself or other women from the unwanted gaze and sexual advances of men (gods and mortals alike). Perhaps the most famous of these stories is that of Actaeon, a cousin of Dionysus and a prince of Thebes.
Orion
[content warning for the following section: sexual assault]
The story of Orion has quite a few variations. In some versions of the myth he is a giant who challenges Artemis to a contest (of discus or archery) and attempts to rape one of her nymphs; she kills him in anger. In another version, he is a friend and hunting companion of Artemis. In his arrogance, he claims that he can kill any beast produced on the earth, which angers Gaia, who then kills him. Finally, a third version of the myth tells us that Apollo was jealous of Artemis' closeness with Orion, and so he tricked his sister into killing her friend. To commemorate her hunting companion, Artemis put Orion up in the sky as a constellation.
Callisto
[content warning for the following section: sexual assault]
Another myth with different versions is that of Artemis' companion, Callisto. According to one version of the story, after Zeus sexually assaulted Callisto, the jealous Hera turned her into a bear. Not knowing what had happened, Artemis accidentally killed Callisto while out hunting. She placed her among the stars as the constellation Ursa Major in commemoration. In another version of the myth, Artemis herself changed Callisto into a bear as a punishment for breaking her vow of chastity, despite the fact that Zeus had assaulted her against her will.
Iphigenia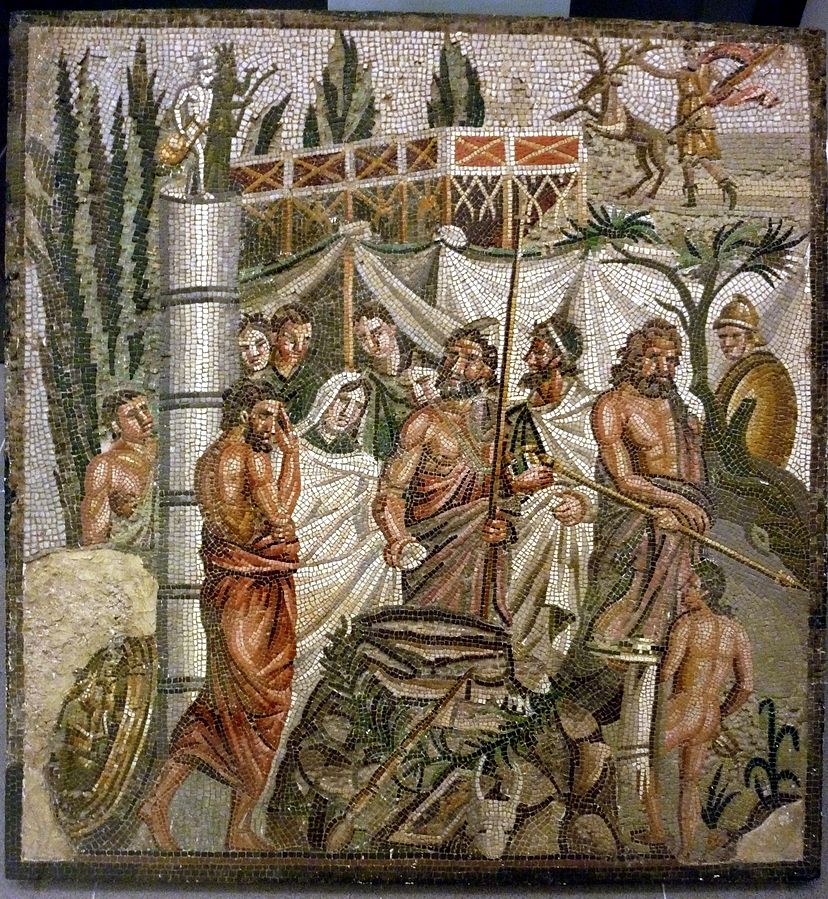 Before the start of the Trojan War, the Achaean (Greek) army was preparing to set sail for Troy. The leader of the Achaeans, Agamemnon, had angered Artemis by claiming that he was a better hunter than she was. To punish him, she withheld the winds that the Achaean's needed to sail to Troy. She informed Agamemnon that in order to restore the winds, he needed to sacrifice his eldest daughter, Iphigenia. In some versions of this myth, at the last minute Artemis rescues Iphigenia, carrying her off to safety and substituting a deer in her place on the sacrificial altar.
For further discussion of the Sacrifice of Iphigenia, see chapter 26 and chapter 30.
Tityus
In addition to her protection of young women, Artemis, along with her brother Apollo, took revenge against anyone who attempted to harm or insult their mother, Leto. They slew the giant Tityus and killed the children of the mortal woman Niobe.
Niobe
Niobe was a queen of Thebes who boasted that she had twelve children, six sons and six daughters, while the goddess Leto only had two, Apollo and Artemis. In punishment for her arrogance, Apollo and Artemis killed Niobe's twelve children. She wept uncontrollably until Zeus turned her into a stone.
---
Art and Symbolism
The earliest representations of Artemis in Greek art portrayed her as Mistress of the Animals (potnia theron), a winged female deity holding two wild beasts to her side.
Although the relationship with animals remained a well-established feature in the portrayal of the goddess, in time her image changed to that of a maiden huntress, young and athletic. Artemis was represented either in traditional hunting attire (short tunic and boots), or wearing long robes. Her main attributes were the quiver and bow, and often the skin of an animal draped around her torso. Her hair could be worn tied up with a hairband, in a bonnet, or let loose.
The cult of Artemis was syncretized (combined different features and beliefs) with those of two Anatolian deities, which resulted in different iconographies. The first was a fertility goddess whose main center of worship was Ephesus. The cult image of Ephesian Artemis shows her standing, flanked by animals, wearing an elaborate dress and headdress decorated with parts of animals and plants. Her temple, first built in monumental form in the 7th century BCE over an earlier structure, was considered one of the seven wonders of the ancient world, and its cult continued well into the early 5th century CE.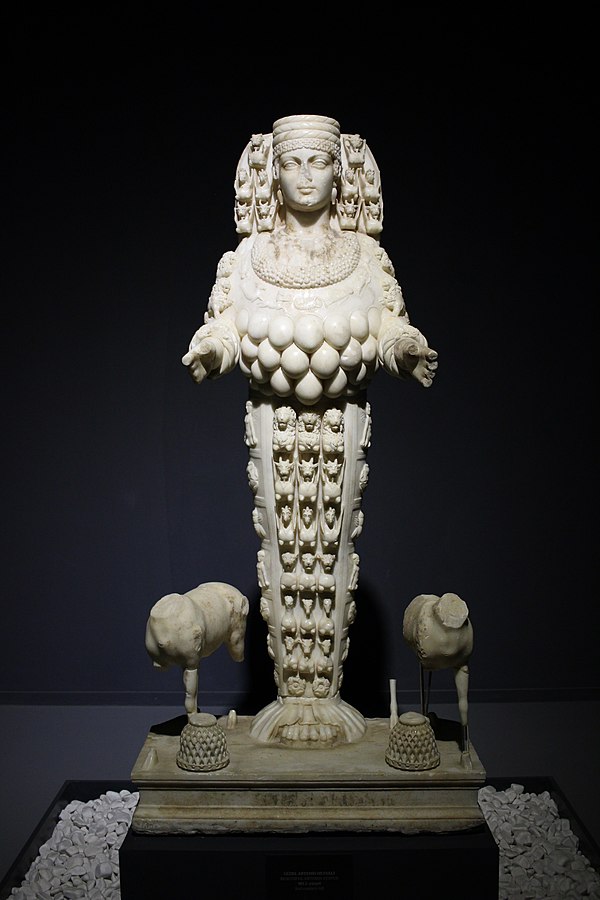 The second deity with which Artemis was identified was Bendis, a Thracian goddess of the hunt allegedly introduced to Greece by the Thracians residing in Athens during the 5th century BCE. The iconography of Artemis Bendis was very similar to that of the Greek goddess, with the addition of a Phrygian cap.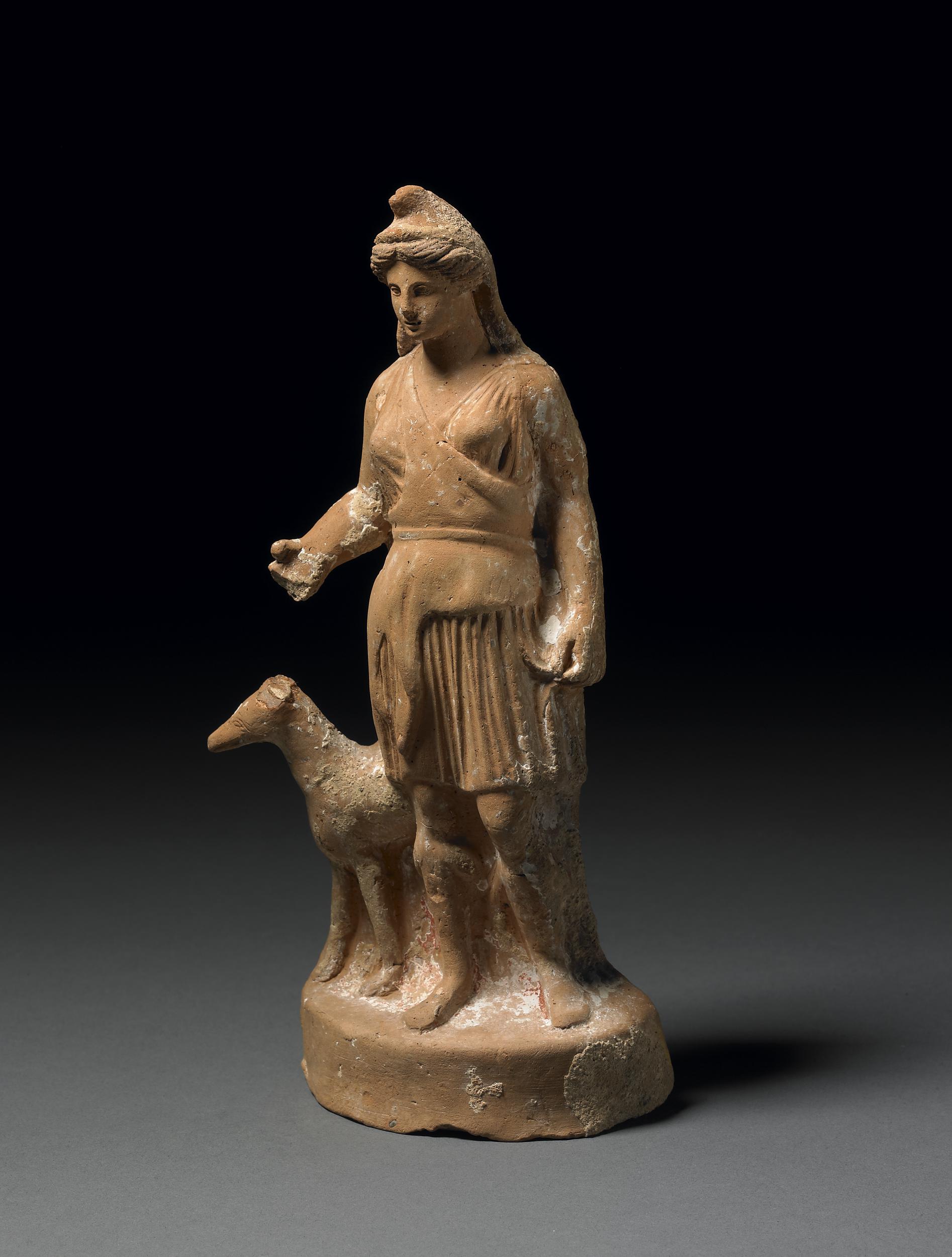 As mistress of the animals and goddess of the hunt Artemis was almost invariably represented accompanied by deer (sometimes seen dragging her chariot) or hunting dog.
One of the myths involving Artemis most commonly represented in art is the death of the hunter Actaeon, transformed into a deer and mauled by his own hounds as a punishment for having seen Artemis and her nymphs taking a bath at a mountain spring.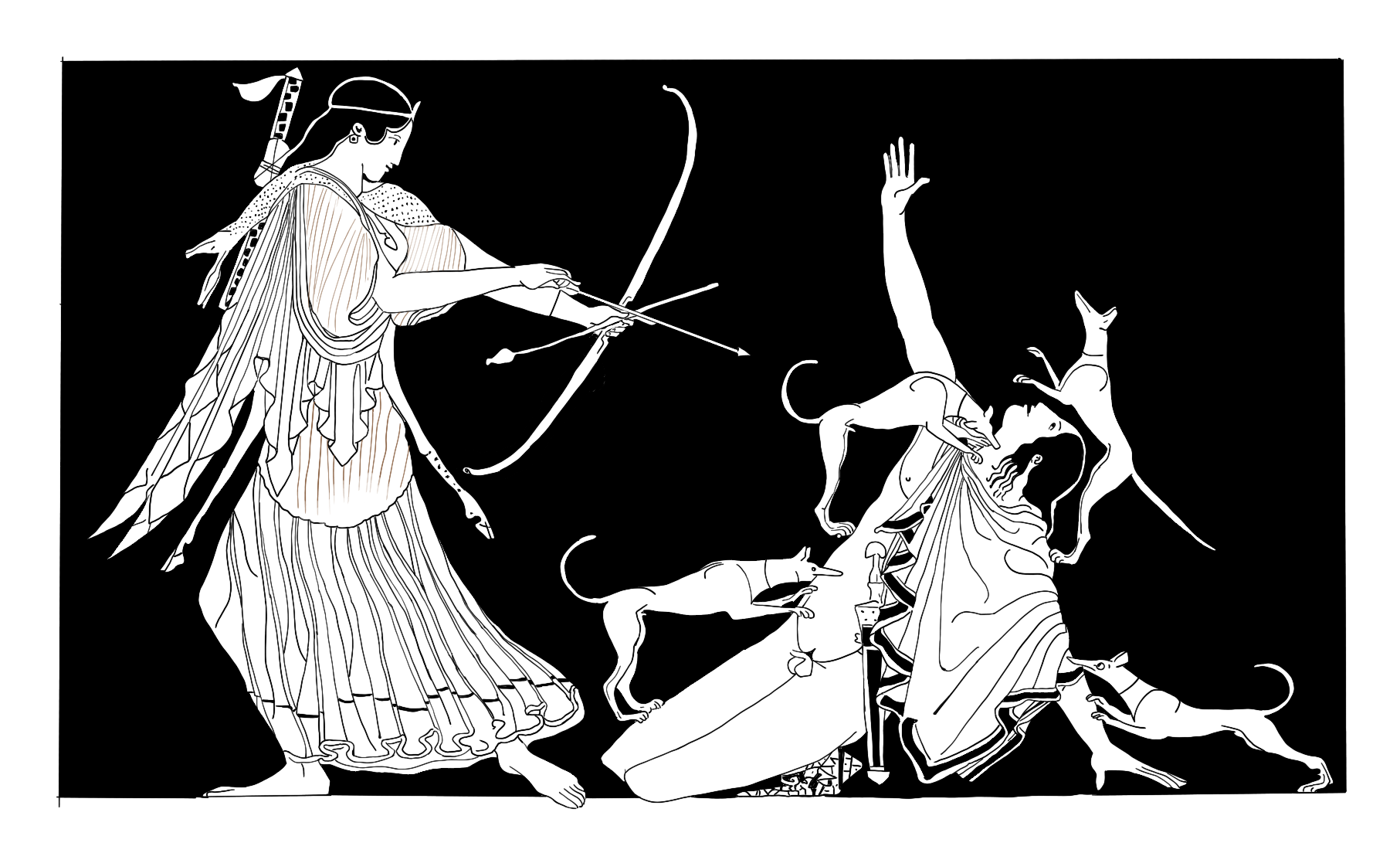 The goddess was also often portrayed in the company of her mother Leto and twin brother Apollo.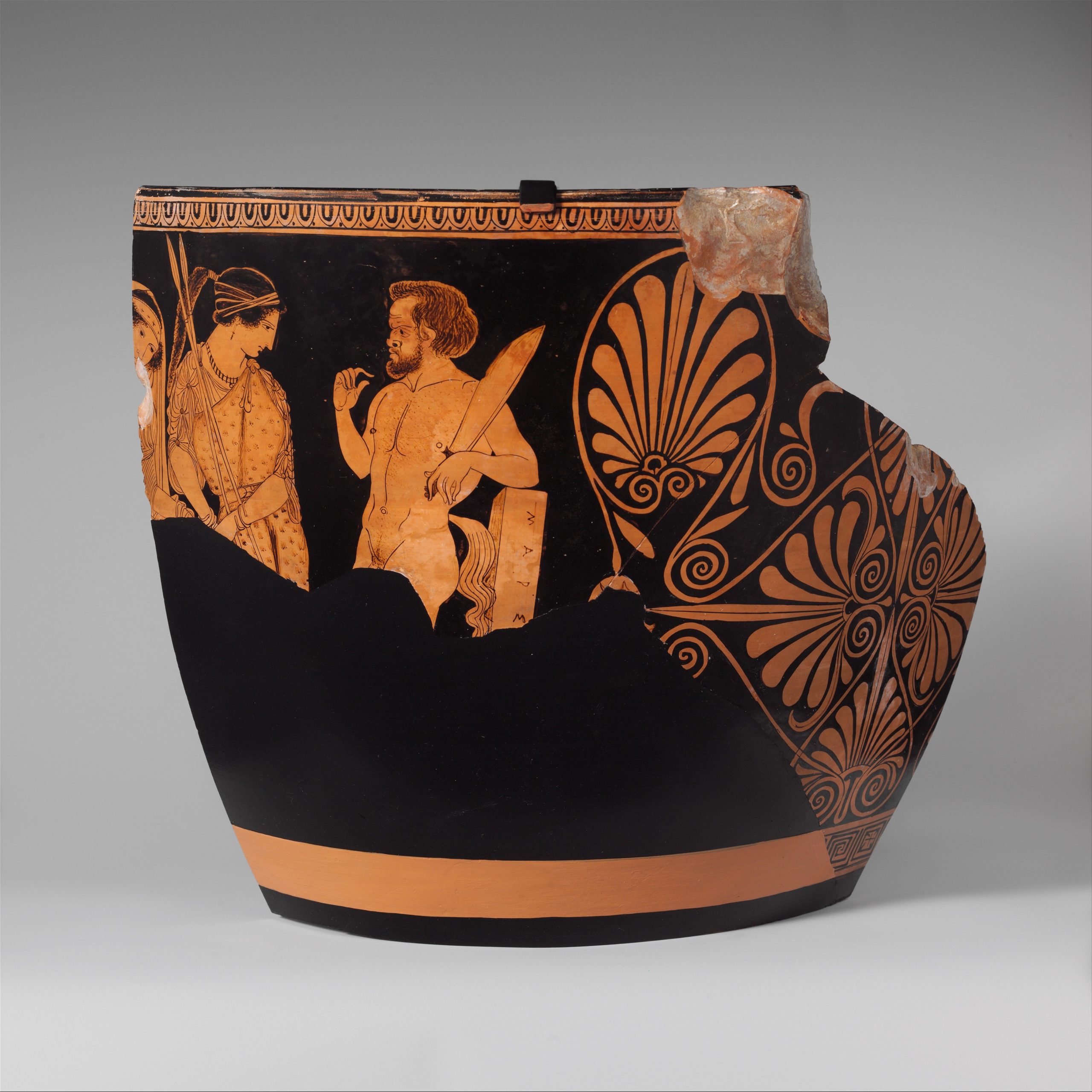 ---
Artemis of Ephesus
---
Diana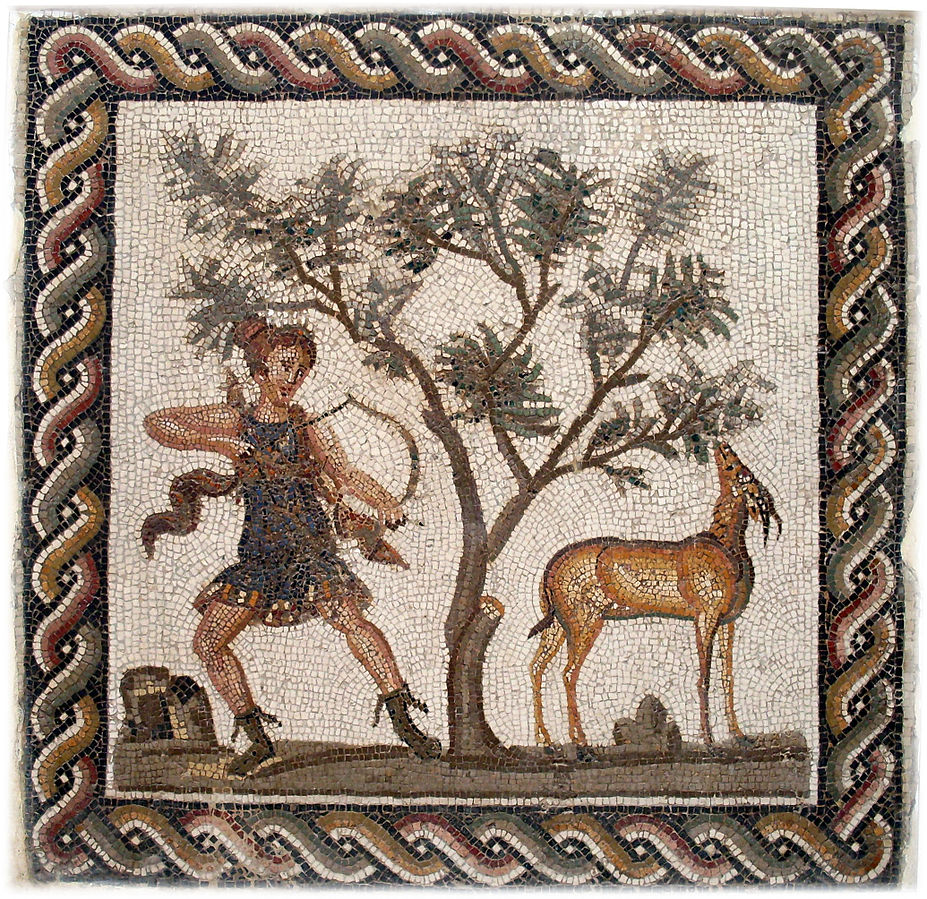 The iconography of Diana, the Roman equivalent of Artemis, did not differ drastically from that of her Greek counterpart. The goddess kept being represented as a young huntress holding bow and arrows, sometimes accompanied by deer or other wild animals.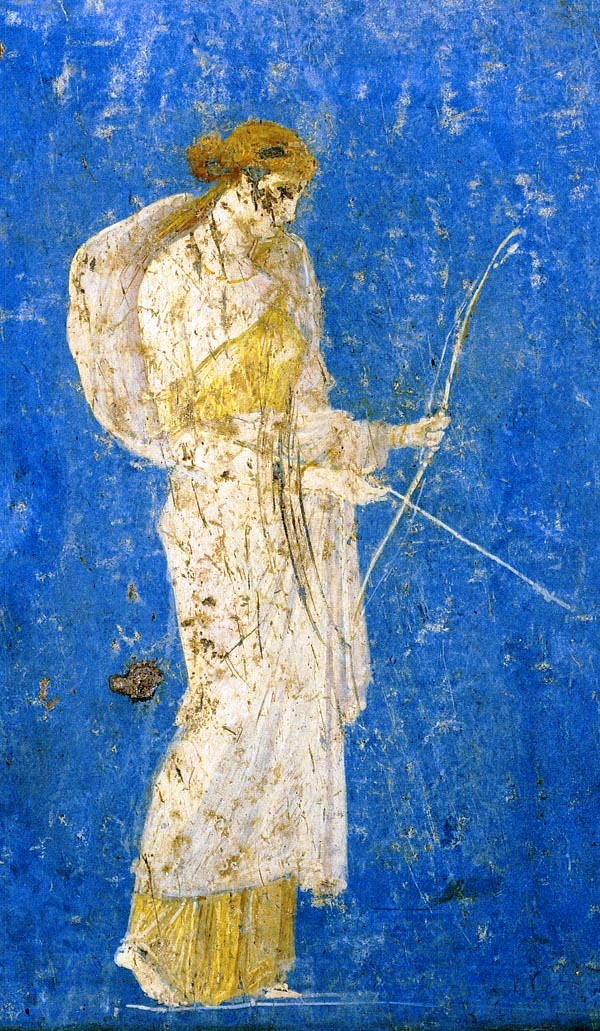 A myth that seems to have been particularly popular in Roman art was that of the rescue of princess Iphigenia, spirited away by Diana right before being sacrificed and swapped with a deer.
---
Media Attributions and Footnotes
---