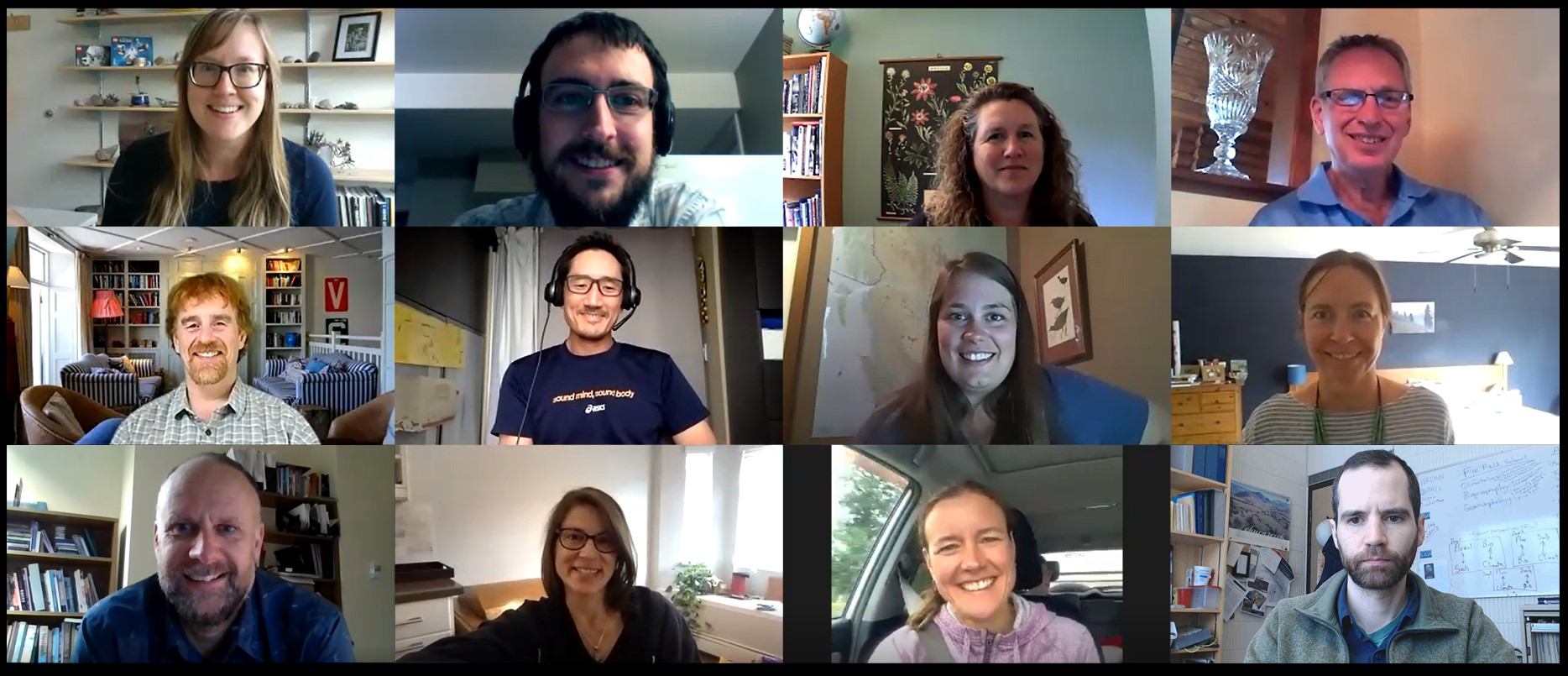 Katie Burles
Katie is a Geography Instructor at the College of the Rockies (COTR), Cranbrook, BC. Her formal education includes a Bachelor of Arts in geography from Thompson Rivers University (2008), Master of Science in geography from University of Lethbridge (2010), and the Provincial Instructors Diploma Program through Vancouver Community College (2017). Before joining the College of the Rockies science faculty, Katie worked as an environmental consultant, public servant, and program manager of a not-for-profit organization. In these roles, she worked on a variety of snow science, fluvial geomorphology, watershed balance, surficial geology, and watershed governance and planning projects. Conducting field-based research and monitoring has provided her with many opportunities to explore remote areas of the Yukon, BC, and Alberta during all four seasons. This only fuels her desire to spend more time in the outdoors and show her students and young sons the wonders of the natural world.
Terence Day
Terry is a Professor in the Department of Geography, Earth and Environmental Science at Okanagan College in Kelowna. Terry holds a B.Sc. in Geography from the University of Wales, Swansea, a M.Sc. in Geographic Information Science from Birkbeck College, University of London, and Ph.D. in Environmental Science from the University of East Anglia. Terry loves teaching geography, especially face-to-face, but online is good too. He has travelled extensively in the Arctic, East Asia, South America, Australia, Europe, and Africa, and tries to incorporate those experiences into his courses. He is a volunteer firefighter and first responder, and collects old maps. Terry, his wife, and their beautiful golden doodle, all enjoy camping and getting out.
Fes de Scally
Fes holds a B.A. in Geography from Simon Fraser University, a M.Sc. in Geography from the University of Alberta with a thesis on snowpack behavior and avalanche activity in the Rocky Mountains, and a Ph.D. in Geography from the University of Waterloo with a thesis on the effect of widespread snow avalanching on snowmelt processes in the Punjab Himalaya of Khyber Pakhtunkhwa Province, Pakistan. Since 1989, Fes has taught at Okanagan College, Okanagan University College and, since 2005, UBC's Okanagan campus. He retired from UBCO's Department of Earth, Environmental and Geographic Sciences in June of 2020. Fes has spent his career doing field work on a variety of hydrologic and geomorphic research problems in the Punjab Himalaya, Rockies and Cascade Mountains of western Canada, New Zealand's Southern Alps, Swiss Alps, and Australia's Snowy Mountains. Since 2001, he has also worked with the Cook Islands Meteorological Service on tropical cyclone and storm surge hazards in that small South Pacific nation. Over the past 35 years, Fes has taught a wide variety of undergraduate courses in Physical Geography and Natural Hazards, with a focus on mountain environments and experiential field learning.
Nina Hewitt
Nina is an Assistant Professor of Teaching in the Department of Geography at the University of British Columbia, Vancouver. A biogeographer, she researches plant dispersal, migration and disturbance ecology in temperate forests and alpine ecosystems, with field sites in Ontario, British Columbia and the Karakoram-Himalaya. She has published on tree species colonization in fragmented forest systems, assisted migration as a response to species range shifts, fire history reconstruction, and invasive species, among other topics. Her current research focuses on comparing contemporary and historical alpine plant species distributions in the Karakoram-Himalaya, and on building a database of BC alpine plant species. She has a strong interest in practical applications of her research, for example to inform biodiversity management in increasingly fragmented landscapes; policy responses to climate change, and prescribed burn practices. Nina also brings her enthusiasm for biogeography and ecology to her teaching. She is developing a series of immersive Augmented and Virtual Reality field trips as a way to engage learners in the biogeosciences. She holds a B.A. from Western University, M.Sc. from University of Guelph and Ph.D. from York University. Before joining UBC she taught at DePaul University, York University and the University of Toronto.
Crystal Huscroft
Crystal is an Associate Teaching Professor at Thompson Rivers University. She fell in love with the idea of teaching at the post-secondary level while still in high school and has continued loving it for over 20 years. Crystal's specialty is surficial geology mapping and stratigraphy. She has co-authored over 25 maps, associated government reports, and peer-reviewed research papers and has applied her knowledge of sediment deposits and landscape processes to reconstructing glacial and volcanic histories, diamond exploration, characterisation of landslide hazards, and the impact of climate change on permafrost processes. Her mapping projects have taken her throughout British Columbia, Alberta, Yukon, and Nunavut Territory. When she is not working, she loves spending time with her family and friends hiking, skiing, and trail running. Despite having to do so during pandemic restrictions, working with the other passionate educators on this project has been one of the recent highlights of her teaching career.
Gillian Krezoski
Gillian (Jill) graduated with a B.A. in geology and history from the University of Wisconsin, Eau Claire and a M.Sc. in Environmental Studies from McMaster University. She began her multidisciplinary career working for a geotechnical firm completing environmental impact assessments at proposed international nuclear sites before transitioning to working as a photographer and eventual lead for the Mars Hand Lens Imager (MAHLI) on NASA's Mars Curiosity Rover. Prior to becoming physical geography senior lab instructor at the University of Victoria, Gillian had taught Earth Sciences part-time for years at several community colleges in California while she worked on rover operations -​ and absolutely loved it. Sharing a love and excitement for Earth (and Martian!) surface processes with students​ is a lifelong passion for Gillian.
Allison Lutz
Allison teaches Geography in University Arts and Science, and Hydrology in the School of Environment and Geomatics at Selkirk College, in Castlegar, BC. Allison completed a degree in Geography from the University of Victoria and a master's degree in Geography from York University. Allison has also pursued numerous courses in teaching higher education. Prior to working at Selkirk College, Allison has lived throughout British Columbia, working for the Ministry of Forests and for several environmental consulting firms. In addition to teaching, Allison has a passion for sustainability, and she chaired Selkirk College's Sustainability Committee for many years. She is a board member of Friends of Kootenay Lake and is involved with several local stream monitoring projects. Outside of work, Allison enjoys mountain biking, hiking and skiing in the beautiful West Kootenays with her family and friends.
Stuart MacKinnon
Stuart is an educational program design professional who is currently the Lab Program Manager for the Department of Earth, Environmental and Geographic Sciences at UBC's Okanagan Campus. Within this role, Stuart is responsible for the laboratory curriculum and instruction of first year physical geography and earth and environmental science courses. He holds a B.Sc. in earth and environmental science and a B.Ed. in secondary science education from UBC's Campus, along with a M.Sc. in geography and a graduate certificate in learning and teaching in higher education from the University of Victoria. Stuart is a certified secondary school teacher who taught middle and high school math and science in both British Columbia and Alberta prior to joining UBC in his current role. During his spare time, Stuart is outside with his family exploring the wonders that BC has to offer and sharing his passion for the planet Earth with his daughter. In developing curriculum, he focuses on experiential learning and the integration of as much field-based learning as is feasible. Stuart coordinated the development of this lab manual and is grateful for the phenomenal group of dedicated educators that came together on short notice to make this all happen.
Craig Nichol
Craig is an Associate Professor of Teaching at the University of British Columbia Okanagan in the Earth, Environmental and Geographic Sciences Department. He holds a Bachelor's degree in geology and M.Sc. and Ph.D. degrees in hydrogeology. He has worked in regional groundwater resources, surface water and groundwater interactions, flow in the unsaturated zone, irrigation and greenhouse gas emissions, and mine waste management. He teaches courses in introductory geoscience, hydrogeology, contaminant transport, geophysics, soil physics and geoscience field techniques. He is an active participant in the water stewardship community of the Okanagan region. His work in geoscience complements a lifelong passion for the outdoors, that sees him out skiing, hiking and climbing when he can.
Andrew Perkins
Andrew is a senior lecturer in the Geography Department of Simon Fraser University. His past research has focused on paleoglacial landscapes and hydrology in south-central British Columbia. At his core, he is a field-based glacial geomorphologist specializing in paleo-landscape reconstruction and rates of geomorphic change. With training in areas of Quaternary geology, sedimentology, geochronology and geophysics and experience in Geographic Information Science, UAV data collection, dendrogeomorphology, and teaching and presenting to diverse audiences, he is most at home working in and enjoying the diverse physical landscape of British Columbia.
Todd Redding
Todd is a Professor in the Department of Geography, Earth and Environmental Science at Okanagan College in Penticton. Todd's formal education includes a B.Sc. in Geography from the University of Victoria, an M.Sc. in Physical Geography from Simon Fraser University and a Ph.D. in Hydrology from the University of Alberta. Prior to joining Okanagan College, he worked in forest watershed research for the BC Ministry of Forests and in watershed extension with FORREX. Todd has conducted research and taught about a wide range of topics including soils, snow, streams, surficial geology, terrain stability, weather and climate and terrestrial ecosystems. In his off time, Todd spends time with his family skiing, mountain biking and hiking across our beautiful BC landscapes.
Ian Saunders
Ian holds a B.Sc. (Hons) in Environmental Sciences from the University of East Anglia, and a M.Sc. and Ph.D. in Geography from Simon Fraser University (SFU). His research has included work in geomorphology, Quaternary geology, and a variety of sub-disciplines in climatology. Most of his research has been undertaken in mountainous settings in western Canada. In the past 30+ years Ian has taught physical geography courses at SFU, University of Lethbridge, Okanagan University College, and UBC Okanagan. His teaching experience spans a broad range of physical geography themes but mostly in climatology, meteorology, cartography, remote sensing, and the physical environments of British Columbia.
Leonard Tang
Leonard is a physical geographer with particular interests in meteorology and climatology. His love of travelling led him to Boston for his undergraduate and Los Angeles for his graduate work. Since moving back to Vancouver, he has been teaching at Langara College for the past 20 years. Outside of work, he enjoys going on "field trips" with his son, spending time with his family and friends, and looking up into the sky.
Chani Welch
Chani teaches physical geography and environmental science for the Department of Geography, Earth and Environmental Science at Okanagan College between geoscience and hydrology research projects. She holds a Bachelor's degree in Environmental Engineering from the University of New South Wales (Australia) and a Ph.D. in Hydrology from Flinders University (Australia). She moved to Canada to learn about snow-driven hydrological systems after a decade of diverse work in the hotter climates of Australia, Asia, and the Middle East. Chani has a particular interest in measurement-driven science, specifically focused on explaining water flow through inter-linked surface and groundwater flow paths. She likes to share this hands-on approach with her students. Chani's favourite place to be is outside, preferably in wild places surrounded by water.