Lab 10: BC Soils and Relationships to Vegetation and Climate
Nina Hewitt
Soils are fundamental to life on land. Soils supply water, nitrogen, and all of the mineral nutrients (potassium, calcium, etc.) to photosynthetic plants, which are the base of food webs in terrestrial ecosystems. Soils are the medium in which plants root and gain support, and they host the micro- and macro-biota that break down and cycle organic nutrients in ecosystems. Viewed in profile, one can see distinctive horizontal layers through a soil column that reflect the age of the soil and the particular environments in which the soil formed. These layers are called horizons. With some knowledge and a good eye, it is possible to read or interpret soil processes based on their visible characteristics.
In this lab we will explore some important soil types in BC, their properties visible in a vertical profile, and the related formational processes. At the end of the lab, you should be able to begin describing and interpreting soils in the field.
Pre-Readings
Soil Formation and Parent Materials
Soils form in place over periods of time under the influence of other soil forming factors: climate (heat and moisture), organisms, topography, and parent materials.
Parent materials determine the mineral building blocks of most soils, and vary considerably from place to place. They are classified according their mineral characteristics, whether they are bedrock or deposits, and if the latter, the mode of deposition. For further details consult Soil Formation and Parent Material; paying special attention to colluvial, glacial, lacustrine. Glacial till is important in BC, and is comprised of varying grain sizes from fine silt and clay to coarser sand, gravel and boulders of mixed lithology (mineral composition). Till often occurs in a sequence of a layer of ablation till overlying more compacted basal or lodgement till. Watch the videos Ablation till and Basal Till if you would like a more detailed description of the formation of each till type.
Modern soil science recognizes that soils are a product of processes acting upon soils, their biota, and parent materials. At the most general level, these include additions, losses, transformations, and translocations. More specific key processes include:
organic matter decomposition that releases and cycles nutrients, and adds humus (colloidal, decay-resistant organic particles);
chemical weathering of minerals to produce fine colloidal silicate clay particles;
vertical translocations such as eluviation and illuviation that contribute to horizon formation in rainy climates. Watch this video of Examples of Eluviation and Illuviation Soil Formation Processes for further details.
Soil Profiles and Properties
To study soils we use the soil profile: a vertical cross-section, or side-on view, of about 1 metre depth (Figure 10.1).
Soil profiles are normally described at two levels:
in the field, different horizons are identified and described using simple observable properties such as colour and texture (feel method) and
samples taken from each horizon identified are later subjected to detailed physical and chemical analysis in the laboratory.
The soil characteristics that can be assessed in the field, and which you may see evidence of in this lab, include:
Colour, using standardized colour charts.
Texture, typically classified using the feel of the soil.
Structure, i.e., the aggregation of soil particles into units or peds.
Miscellaneous special features, such as mottles, roots and pores.
Using these properties, one can identify relatively homogeneous horizontal layers or horizons within each soil profile.
Departments of agriculture in different countries have developed slightly different conventional horizon designations. In Canada, major horizons are designated by capital letters. Non-mineral horizons are designated by the letters O, L, F and H; mineral horizons by A, B, C and R). Each major horizon can be given one or more lowercase suffixes (such as e for eluviated, t for clay accumulation, g for gleyed and f for ferric iron in mineral horizons). These suffixes denote sub-horizons of the soil. We will encounter only a subset of these, which you will find described in your textbook. For a complete description of horizons and lowercase suffixes, see CSSC (1998) Chapter 2: Soil, Pedon, Control Section, and Soil Horizons.
Details of Observable Features Used in the Field Description of Soils
In addition to labelling the major horizons and their lowercase suffixes, soil properties typically noted during field descriptions of soils are detailed in Table 10.1.
Table 10.1. Observable soil properties noted in the field description of soils.
Soil Property
Description
Colour
Defined using a series of standardized Munsell soil colour charts:

Each page comprises a separate hue and is given a letter and number designation (e.g., 7.5YR).
Separate colour chips are arranged on each page of the chart on a vertical axis of darkness called a value and a horizontal axis of colour intensity called a chroma. A particular value and chroma combination is indicated by two numbers as such: 5/2.
One or more colour chips are also given verbal descriptions, and a complete colour description of the soil uses both the verbal and numerical descriptions, e.g., 7.5YR 5/2 Brown.

To use the colour charts, a moist (or both a dry and a moist) sample of the soil on the fingertip is compared with chips through the holes in the chart until a match is found. Note that when using the charts, it is necessary to be careful not to dirty the chips – the books cost over $ 100 each! Watch this demonstration of Soil Colour determination in the field for more information.

Texture
Conventionally refers to soil particles smaller than 2mm in diameter, which are separated into three textural classes:

Sand: 2 mm to 0.05mm
Silt: 0.05 mm to 0.002 mm
Clay: < 0.002 mm

Clay tends to feel greasy and untextured, silt slightly textured, whereas with sand you can feel the individual grains between your fingers. By expressing the proportions (by weight) of each textural class as a percentage, the textural mix of any soil can be placed on a triangular diagram, and the diagram zoned into types that are given a name. This soil texture triangle may be found in your text or lecture notes. With practice, it is usually possible to place a soil into one of these types with reasonable accuracy using only feel.

Structure
Refers to the aggregation of individual soil particles into units called peds. The five structural types that have been distinguished by soil scientists include granular or crumb, platy, angular blocky, subangular blocky and prism-like. Consult your text or other instructional materials for diagrams. In addition, a structureless class is recognized when soil particles show no aggregation, such as a recent sand deposit. Each structural type is also separated into three size classes, fine, medium, coarse, as defined by the diameter of the peds.

A description of the ped uses both the shape and size designations, e.g., coarse granular or medium subangular blocky structure.

Miscellaneous Features
Include any other obvious features that can be seen in the soil horizon. Some of the most common features that are commented upon are:

Mottles and concretions
Roots and pores
Presence of coarse fragments > 2mm in diameter, e.g., gravel, stones

Note the size and abundance for each feature.

Horizon Boundaries
At the lower horizon boundary, the transition to the next horizon is described by

Distinctness:

Abrupt: < 3 cm wide
Clear: 3-6 cm wide
Gradual: 6-12 cm wide
Diffuse: > 12 cm wide

Form (Figure 10.2):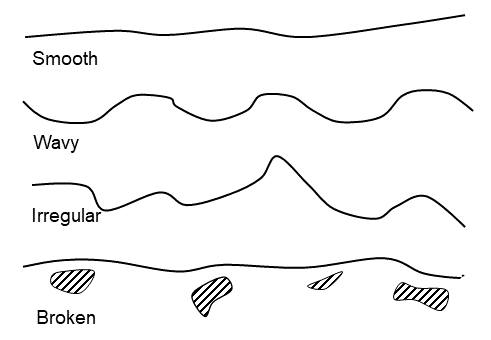 Gleying is a process in which metals in the soil such as iron (and sometimes manganese) are reduced, producing blue-grey colours in soils, often with mottling (Figure 10.3). When oxygen is present, iron is oxidized and has a reddish colour. Under situations of periodic water-logging, such as from a seasonally raised water table, oxygen is depleted, the iron is reduced and takes on a blue-grey hue.
Soil Classification in Canada
The type and combination of horizons present in the soil is used to classify the entire profile into a class of soils such as podzols or gleysols. In Canada, we use the Canadian System of Soil Classification (CSSC). The CSSC identifies 10 major soil orders which are further subdivided. Refer to Chapter 3: Outline of the System and a Key to the Classification of a Pedon for a thorough description. Table 10.2 summarizes the 10 soil orders and associated vegetation communities. Click on the name of each soil order to access a detailed description at UBC's SoilWeb's Classification pages.
Table 10.2. The ten Canadian soil orders and associated vegetation communities. Source: CSSC, 1998

| Canadian Soil Order | Associated Vegetation |
| --- | --- |
| Brunisolic | Boreal forest; mixed forest, shrubs and grass; heath and tundra |
| Chernozemic | Grasslands |
| Cryosolic | Subarctic to boreal forests, alpine forests |
| Gleysolic | Wetland, swamp |
| Luvisolic | Deciduous, mixed and coniferous forests |
| Organic | Peat, bogs and fens |
| Podzolic | Coniferous forest or heath |
| Regosolic | Mixed |
| Solonetzic | Grasses and forbs |
| Vertisolic | Grasslands |
We will be examining Organic, Podzolic, Brunisolic, Chernozemic and Regosolic soil types in this lab. Be sure you watch the videos and read the summaries on each order at the links provided in Table 10.2.
It is also recommended that you watch the following videos on UBC's SoilWeb:
The Podzolic Order (first 6 minutes or so, describing soils in the UBC Malcolm Knapp Research Forest.
The Organic Order (first 9 minutes or so, describing a profile along the Coquihalla Highway).
BEC Zones
Vegetation is not only dependent on climate and topography, but also on the soil that forms in that environment. BC's Biogeoclimatic Ecosystem Classification (BEC) system classifies ecosystems according to their major climate types, vegetation associations, and soil types. On this basis, land cover in BC has been classified into a series of different ecosystem types (BEC zones) including
Coastal Western Hemlock and Douglas Fir Forests near the southern coast,
Englemann Spruce-Subalpine Forest and Alpine Tundra in mid- to high-elevation locations of the Coast Mountains, and
Ponderosa Pine, Interior Douglas Fir and Bunchgrass BEC zones in the interior.
Peruse the Biogeoclimatic Zones of British Columbia. Click on the zone name to view the map.
Lab Exercises
In this lab you will examine landscapes, climate and ecosystem characteristics, and soil profiles for 5 contrasting locations that represent the common soil types in BC. Specifically, you will
Locate the sites using Google Earth imagery and examine the landscapes in terms of topography, elevation and other geographic factors.
Determine climatic conditions for the locations using online climate maps and identify ecosystem characteristics, including dominant vegetation, using standard biogeoclimatic classifications (BEC zones).
Examine the soil profiles of comparable soils using online information and imagery.
The lab consists of three exercises and should take 3 to 4 hours to complete. Please consult your instructor for submission requirements.
Worksheets
Lab 10 Table 10.3
Lab 10 Table 10.4
References
Canadian Society of Soil Science. (2020). Soils of Canada. https://soilsofcanada.ca/
Krzic M., R. Strivelli, E. Holmes, and S. Dyanatkar. (2010). Virtual soil monolith collection at UBC. The University of British Columbia, Vancouver. https://monoliths.soilweb.ca/
Selkirk College. (2004). Biogeoclimatic ecosystem classification system in British Columbia. https://selkirk.ca/discover/bec/zones/zones.html
Soil Classification Working Group. (1998). The Canadian system of soil classification, 3rd edition. Government of Canada. http://sis.agr.gc.ca/cansis/taxa/cssc3/index.html
University of British Columbia. (2019). ClimateBC Map. http://www.climatewna.com/ClimateBC_Map.aspx
Image Description
Figure 10.1. Diagram of a soil profile
Figure 10.1 is a schematic diagram showing the approximate positions of the major soil horizons within an example soil. From the ground surface (0 cm) downwards, the soil horizons are:
The O horizon is the very top of the soil and is made up of organic material. The size of the O horizon varies depending on the amount of organic matter present, and is sometimes absent.
The A horizon is the top mineral layer of soil. This layer is often the darkest mineral layer and typically has more plant roots and biological activity. In this example, the A horizon if found directly below the O horizon, to a depth of approximately 15 cm.
The B horizon is the middle mineral layer of soil, and although there are some plant roots and biological activity, there are less minerals present to support this activity. In this example the B horizon is found between the approximate depths of 15 cm and 45 cm.
The C horizon is the bottom mineral layer of soil, and is the parent material which the soil developed from. In this example, the C horizon is found between the approximate depths of 45 cm and 75 cm.
Figure 10.10 Soil pit in an Organic soil from BC
A photograph of an organic mesisol soil pit from BC. It has three organic layers, Om1, Om2, and Om3. The lowercase m denotes "mesic material", meaning that these are organic layers with mesic materials. In this photograph… Om1 is from 0 to 23 cm in depth, and is a lighter brown colour. Om2 is from 23 to 40 cm in depth, and is a darker brown colour. Om3 is from 40 to 80+ cm in depth, is a darker brown colour, and appears to be more saturated with water.
Figure 10.11 Podzolic soil from Quebec on sandy parent materials
A photograph of a podzol soil pit from Quebec. It has three layers on top of a sandy parent material. The top of the mineral soil has an approximate depth of 4 cm, is brown in colour, and has visible plant roots. The second layer is from the approximate depth of 4 to 7 cm and is white. The third layer is from 10 to 20 cm in depth and is a pale brown colour. Below the third layer, is the sandy parent material.