Lab 06: Climate Analysis with Virtual Globes
Andrew Perkins
How have scientists come to the conclusion that global climate is rapidly changing? It's based on the scientific method and repeated hypothesis testing. Specifically, by observing global temperature and precipitation records over the long term and looking for significant change. While atmospheric conditions have been subtly changing for decades, we've only been consistently and directly measuring key climate indicators like atmospheric carbon dioxide levels since the 1960's. However, the widespread existence of weather stations around the world, with regular, reliable weather observations, allows us to go further back in time to see the pattern of changing climate over the last century and beyond.
In this lab, you will explore the underlying causes of changing climate, human contributions to this, and analyze actual temperature records from some of the longest running weather stations in Canada to determine if they demonstrate a trend in changing climate over time. At the end of this lab, you will have a good sense of one line of evidence for contemporary climate change.
Pre-Readings
What Causes Earth's Climate to Change Over Time?
Atmospheric gases play a significant role in maintaining a global energy balance. Through transmission, reflection, absorption, and refraction they affect radiation emitted by the sun as it travels to and from Earth's surface. Energy from the Sun comes as shortwave energy at the UV and visible end of the electromagnetic spectrum. Energy re-emitted from Earth is much lower in temperature and has a longer wavelength. Some of the re-emitted longwave radiation from Earth is temporarily trapped within the atmosphere before it escapes back into space, resulting in heat retention. This is known as the greenhouse effect (Figure 6.1).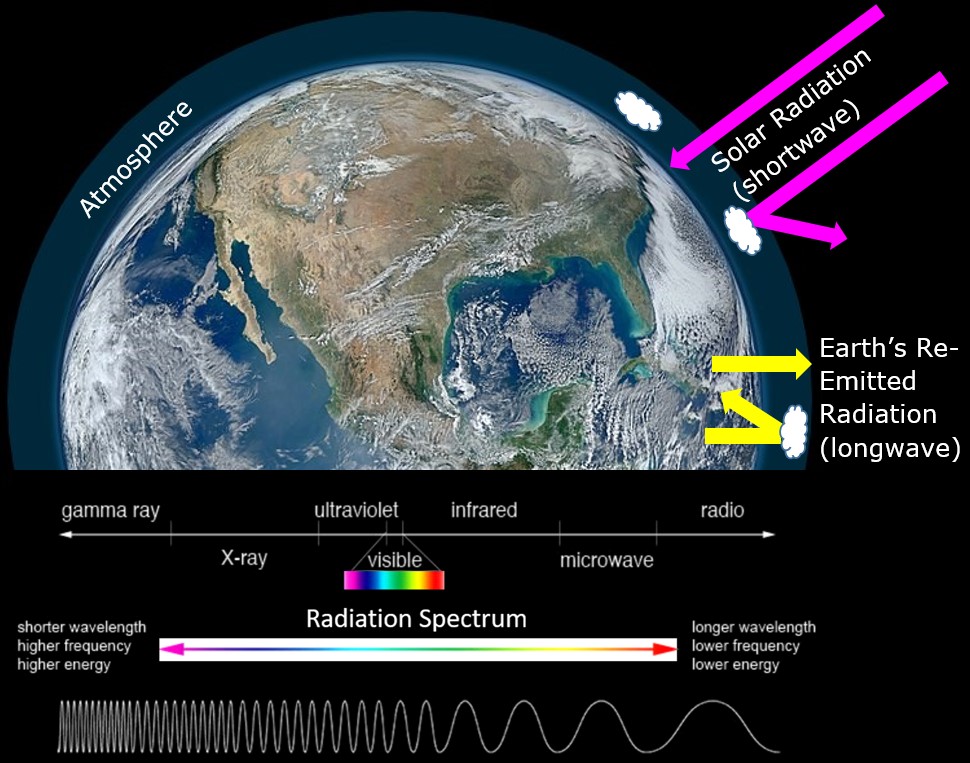 The differing wavelengths (commonly measured in micrometres, μm) between incoming solar radiation and outgoing radiation re-emitted by Earth allow atmospheric gases to play specific roles in controlling the transmission of these wavelengths. For example, water vapour (H2O), absorbs mostly energy in the longwave end of the spectrum, blocking energy re-emitted from Earth (Figure 6.2). In contrast, oxygen (O2) and ozone (O3), absorb mostly energy in the shortwave end of the spectrum (high-energy incoming solar radiation). This difference – where high-energy radiation is passed through the atmosphere, but lower energy radiation is prevented from escaping – permits the greenhouse effect, which is what creates the conditions (climate) that allow life as we know it to exist on Earth.

So, the greenhouse effect is the basic process that underpins the global climate. Changes to the climate system do occur as a result of natural and anthropogenic (manmade) changes that affect how much energy enters or leaves Earth's system, in other words, activities that affect Earth's energy budget. These changes are known as climate forcings, and are outlined in Climate Forcings and Global Warming.
Carbon dioxide (CO2) is a gas that is very effective at absorbing long-wave radiation. Figure 6.2 shows that CO2 absorbs thermal radiation at a wavelength that water vapour does not. This is known as closing the atmospheric window, and is a reason that CO2 concentrations in the atmosphere play a large role in forcing the climate. One of the first scientific stations to measure CO2 concentrations over long periods is still operational at Mauna Loa in Hawai'i. To check it out, go to Keeling Curve of Carbon Dioxide Concentration at Mauna Loa Observatory. The data recorded here have allowed us to track detailed changes in carbon dioxide concentrations over time. These concentrations are usually measured in parts per million (ppm) where 1 ppm CO2 represents one CO2 particle per million atmospheric particles.
Since initial measurements at Mauna Loa began, we have augmented our understanding of global CO2 concentrations with more measuring stations and satellite measurements. This has allowed us to see a spatial distribution in CO2 emissions across the globe, and also better understand the global energy budget.
For an interesting way to visualize the pathway of escaping longwave (infrared) radiation, check out the Infrared Escape Game. See how the difficulty of this game changes between atmospheric concentrations of CO2 in the 1900s to expected concentrations in 2025.
Measuring Spatial Variation in Earth's Energy Budget
When Earth's energy budget is out of balance, global temperatures start to rise or fall. When this happens, ecosystems need to adjust which, depending on the rate of change, can be difficult to accomplish.
One way to analyze change in countries around the world is by using temperature records that extend into the historic past. Canada has several sites for which daily temperature records cover at least a 100-year period. These data are archived by Environment and Climate Change Canada. Others have organized this data into virtual globes to make it easier to explore.
The data collected from these locations is incredibly valuable for reconstructing changes in temperature over time, and analyzing how changes might be different at separate locations around the globe. This reinforces the importance of keeping consistent long term scientific datasets for the good of society in general, so we can better understand the systems we inhabit.
Since the 1970's, space-based measurements have been possible from satellites that are measuring atmospheric and surface conditions on Earth. ERBS (Earth Radiation Budget Satellite) launched in 1984 and collected data on Earth's radiation budget. One of the modern satellite systems to take over this role is CERES (Clouds and Earth's Radiant Energy System) (Figure 6.3).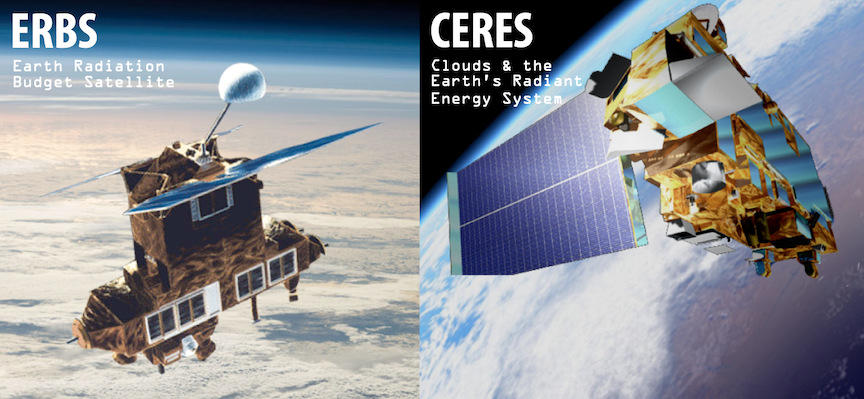 Lab Exercises
In these exercises you will
Review the greenhouse effect and the basis for contemporary climate change.
Analyze the pattern of carbon dioxide concentration in the atmosphere over recent decades.
Observe and graph temperature trends from several Canadian weather stations over at least a century of time using this virtual globe (historical temperature data).
Determine how the long term patterns of your analyzed weather stations fits in to the broader pattern of Canadian weather station observations by comparing values to long-term Climate Normals.
Image Descriptions
Figure 6.1. Overview of the greenhouse effect
There is a satellite image of the Earth showing incoming shortwave radiation from the Sun, represented as pink arrows. Some of this radiation bounces off the atmosphere, and some makes it to the Earth's surface. At the Earth's surface yellow arrows show longwave radiation re-emitted back out to space, a small amount of which is bounced off of Earth's atmosphere and back to the surface. Below this, the electromagnetic spectrum is shown, demonstrating different wavelengths of light and their associated energy. Shorter wavelength light including X-rays are on the left side of the diagram, visible light is in the middle and long wavelength light, including infrared is on the right side of the diagram.
Figure 6.4 Atmospheric window.
The diagram is made of two graphs. On the upper graph, the x-axis shows wavelength of energy and the y-axis shows the energy intensity measured in the atmosphere. Two peaks are shown, a red one centred around shorter wavelengths and a blue one centred around longer wavelengths. The lower graph shows different atmospheric gases and their ability to absorb or transmit radiation of different wavelengths. Percent transmission through the atmosphere is shown on the y-axis and wavelength is shown on the x-axis. Areas of white on the graph show transmission of specific wavelengths and areas of gray on the graphs show absorption and blocking of wavelengths by specific gases. Graphs are shown for Water Vapour, Carbon Dioxide, Oxygen and Ozone, Methane, Nitrous Oxide, and Rayleigh Scattering. A cumulative graph of all of these gases and their transmission of radiation is shown above the individual graphs.