3.1. The Power of Relationship Selling
It was 4:00 p.m. on Christmas Eve and Ray Rizzo's father, in town for the annual family get-together, had forgotten to bring his suit. What made the situation even more challenging was that Ray's father is rather portly with a forty-eight-inch waist and even broader shoulders, a build that requires a fifty- three-short jacket. Ray and his father rushed to Mitchells, a local clothing store in Connecticut, and asked Jack Mitchell, the owner, for his help. It was hard to imagine that Ray's father would possibly be able to get a suit or even a sport jacket tailored to fit in time for the family gathering. After all, it was Christmas Eve, and the store would be closing in an hour. Jack did not hesitate and immediately enlisted Domenic, the head tailor, and before 6 o'clock that evening, the largest pair of pants and jacket in the store were tailored to fit Ray's father perfectly. Needless to say, Ray is a customer for life (Mitchell, 2003). This situation is what Jack Mitchell calls a hug. If you go shopping for clothes at Mitchells or Richards in Connecticut, you will be hugged. Maybe not literally, but you will most definitely be "hugged" figuratively. Jack Mitchell, the CEO of Mitchells/Richards and author of Hug Your Customers: The Proven Way to Personalize Sales and Achieve Astounding Results, says, "Hugging is a way of thinking about customers. To us, hugging is a softer word for passion and relationships. It's a way of getting close to your customers and truly understanding them." (Mitchell, 2003, p28).
From Personal to Problem Solving
Think about your best friend. You know them so well that you can just about finish each other's sentences. You know their favorite flavor and brand of ice cream, and you can sense when they are having a bad day. You text and talk or text them all the time. You have a great relationship with them.
Now think about the last time you went into your favorite restaurant. Was it the same kind of experience? Did the host greet you by name and seat you at your favorite table? Did the waitperson remember that you like to drink raspberry-flavored iced tea? Were you delighted with a new flavor of cappuccino after dinner? When these things happen, the people at the restaurant make you feel special; after all, you are the reason they are there. When you have a relationship like this with the people at the restaurant, you are more inclined to return to the restaurant again and again. The bottom line is that to be successful in selling, any kind of selling, you have to make selling personal. People do business with people, not with companies. Even in the business-to-business (B2B) selling channel, people are making decisions on behalf of the company for which they work. Every sale starts with a relationship. If your relationship is strong, there is a higher likelihood of a sale and a loyal repeat customer. That means you have to get to know your customer on a one-to-one basis to understand what they want, what they need, and what resources they have. This concept is called relationship selling (Sykes, 2006). It is defined by working personally with your customer to understand their needs, put their needs first, and provide consultation to help them make the best decision for their business.
Selling has evolved dramatically over the past thirty years. Business is more competitive. The use of technology and the expanded number of product and service offerings have developed a need for relationship selling in more industries than ever before. It used to be that salespeople wanted to simply make a sale, which meant that the sale began and ended with the transaction but now, it is not enough to just make the sale. In today's competitive world, it is how you think about the customer that matters (Mitchell, 2003).   The fact is that the sale is just one small part of the relationship–the real essence of selling is in the relationship (Gitomer, 2007).
Example
Johnson Controls, manufacturer of heating and air conditioning systems, thinks that relationship selling is so important that it holds a Basic Boot Camp for the company's territory managers at its headquarters in Norman, Oklahoma, that focuses on leveraging relationships in selling. The classroom-style "boot camp" includes interactive exercises, product training, and business support training. The company's commitment to relationship selling does not end there. Participants who score at least an 85 percent on their final grade for the Basic Boot Camp and spend six months out in the field can qualify to attend the elite Special Operations Training, which is by invitation only.
Lifetime Value
Selling relationships start as personal relationships. Making a personal connection is vital in the first two to ten minutes of a customer encounter or meeting (Berch, 2009).  If you are selling medical imaging equipment to hospitals, you want to build relationships with the administrators, doctors, and nurses who will be using your equipment in each hospital. When you build a relationship starting with what is important to each person individually, it is easier to expand that relationship to sharing information and problem solving from a business perspective. As Bob Fitta, a manufacturer's rep for several tool companies said about Paul Robichaud, owner of Robi Tools, "I got to know him as a business person and a real person, and that relationship has endured." (Pierriello, 2008).  Relationship selling does not start and stop at specific times during the relationship. In fact, it defines the relationship before the sale, during the sale, and after the sale (Berch, 2009). The concept of building professional relationships is apparent in this example: If you are selling insurance, consider the fact that your customer may eventually buy a home, have a family, or purchase a second property. Therefore, the relationship you develop when you sell them car insurance as a young person could and should be nurtured and developed over time to provide solutions that answer their needs as their lifestyle changes. Lifetime value is the focus of this long-term customer relationship development.  It means that you consider not just one transaction with a customer, but also the help and insight you can provide throughout the entire time frame during which you do business with them. So, although you may only provide them with basic car insurance now, over the course of more than twenty- five years that you do business with them, you may ultimately sell them thousands of dollars of insurance and investment products that meet their changing needs but that  won't happen if you don't continue your relationship and keep in touch, focusing on topics and events that are important to them. If you focus only on the immediate sale, you will miss a lot of business, not to mention future referrals.
Here is a simple formula for calculating lifetime value:
dollar value of purchase × gross profit percent × number of purchases
For example, if a customer shopped at a retailer once and spent $75 on one purchase that had a gross profit of 30 percent, the lifetime value of that customer would be $22.50, calculated as $75 × 30% × 1 = $22.50.
If the customer made five purchases for $75 each over the course of the time they shopped with the retailer (let's say five years), at a gross profit of 30 percent, the lifetime value of the customer would be $112.50, calculated as $75 × 30% × 5 = $112.50 (Gray, 2009).
Therefore, you can see that the concept of retaining a customer for more than one purchase can provide financial benefits. In addition, working with the same customer over the course of time provides an opportunity to learn more about the customer's needs and provide solutions that better meet those needs.
CRM Tools Help You Manage Relationships
Consider the evolution of some major industries. Many of the leading hotel chains keep your preferences in a database so that their front desk sales team can recognize you personally at check-in and provide the queen-sized bed in a nonsmoking room on the quiet side of the property that you prefer.  Amazon knows your past orders and how to set up your home page.  TripAdvisor and Expedia track your preferences for seat and food choices and preferred airlines.  In each one of these situations, the salesperson is the difference that sets a brand apart at the decisive moment, the moment the customer is exposed to the brand (Lax, 2008).
Given that it is roughly five times more expensive to acquire a new customer than to retain one (Galio, 2014) , many companies use customer relationship management (CRM) tools, which are technology solutions that organize all of a customer's interactions with a company in one place. In other words, CRM is a customer database that holds all the information regarding a transaction (e.g., date; products purchased; salesperson who sold the products; and name, address, and contact information of the customer). In addition, it captures all communication the customer has had with the company, including calls made to the company call center, posts and reviews made to the company Web site, and the details of each sales call made by a salesperson.  Looking at the graph below, CRM software helps improve customer service, satisfaction, and increase sales (Plaskij, 2020).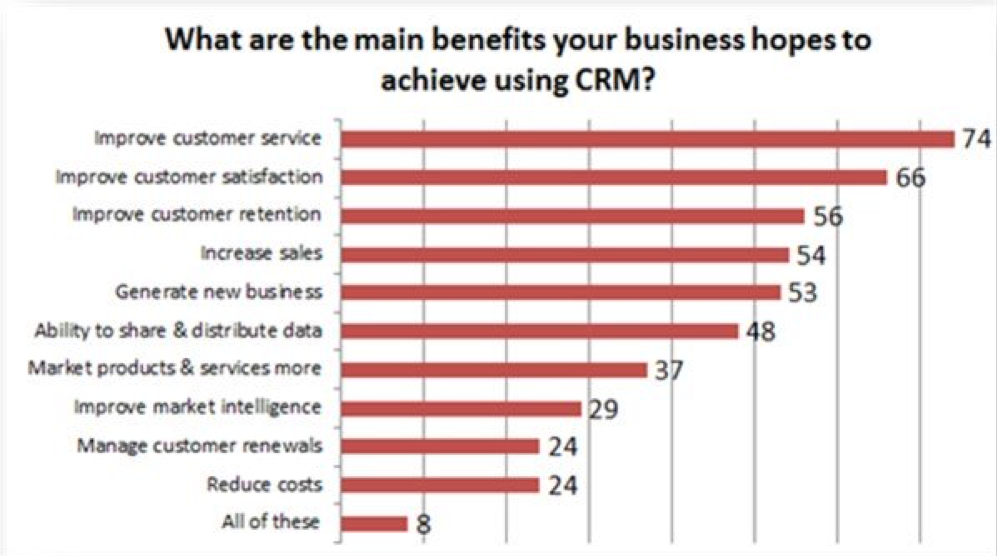 A CRM tool works in a variety of ways. Here is an example:
A construction contractor calls a toll-free number for a plumbing supply company after seeing an ad in a trade journal. The prospect inquiry is sent via e-mail to the appropriate salesperson. The salesperson reviews the CRM system to see if there have been any previous contacts with the customer and if there is any information about the customer and their business. Then they return the prospect's phone call and sets up a date to meet them to learn more about their business needs. The salesperson makes a note in the CRM system about the phone call and the date of the meeting and sets a follow-up reminder for themselves for the meeting and for three days after the meeting. When the salesperson meets with the prospect, they learn that the prospect has five developments that they manages. The salesperson makes a note in the CRM system so everyone from the company who comes in contact with the prospect, such as other salespeople or customer service, know this information about the prospect.
CRM tools can be extremely helpful in managing customer relationships, especially where there are multiple people in the company who come in contact with prospects and customers. CRM tools also make it easier to understand the lifetime value of a customer since all purchases, inquiries, and other contacts are included in the system. It is the information that is gathered in a CRM system that helps a salesperson  better understand customer behavior, communication patterns, and short- as well as long-term needs.
For example, many companies offer loyalty programs as a tactic to increase sales but also to gather information about customer preferences to offer more relevant messages and offers. CRM tools are used to manage loyalty programs, such as Best Buy Rewards Zone, Southwest Airlines Rapid Rewards, and the Safeway card for their different local grocery chains. This information is then used for marketing and selling purposes. Best Buy can identify all the recent purchasers of Hewlett-Packard (HP) printers and send them an e-mail for HP ink cartridges. CRM tools are used to manage customer relationships in other ways. For example, Starbucks uses Salesforce.com, a widely used CRM tool, to power their MyStarbucksIdea Web site. The Web site is a collaboration and feedback tool that engages customers in providing ideas to the company. To manage the relationships with customers online, Starbucks uses a CRM tool. This allows Starbucks to provide personal feedback to each customer on all the ideas they submit.
Face time
So you might think that customer relationships are easy to maintain with text messaging, e-mail, and other technology-based methods of communication. After all, that is how you communicate with your friends. But while technology can enhance an established relationship because it allows you to provide
information and insight at a moment's notice, the fact is that most significant customer relationships, especially in B2B selling, require face-to-face communication (Geiger & Turley, 2006).  Networking statistics indicate that 95% of professionals consider face-to-face communication vital for long-term business (Vukova, 2019).In this world of high-tech instant communication, some relationships can easily become "low-touch," or missing the human element. Meeting with and entertaining customers is an important part of the selling process. It helps you get to know customers in an environment outside the office, in a casual or social   place such as a restaurant, sporting event, or concert. These can be excellent opportunities for you and your customer to "let your hair down," relax, and enjoy each other's company. Many sales positions include an entertainment budget for this reason. Taking someone out to eat or a round of golf is not the only part of a selling relationship, but it is an important part of building and developing a connection (Sanders, 2018).  One sales manager said that they could tell when one of their salespeople is struggling simply by reviewing their expense reports. They look for activities that take place outside business hours because those are the activities that build relationships. In fact, according to one study, 71 percent of top-achieving salespeople use entertainment as a way to get closer to their customers (Reilly, 2006).
R-commerce
You have probably heard of e-commerce, selling products and services on the Internet, and m-commerce, selling products and services via mobile devices such as cell phones and smart phones. R-commerce is less know. R-commerce is a term that refers to relationship marketing, which establishes and builds mutually beneficial relationships.
Terry L. Brock, an international marketing coach and syndicated columnist, says salespeople have the opportunity to make the difference in their relationships with the little things. Sending a thank-you note after a meeting, forwarding an article or video on a topic you discussed, remembering the names of your customer's children, even providing a personal suggestion for a vacation spot are all examples of little things that can set you apart from every other salesperson. You might think that these "little things" are not important when you get into the big world of business but Harvey Mackay, renowned author, speaker, and business owner, says it best: "Little things mean a lot? Not true. Little things mean everything." (Mackay, 2018). Developing your own r-commerce strategy can help set you apart in sales. It is expected that you will make phone calls and follow up; it is the extra personal touch that makes your customer feel special and helps establish a strong relationship.
Trust Me
"The check is in the mail." "The doctor will see you in ten minutes." "I'll call you tomorrow." How many times have you heard these promises, or ones like them? When people make promises that they do not keep, you lose trust in them. It is unlikely that you will trust a person who does not deliver on what they say. If your customer does not believe that you will actually do what you say you are going to do, you do not have a future in selling. Trust is built on open and honest communication and is about building partnerships. Salespeople build trust by following up on their promises. They are accessible (many times 24-7), and they work to help their customers succeed. Customers trust you when they believe you have their best interest at heart, not your personal motivation. One B2B customer described their salesperson by saying they were like an employee of the company. "Your customers need to know they can depend on you — that if something goes wrong, you'll be there." (Frost, 2017).
People buy from people they trust. Consider the fact that customers put their trust in salespeople with their money and, in the case of business-to-business selling, with their business and ultimately their reputation. Customers actually become dependent on you, and their buying decisions are actually based
on the fact that they trust you and believe what you say and unfortunately, according to the Harvard Business Review, customers "rate a dismal 18% of salespeople as trusted (Illig, 2018).
When Times Are Tough
No one likes to deliver bad news but it is not always good news that you will have to tell a customer. The best antidote for bad news is a good relationship. If you have nurtured your relationship with the customer and built trust, it is much easier to deliver bad news. When it is time to deliver bad news, like a delayed delivery, a cost increase, or a discontinued product line, do not put it off. Use the same practices that you use to build your relationships: open, honest, and timely communication.
Win-Win-Win: The Ultimate Relationship
If you do volunteer work for an organization such as Autism Speaks, you get involved because you believe in raising awareness of autism to increase funds for research for the cure. Those who have autism and their families benefit from your involvement. This is win #1. You also benefit because you gain the satisfaction of helping people. This is win #2. You help build the strength of the organization, in this case, Autism Speaks. The more people that are involved, the more people they can reach with their message, and the more money they can raise to reach their goal of curing autism. This is win #3.
The above example is an illustration of the win-win-win concept in relationships. In other words, in the ultimate relationship, all parties have something to give and something to gain. This same win-win-win occurs in successful selling relationships. Your customer wins because they get your advice and expertise to help them find a product or service that meets their needs. You win because you have enhanced your relationship and made a sale; and your company wins because the relationship, the sale, and the repeat sales help it achieve its goals. Although the win-win-win may sound like a simple concept, it is a critical one to keep in mind in any business position, especially in selling. This art of collaboration actually results in more business with your existing customers because you have become a partner in solving their problems, and it brings you new business in the form of referrals.
A Seat at the Table
The seat at the table is given to those salespeople who deliver value, not sell products or services. They develop the relationship to assist customers in implementing their business strategies (Williams, Everett, and Rogol, 2009). Customers want value in the form of strategic thinking around issues that are important to them and their company goals. As a result, your goal as a salesperson should be to help your customers create demand, secure a competitive advantage, and identify a new niche. When you deliver this kind of value, your customers will no longer see you as a salesperson; they will see you as a "business person who sells." It is this kind of thinking and value creation that earn you a seat at the table. The seat at the table also helps you expand your business because you will be integrated into your customer's business. That allows you to deliver your core products or services and be a part of developing the new opportunities. It helps cement the relationship and establishes a partnership that delivers value for all involved (Miller, 2009). Every salesperson wants "a seat at the table"; they want to be a part of the decision-making process. That is the epitome of relationship selling: you are included in the process from the beginning. You want to be included as a valued partner with your business-to-business customers to discuss their company's strategic questions like "How will we grow our business in the next three years while technology is driving down the average selling price of our product?" "How can we extend our relationship with our customers beyond our contract period?" or "How can we expand to new markets and minimize our risk?" These are not traditional sales questions; they are strategic issues that companies wrestle with. When you are a true partner with your customers, you will be given a seat at the table when direction-setting issues are discussed. This allows you to participate fully as a trusted advisor and asset to the customer and to help shape the strategy of the company. It changes your relationship with the contact and the company from salesperson to partner. Although it may seem like a lofty goal, consider this: If you want to have a seat at the table, not only will you need to solve your customer's problems and anticipate their needs, but according to Tim Conner, sales trainer and author, you will also need to be a creative problem creator.  That means that you will be in constant pursuit of identifying problems that your customer did not even know they had. In other words, it means that you have to think ahead of your customer, not just along with them (Levison, 2007).
Building relationships can be done through lifetime value, CRM, Facetime, R-Commerce, Trust, Handling tough times, Win-win-win strategies, and having a seat at the table.
Image Description
Figure 3.1 Image Description: What are the main benefits your business hopes to achieve using CRM? is a bar chart showing 11 benefits to businesses using CRM and the percentages by which each improves using CRM.  On the y-axis are the benefits, and on the x-axis are the percentages.
Improve customer service shows 74 percent improvement
Improve customer satisfaction shows 66 percent improvement
Improve customer retention shows 56 percent improvement
Increase sales shows 54 percent improvement
Generate new business shows 53 percent improvement
Ability to share and distribute date shows 48 percent improvement
Market products and services more shows 37 percent improvement
Improve market intelligence shows 29 percent improvement
Manage customer renewals shows 24 percent improvement
Reduce costs shows 24 percent improvement
All of these shows 8 percent improvement