Chapter 6 – Artistic Expressions and Entertainment
Art Shows, Cultural Centres, and Museums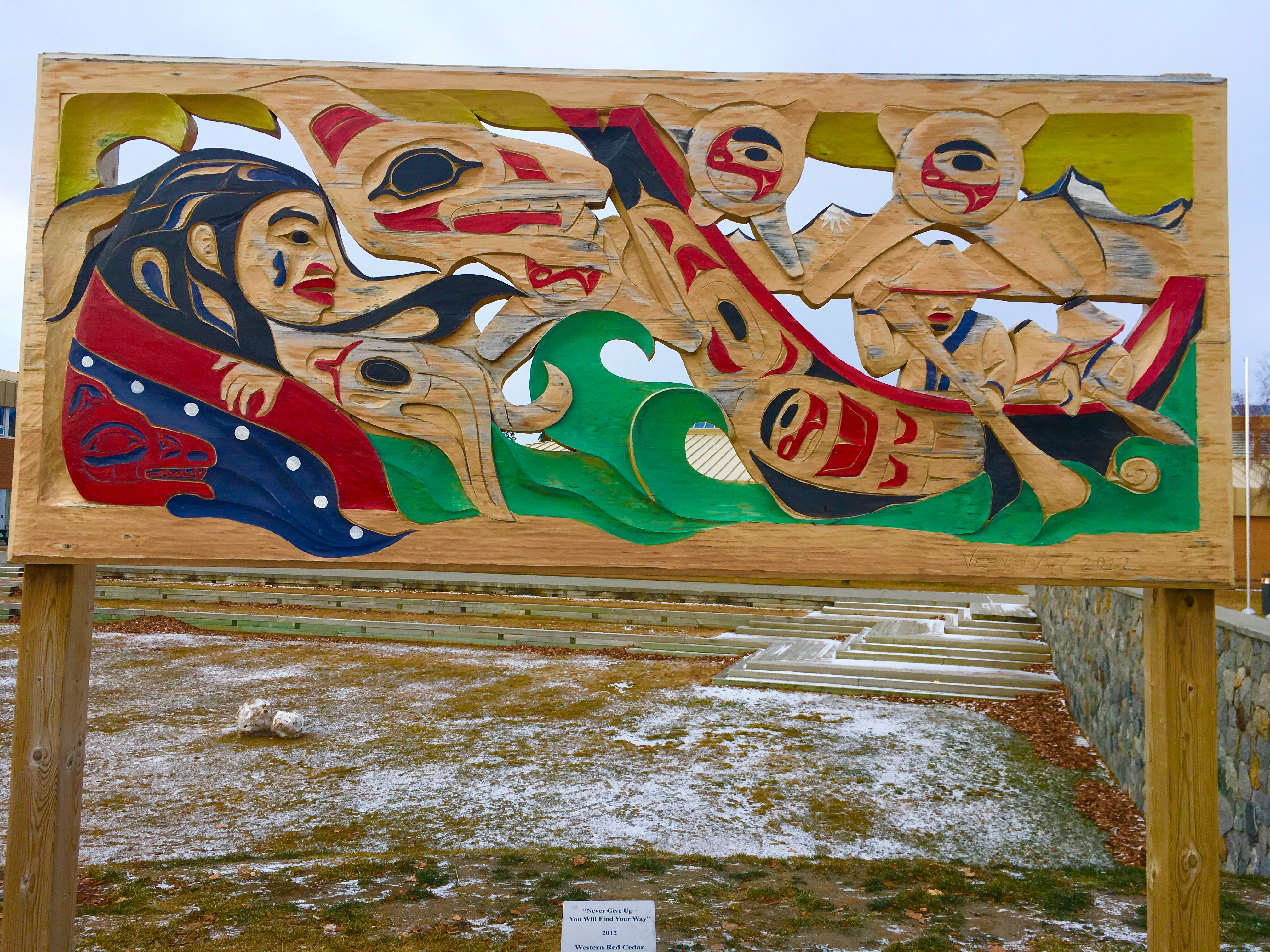 Visual art continues to be an important part of life in Yukon. Styles and types of art vary depending on the community and the artists, both Indigenous and non-Indigenous. Art shows highlighting the diversity of Indigenous art have been occurring for many years across the territory and works of Indigenous art are on display in public areas (see Figure 6.3), as well as in local art galleries, such as the Yukon Arts Centre Public Gallery. There is so much creativity in Yukon that it's difficult to name all of the talented Indigenous artists from the Territory. Art collectors and tourists, as well as many others, support Indigenous art in Yukon through the purchase of items made by local artists, including jewellery, clothing, slippers, carvings, and paintings (such as the work of Jeneen Frei Njootli (National Gallery of Canada 2019) and Joseph Tisiga (Diaz Contemporary n.d.). Contemporary Indigenous artists embrace the style and techniques of their ancestors, but also utilize new materials and modes of production. For instance, Doug Smarch Jr.'s window piece in the Haines Junction Visitors Information Centre inside the Da Kų Cultural Centre, "Ice and Fire" uses acrylic, a new material, to showcase his design (Figure 6.4).
A great deal of artistic work is exhibited at First Nation cultural centres. Two examples of cultural centres that host art exhibits are the Déslin Hà Kus Teyea Dàkhakhwân Hit–Teslin Tlingit Heritage Centre[1], located in Teslin, and the Kwanlin Dün Cultural Centre[2], located in Whitehorse. Both buildings are multi-functional and are used for hosting cultural events as well. The Teslin Heritage Centre, which opened in 2001, has a Great Hall, an Elders' room, a gallery, and a gift shop. In terms of art, "the Gallery provides a showcase for modern and traditional Tlingit arts and culture" (Teslin Tlingit Council 2017a) and, according to the Heritage Centre's webpage, "Expressions of Teslin Tlingit culture are found in the colourful masks, carvings, paintings, beadwork, button blankets, bags and other crafts made from traditional materials and modern media that are on display at the Heritage Centre" (Teslin Tlingit Council 2017a).
The Kwanlin Dün Cultural Centre opened in 2012 and has since hosted many cultural events, as it is centrally located in Whitehorse. According to its website, the goal of the centre is to "celebrate the heritage and contemporary way of life of the Kwanlin Dün First Nation" (Kwanlin Dün First Nation 2017). The Cultural Centre hosts both permanent and travelling exhibits and is becoming a popular destination for tourists.
Recently, one very popular travelling exhibit that showcased art, sewing, and examples of both historic and contemporary clothing was entitled "Sewing Our Traditions: Dolls of Canada's North" (Yukon Arts Centre Public Gallery 2009). In the past, children used toys for learning and for play. These toys were smaller versions of items that children needed to learn how to use, such as bows and arrows, tools, and weapons. They also played with balls and dolls made of moosehide (McClellan 1987). The doll exhibit was curated by the Yukon Arts Centre Public Gallery for the 2010 Winter Olympics, held in Vancouver, Canada. This exhibit included dolls from across the circumpolar world but focused on the work of Indigenous peoples in Canada. From Yukon, there were dolls from eight Indigenous groups; two of the doll-makers, Annie Smith and Dianne Smith, are pictured below (see Figure 6.5).
Other cultural centres in Yukon include: Kluane Museum of Natural History[3] (Kluane First Nation); Carcross/Tagish First Nation Learning Centre[4] (Carcross/Tagish First Nation); Tagé Cho Hudän Interpretive Centre[5] (Little Salmon Carcross First Nation); Dänojà Zho Cultural Centre (Tr'ondëk Hwëch'in First Nation); Da Kų Cultural Centre[6] (Champagne and Aishihik First Nation); Binet House Interpretive Centre[7] (First nation of Nacho Nyäk Dun); John Tizya Centre[8] (Vuntut Gwitch'in Government); Big Jonathan House[9] (Selkirk First Nation); and the George Johnston Museum[10] (Tlingit).
---