Chapter 3 – Ethnography and Traditional Lifeways
Yukon Indigenous Languages
Yukon is home to eight main Indigenous languages, each with multiple dialects: Nee'aaneegn' (Upper Tanana), Gwich'in, Hän, Dän K'è (Southern Tutchone), Dän K'í (Northern Tutchone), Tàgish, Lingít (Tlingit), and Dene K'éh (Kaska). Other Indigenous languages spoken in Yukon prior to contact with non-Indigenous peoples included Inuvialuktun, Ahtna, and Tahltan (Figure 3.4).
Language shift from Indigenous languages to English has been occurring in Yukon for many years and is a cause of concern for many people since children often learn English instead of their Indigenous language as their first language. In 1988, and again in 1991, the Yukon government conducted surveys to determine the strength of the Indigenous languages of Yukon. A summary of a recent (2004) fluency assessment by the Aboriginal Language Services reports that in Yukon there are eight Indigenous languages with many dialects[1] and all eight are in danger of vanishing; one language, Tàgish, is near extinction,[2] and another, Hän, has only a handful of speakers remaining. Most fluent speakers are elderly; few, if any, children learn their ancestral language as their mother tongue and few, if any, children enter school as fluent speakers of their ancestral language; and English is the main language of business and government and the main language used in schools and homes (2004:12).
There is hope for these languages, though, since many Yukon First Nations have developed language revitalization programs, including school classes and immersion camps, and more and more individuals are currently learning their ancestral Indigenous language as a second language (Norris 2007). Further information about Yukon First Nation language revitalization programs appears below, but first we will look at how Yukon Indigenous languages were discussed in the past and examine their linguistic families.
The Indigenous languages of Yukon have had many different names depending on who was describing them (Figure 3.5). The Indigenous peoples of Yukon have their own names for their languages in their language, just as the name for the Spanish language in that language is Español. When newcomers, such as explorers, fur traders, and missionaries, first interacted with Indigenous groups they often misheard language or cultural group names or wrote them down according to how they might spell them in their own language, which caused inaccurate labels in historical records. Another issue was that when newcomers asked one group of Indigenous people what the people up river were called or what their language was called they may have replied with an informal and inaccurate descriptor, which today might be considered offensive. The chart below shows some of the previous Yukon Indigenous language descriptors, as well as the name their speakers would call the language.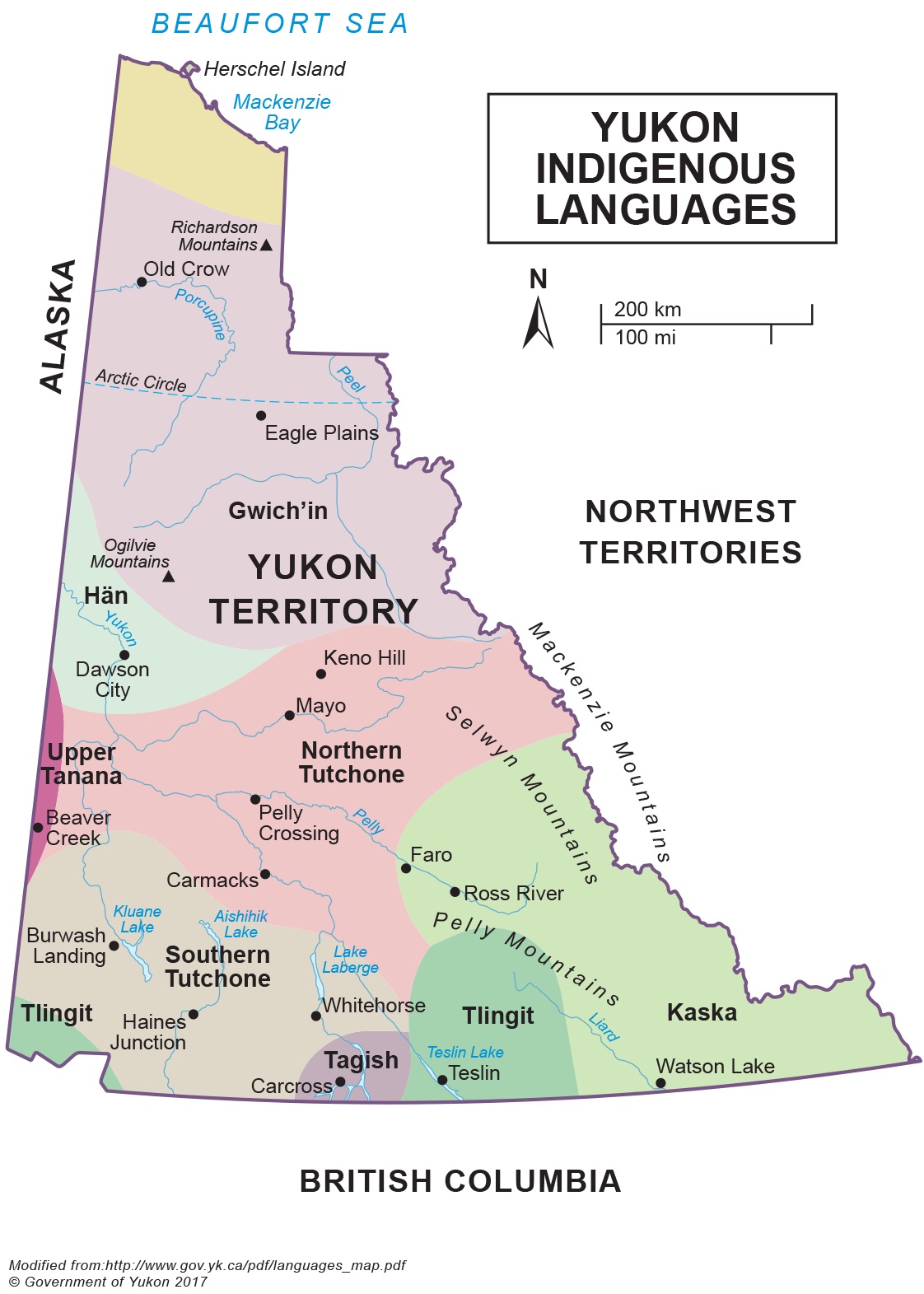 Indigenous Language Name
Popular Language Name
Other Language Descriptors
Nee'aaneegn'
Tanana
Lower Tanana, Tanacross, Upper Tanana, Tannin-Kootchin, Nabesna, Ahtna
Gwich'in
Gwich'in
Gwitchin, Gwichin, Kutchin, Kootchin, Eastern Kutchin, Western Kutchin, Loucheux
Hän
Han
Hankutchin, Han-Kootchin, Hun-koo-chin, Hong-Kutchin, An Kutchins, Takon, Gens de(s) Foux,
Dän K'è
Southern Tutchone
Dän K'í
Northern Tutchone
Tutchonekutchin, Wood Indians, Gens de(s) Bois[3]
Tàgish
Tagish
Tahk-keesh, Tahkeesh, Tahgish, Tagisch, Si-him-E-na
Lingít
Tlingit
Inland Tlingit, Taku, Takutine, Chilkat, Chilkaht, Kolosh, Kalushiani
Dene K'éh
Kaska
Frances Lake Kaska, Upper Liard Kaska, Dease River Kaska, Nelson Kaska (Tselona), KasHa, Kaša, Kɔswa, Casca, Gens de(s) Couteaux
Figure 3.5 Indigenous Languages of Yukon (The Handbook of North American Indians, Vol. 6, 1981).
All of Yukon's Indigenous languages except Tlingit belong to the Athapaskan language family.[4] Tlingit belongs to the Tlingit language family. These two families together with a third language family, Eyak (spoken in Alaska),[5] make up the Na-Dene superfamily. As McClellan explains, "The name Na-Dene comes from the Tlingit na and Athapaskan dené, both meaning people" (1987:107). Some of the Indigenous languages found in Yukon are also spoken in nearby communities in Alaska, the Northwest Territories, and British Columbia. Furthermore, languages from the Athapaskan family are also spoken in Siberia (Ket) and the southwestern United States, (including Navajo and Apache) (Vajda 2010). In relation to the idea of language families, Catharine McClellan wrote the following:
The various Athapaskan languages spoken today are so different that a [Gwich'in] speaker from Old Crow, for instance, cannot understand a Kaska speaker from Watson Lake, but the grammars and sound patterns of Gwich'in and Kaska are basically alike. Because of this, linguists are sure that both languages have come from a common source [McClellan 1987:107].
The Athapaskan languages also differ significantly from the Tlingit language, which makes it harder for an Athapaskan speaker to understand a Tlingit speaker than it is for two Athapaskan speakers to understand each other. However, as all of the languages share linguistic patterns, they are still more similar to each other than they are to languages from other language families (McClellan 1987). Since the development of the Yukon Native Language Centre in 1977, much work has been done to document, preserve, maintain, and revitalize Yukon's Indigenous languages.
Anthropologists in Yukon: Dr. Barbra Meek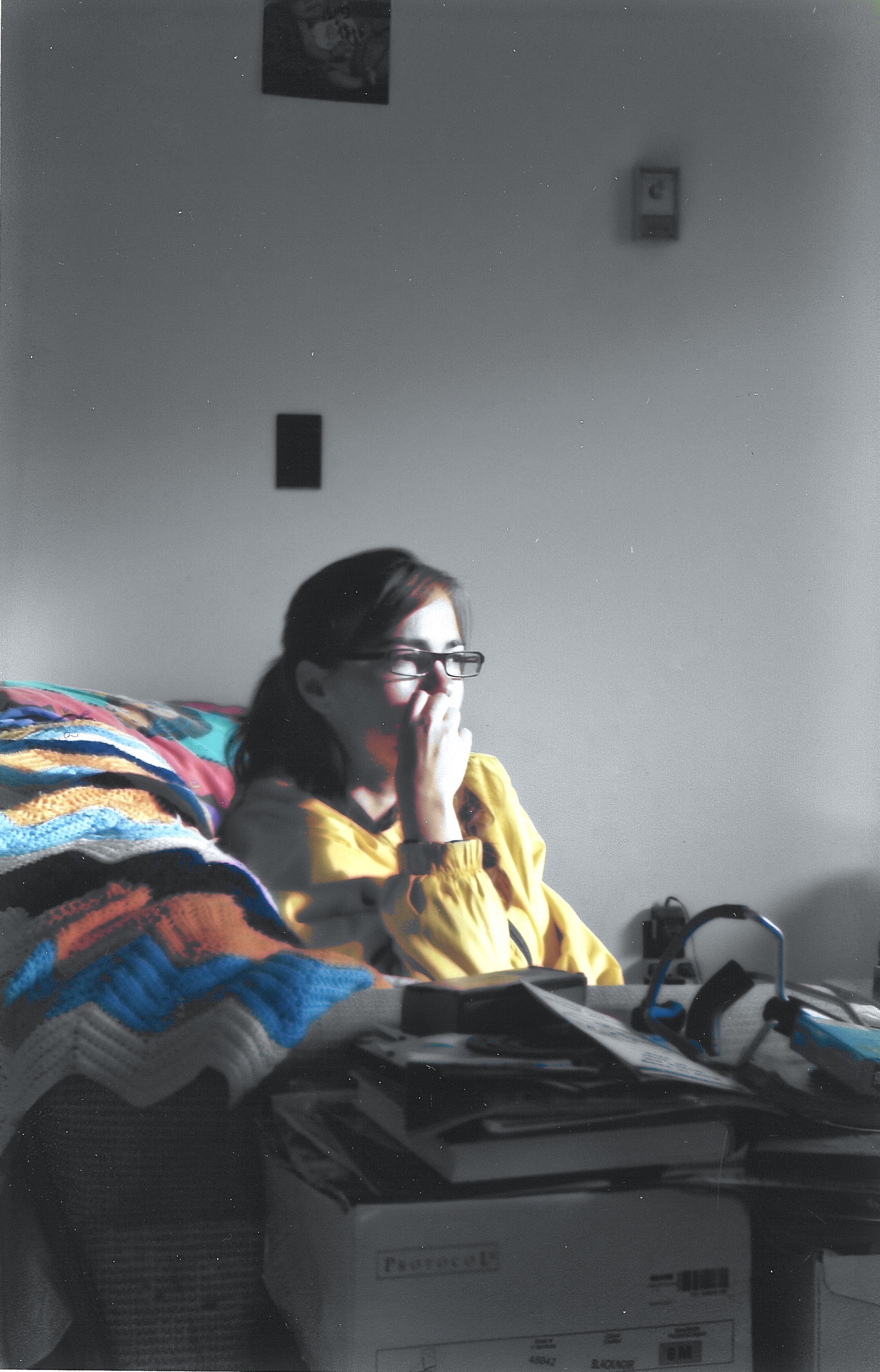 Barbra Meek, a linguistic anthropologist, first encountered Yukon on December 21, 1997–the shortest day of the year. Aboard an Air Canada flight from Vancouver, her first glimpse of Yukon was of a snow-covered landscape, mountainous in parts and icy, and her first impression was of the airport (the pre-9/11, pre-2000-expansion version); it reminded her of the airport in Reykjavík when she was on her way, solo, to live in Sweden for a year as a teenager—small yet comforting and surrounded by a seemingly barren Arctic landscape.  This impression created an immediate fondness for the place. It also helped that her husband, anthropologist Jerry Carr, was already there, had found them an apartment to rent in Whitehorse as a base, and was eagerly awaiting her arrival. He had been there since September and had already begun working with a First Nation on a narratives project.
Barbra's first steps towards working with First Nations in Yukon involved accompanying employees of the then Aboriginal Language Services (ALS), a branch of the Yukon territorial government in charge of distributing funding to the First Nations (from a cooperative agreement), and coordinating Indigenous-language projects. First Nations people were employed as staff and as ALS personnel. Everyone at ALS was enthusiastic about developing Indigenous-language programming and implementing revitalization projects. The First Nations were also open to collaborating with anyone invested in Indigenous languages. If you were interested in Indigenous languages and committed to their revitalization, it was an incredible time to be in Yukon.
Barbra has worked with individuals, First Nations, and tribal councils on a broad range of language revitalization efforts. For example, she has been involved with Kaska House of Language workshops, week-long immersion-style camps, Aboriginal Headstart programming (a play version of "Sas, sas naganhtan-a?"—a Déne translation of Brown Bear, Brown Bear, What Do You See?), text production, such as the Kaska Alphabet Book (2002), curriculum development (language exercises, verb paradigms), teaching/practising writing, and documenting Elders' knowledge. One of the significant events for Barbra during her career in Yukon was presenting a paper on Kaska language revitalization at the 2011 Athabaskan Languages Conference, which was hosted by the Council of Yukon First Nations and held in Whitehorse. Many of the people who participated in, guided, and informed her research were in the audience. Barbra wrote and presented the Athabaskan Languages Conference research paper with Leda Jules. Most recently Barbra has begun collaborating with several consultants, institutional partners, and Kaska First Nations on a "talking dictionary" project supported by a Social Sciences and Humanities Research Council (SSHRC) partnership grant awarded to Pat Moore at UBC.
Barbra sees the mutual investment she and her partners have all made in the projects they've undertaken together as one of the benefits of collaboration. The Kaska First Nations and the individuals involved in the documentation and revitalization of the Déne language were doing this work well before she arrived, working with anyone who would support and invest in their language endeavours. The fact that they were and are invested in collaborating is also an incredible benefit and reward.
Discovering new verb forms, long-ago words, novel pronunciations, or dialects: all of this is exciting. But much of the nitty-gritty grammatical work also elicits memories, narratives, reflection, and commentary—knowledge that people want to preserve and share with future generations. These individual collaborations are certainly rewarding, but a further benefit is the constant reminder of the social significance of even the smallest linguistic detail.
Another personal benefit of collaboration is how much Barbra has learned and how much remains to be learned and discovered. The task of documenting just the grammar at times seems incredibly daunting, if not impossible, but everyone involved just keeps chipping away at it. As part of this project, her team has been working to create sound files of words (nouns, verb forms) to post online so that educators and learners can access these linguistic forms and build their own linguistic repertoires.
Recently, academics in anthropology and linguistics have engaged in a growing discussion of what it means for research to have "broader impacts" or implications beyond the theoretical and methodological within our respective disciplines. While some academics are dismissive of such concerns, relegating them to "applied" status, the reality of contemporary research is that researchers don't do it alone.  All aspects of the work, from inception to publication, are the results of collaborations with people, the most significant collaborations being the ones that result in the data and evidence that motivate analyses and speak to theoretical concerns. To privilege researchers' goals over those of their field collaborators would be unethical, if not immoral, and to merely acknowledge their contributions in an "Acknowledgements" section is to vastly undervalue, if not entirely trivialize, their significance. It is the incorporation of all participants' goals into the overall research agenda that should now be labeled "broader impacts."  As Barbra states, "For many of us conducting linguistic fieldwork in the late 1990s and early 2000s in the Yukon, this approach was taken for granted; you couldn't do research any other way." Thus, one final benefit of collaborating with First Nations is the exemplary research approach these collaborations established and model.
When asked what the best part of Yukon is, Barbra replied, "Frozen tires, dried moose meat, and stick gambling… Just kidding!" She continued, "Identifying a 'best part' is difficult because it's the combination of 'parts' that makes working in the Yukon worthwhile. That is, the people I've gotten to know and collaborate with, the goals and activities we've shared, and the beautiful landscape that has encompassed our endeavours—that's the best part. I also just love the smell of Mida Donnessey's tanned moosehides, the best part of which is the memory of these experiences that the smell evokes."
Anthropologists in Yukon and Their Collaborators: Dr. Patrick Moore and Brittany Tuffs (BA, Anthropology)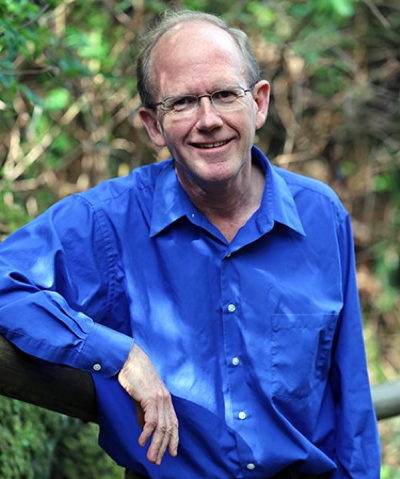 Patrick Moore began working in Yukon in 1985. Much of his work has been focused on language revitalization and language teaching. He has, for instance, organized and facilitated a Kaska narratives workshop for the Kaska Tribal Council; worked with fluent speakers to produce a Kaska, Mountain Slavey, and Sekani noun dictionary entitled Guzägi K'ūgé = Our Language Book: Nouns: Kaska, Mountain Slavey, and Sekani, Vol. 1 (1997); and co-instructed UBC Kaska Language summer courses in Kaska territory in Yukon.
Patrick's work on these projects involved collaboration with local First Nation communities, including the Ross River Dena Council, Liard First Nation, and the Kaska Tribal Council. He has also been involved with the "talking dictionary" project mentioned above by Barbra, and he has worked with the Carcross/Tagish First Nation on Tagish language projects. For Patrick, collaboration is crucial since First Nations are the main stakeholders in any language work; because they represent the local communities, they are essential for success. Patrick has learned a great deal from working with many of the administrators and Chiefs of the Kaska First Nations, as well as with the Carcross/Tagish First Nation.
Patrick's career highlights include starting the Ross River Drummers, as well as organizing a cultural exchange between the Ross River School and Tulita, NWT. Patrick also worked with Tahltan artist Dempsey Bob during a two-week workshop in Ross River. He has participated in annual training sessions for Native Language Instructors at the Yukon Native Language Centre. When asked what the best part of Yukon is, Patrick replied, "The people, the bush, the animals, the berries."
---
Brittany Jean Shelby Tuffs is an Indigenous Studies Masters student at the University of Saskatchewan. Raised in Ross River, Yukon, she is a member of the Ross River Dena Council. Her Kaska names, given to her by her grandparents, are Dāniāní' and Ehtsų̄ Mēsdzį̄hmā. Brittany first became interested in working with linguist Patrick Moore before she moved to Vancouver to complete her Bachelor of Arts in Anthropology at the University of British Columbia. Looking at the required course work, she realized that she needed a second language in order to graduate and she did not want to take French or Spanish. She started asking folks in her community if there was anyone who could teach her Kaska and some people directed her to Patrick Moore. He had worked in her community extensively and had conducted long term language research with the Kaska. "I emailed him and asked about it. He created a Kaska language course for me… it was great. I learned how to read, write, and speak Kaska more fluently." In the course she would listen to interviews he had done with Elders in Kaska and English and she would translate and transcribe them. Brittany did the language course work and transcription for three years. The materials she transcribed were loaded onto the Kaska Language Website (https://kaska.arts.ubc.ca/), a site that allows Kaska language learners access to language materials.
One of the highlights of Brittany's work with Patrick was working on a Kaska language summer session in Watson Lake. The project was supported by the University of British Columbia and the Yukon Native Language Centre. She was able to work with Elders and community leaders from both Ross River and Watson Lake. She also met some of her relatives for the first time. Brittany found it interesting that even though the communities are close in proximity, relatively speaking, "the Watson Lake dialect is quite different from Ross River." She also learned "the importance Pat places on collaboration with the community, he does a lot to work with the community, especially the Elders."
Another highlight of working on the Kaska language at UBC was taking part in language revitalization work. "It was five hours a week. I heard interviews from Elders in my community. And so, even though I was so far away at school, I was still maintaining that connection with my culture and language and people. I wasn't really talking to them but I was listening to their stories." Working with Pat also allowed Brittany to work on the online Kaska dictionary which helped her learn new skills with computers, using transcription software.
For her Master's, Brittany plans to research Kaska people's understanding of law and land. She states that Kaska legal principles and processes can be found in Kaska concepts such as ā́'ī and Dene k'éh gū́s'ān. Ā́'ī translated into English means respect or taboo. Dene k'éh gū́s'ān translated means Kaska laws. She says, "I'm looking at concepts like this and how they have guided us, the Kaska people, in our decision-making processes historically and today." Her research questions include how has settler law undermined Kaska law? How do Kaska peoples understand the land? How is the Kaska law a valid source of authority?
When asked what her favourite part of, and place in, Yukon is she replied, "My favourite thing is just going home to my community. Especially in the winter, I love Yukon winters. I miss it so much, just being with my community and family." Her favourite geographic location is Ross River Hill, "It's a place where we all get together… there's sledding and family time. If you get up high enough you can see all of Kaska land. It's beautiful. It reaffirms all of our Elder's decisions not to sign land claims. Why would you ever sell this?"
Much of this chapter so far has focused on the importance of oral histories and language – two items that remain key issues to Yukon Indigenous peoples today. In the next sections, as noted above, we discuss the descriptions of the lifeways of the various Yukon Indigenous cultures, including social organization, subsistence, technology, and spiritual beliefs. While much of the information provided below is based on early records, we also acknowledge that many of the lifeways are still thriving today, although often in a modified form.
---