Chapter 1 – Who Are Yukon's First Peoples?
There are approximately 7,700 self-identified Indigenous people in Yukon, which is about 23% of the territory's population (Government of Yukon 2014). This number can vary as people move in and out of the Territory. There are 14 First Nations in Yukon:
Carcross/Tagish First Nation,
Champagne and Aishihik First Nations,
Kluane First Nation,
Kwanlin Dün First Nation,
Liard First Nation,
Little Salmon/Carmacks First Nation,
First Nation of Na-Cho Nyäk Dun,
Ross River Dena Council,
Selkirk First Nation,
Ta'an Kwäch'än Council,
Teslin Tlingit Council,
Tr'ondëk Hwëch'in,
Vuntut Gwitchin First Nation, and
White River First Nation.
Additionally, the Inuvialuit and the Gwich'in in the Northwest Territories have land claims that extend into Yukon and overlap Yukon First Nations claims, which have been settled with trans-boundary agreements (Government of Yukon 2017a) (See Figure 1.1). There are also strong relations with many tribes in Alaska and First Nations in British Columbia. It is important to remember that the contemporary boundaries were placed on Yukon First Nations and created many separations that were not there previously.[1]
As you will see, Yukon's First Peoples have had, and continue to have, many connections, including to their own communities, their own territories, and to other Indigenous communities federally and internationally. These affiliations have been fluid over time as people's connections and relationships have shifted depending on their societal needs. In Chapter 2 we discuss the earliest connections people had to each other and to the land.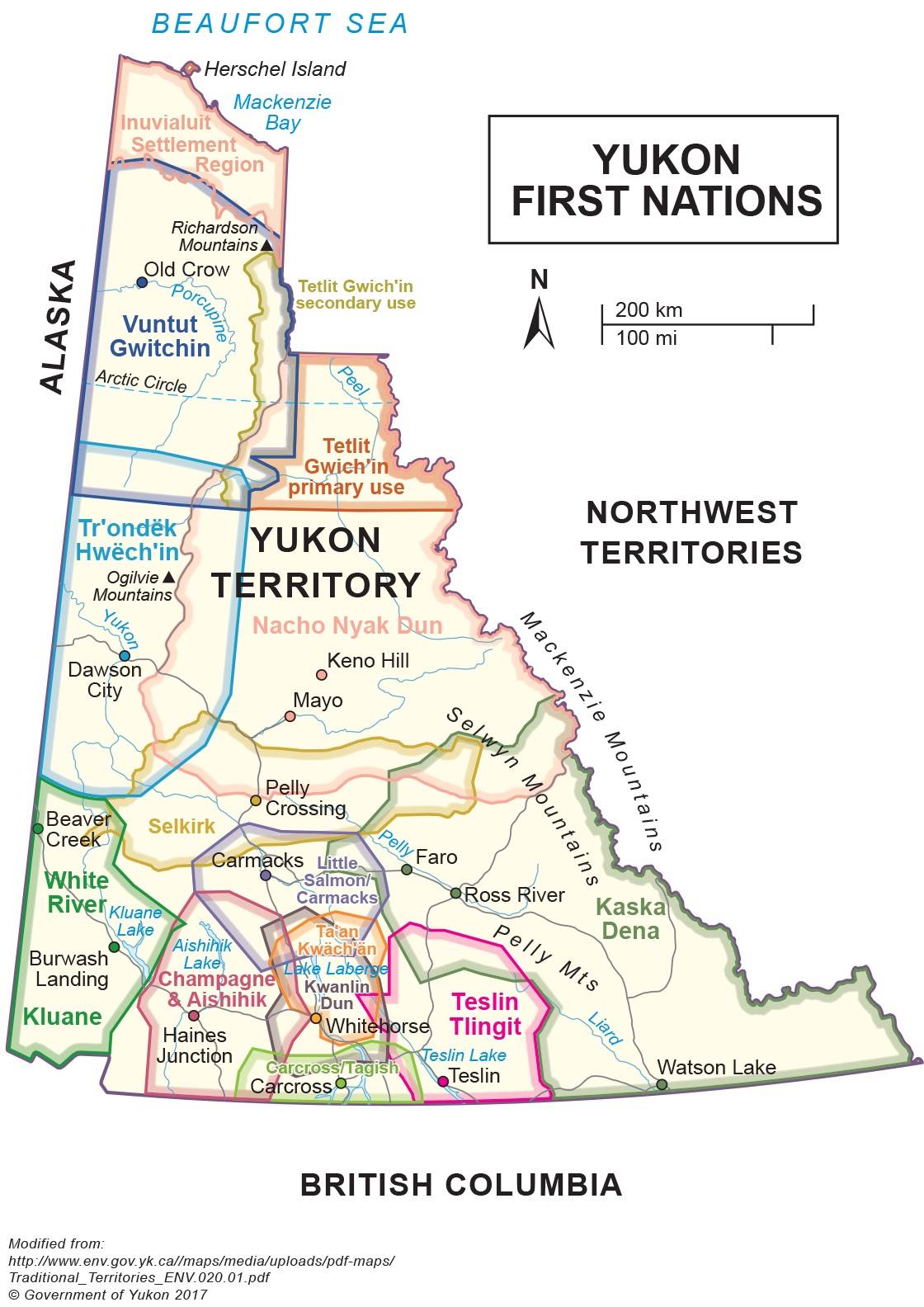 ---
The land claim negotiations with the White River First Nation (WRFN) did not result in a Final Agreement and were terminated in 2012. Consequently, the WRFN has reasserted its original traditional territory shown on Figure 1.1 (see also Chapter 5) (personal communication, Easton). ↵