Chapter 3 – Ethnography and Traditional Lifeways
The Importance of Oral Traditions
Well, [this story] is from old people, early days people. They tell that story to us. They carry the story out here and there and then like newspaper, just like newspapers. They carry this story from one generation to the other. That's how they know [Moses Tizya, August 20, 1979, VG2000-8-22:112-114, Gwich'in and English in Vuntut Gwitchin First Nation and Shirleen Smith 2009: XI].
As mentioned in Chapter 2, Yukon's Indigenous peoples have creation stories about how the land was shaped and changed over time. These stories developed through oral traditions of the many different Indigenous groups in Yukon. Some of these stories document a time when other-than-human persons walked the Earth, such as supernatural creatures or ancient animals, but others are of more recent times. These more recent stories are known by anthropologists as "oral histories" – oral accounts of events that are passed down between generations. In societies that traditionally did not have a way to write their histories, oral histories were used to make sure that people behaved according to cultural customs and learned to respect the land and the animals.
Anthropologists have long been interested in the study of myths, legends, stories, and oral histories, since these oral traditions can act as windows into a culture's worldview and tell anthropologists about who the people are, where they come from, and how they see the world. As oral traditions were a foundation for knowledge about the land and society for Yukon's Indigenous people, early anthropologists often documented oral narratives during their ethnographic research (Boas 2002 [1895]; de Laguna 1972; Emmons 1991; McClellan 2007; Teit 1919, 1921). Two anthropologists who are well known for documenting oral traditions in the southern Yukon are Catharine McClellan (Figure 3.1) and Julie Cruikshank (Figure 3.2). As Julie Cruikshank writes, "mythology differs from science, but both are organized systems of knowledge based on close study of the environment. Both systems take many years to learn, and both are perpetually open and incomplete" (Cruikshank 1991:13). Cruikshank's research documented oral histories from individuals across Yukon, and she published numerous books and articles on the importance of stories for Yukon's Indigenous peoples (Cruikshank 1990, 1991, 1998, 2005). In particular, her book Life Lived Like a Story, which is a compilation of the life stories of three Yukon Elders (Mrs. Angela Sidney, Mrs. Kitty Smith, and Mrs. Annie Ned), is well known both in Yukon and around the world (1990).[1] For more detail on Julie Cruikshank's research, see the inset box below.
Anthropologists in Yukon and Their Collaborators: Dr. Julie Cruikshank and Barb Dawson
Julie Cruikshank received a bachelor's degree in anthropology in 1967 from the University of Toronto. She had never heard of anthropology before she went to university but since it sounded interesting, she thought, "I'll sign up for that!" She had a fabulous first-year teacher and ended up majoring in the discipline. It was after her BA, through a variety of circumstances, that she first came to Yukon, helped along the way by a geographer named Jim Lotz. Julie says, "He was fantastic! I knocked on the door and he was running a small institute in Ottawa called the Canadian Research Centre for Anthropology and he welcomed me in and set me up with a desk in their library so I could learn some things about the North."
At that point in her life, Julie did not want to have a regular job and she wanted to do something related to what she had studied at university. Dr. Lotz had a contract to do a study for the Royal Commission on the Status of Women and had discovered the Commission was not conducting any research into issues concerning Indigenous women in the North. He had Julie spend a year reading everything she could, and then he sent her off to Yukon for three months in 1968. As she says, "It was a life-changing experience!" Julie remembers that people were extremely generous and were quite interested in talking about issues related to the status of women—Indigenous women particularly—because they had not previously been consulted by the Commission. Julie met a lot of people in Yukon, including many Indigenous women her own age, who became good friends. At the end of three months, she went back to Ottawa and helped to write the report. However, she really wanted to return to live in Yukon, which, she notes, is not an uncommon experience for those who come to Yukon.
She finally did move back to Yukon in the 1970s. At which point, her friends, many of whom were Indigenous women, were all in their early to mid-twenties. These women were very involved in trying to prepare the political groundwork for the land claims process. Part of the reason she got involved in oral history was because they considered it essential for someone to record life stories to support the land claims process. As oral history research was just becoming important within history and anthropology, Julie was very excited to be involved in this research project with a variety of Yukon families. She spent the next few years recording stories and preparing small booklets, which, at that point, were only meant for the families. Eventually, however, the Department of Education showed interest in developing booklets for schools, and Julie worked with several women to further develop the family booklets into school materials. For instance, Elders Mrs. Smith and Mrs. Sidney both developed books of stories that were used in literature courses and in social studies. Then the Yukon Native Language Centre, started under the auspices of the Council for Yukon First Nations, became interested in having oral history work done too, as part of their documentation for land claims. Julie spent a number of years working with the linguist John Ritter, Elder Gertie Tom, and many other Elders and younger people. Julie comments, "I was very excited that there were these kinds of projects that I could contribute to and it just seemed to me a wonderful way to be living in a community. I had no intention of ever leaving the Yukon at that point. It's a remarkable place."
When asked what some of her career highlights from working in Yukon were, Julie replied that she never thought of her work in Yukon as a career, but rather as a way of being and living in a community and being able to make a contribution. Julie went back to graduate school in the mid-1980s. By this time, there were a number of young Indigenous women and men who were interested in doing oral history documentation, which gave her the opportunity to focus on varied research questions and think about how these questions tied to anthropology and history in new ways.
For Julie, the most interesting part of her work in Yukon was working with the women Elders, who were very clear about what they wanted to do, what they thought was crucial to record, how to do work that made sense to them, and what they thought was valuable that could speak to broader audiences. They were happy when there was local interest in their work, and they also wanted to focus on what Mrs. Ned called "speaking to the outside."
Julie's work in Yukon has involved learning how to think about anthropology as part of a community process or to think about how ideas about oral history could come together in ways that worked for people locally. In her work, collaboration was the norm. Julie worked together with her research partners on the recordings they made and on any editing of the texts, and it was always a case of going back and finding out exactly what they thought was appropriate. As a result, Julie has never thought of any other way of conducting research, and she adds that increasingly the way anthropology work is done is through collaboration.
Finally, Julie says that the best thing about Yukon is the relationships between people. She has been back to Yukon every summer since she left, as it's very important for her to keep in touch. Coming to Yukon these days, then, is a chance to visit, connect, and see old friends. While she is not actively doing research anymore, she says that every day she thinks of something that Mrs. Ned, Mrs. Sidney, Mrs. Smith, or some of the other Elders said to her, and so Yukon remains a constant in her thoughts.
---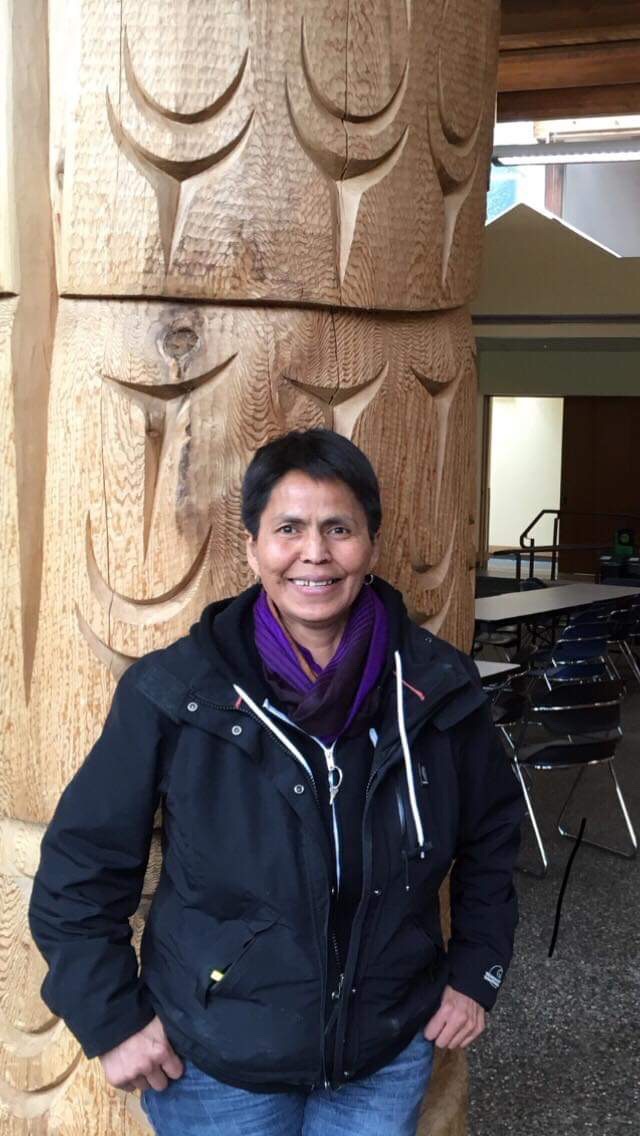 Barb Dawson completed her Bachelor of Fine Arts in Visual Arts at UBC's Okanagan campus in 2020. Barb met Julie Cruikshank, an anthropologist, in 1972, when Julie first came around to her grandfather's house to introduce herself to her grandmother. Barb was just 7 years old but has a vague recollection of that first meeting and has many other memories of Julie since that time. Barb, who is part Tlingit on her mother's side and is from the Yanyeidí clan, is from Whitehorse and was raised by her grandmother Rachel Dawson, from Selkirk First Nation. Her grandpa and grandma moved to Whitehorse when her grandma was around eighteen years of age from Fort Selkirk because her grandpa was working on the boats.
Julie came to visit her grandmother often to record Rachel's stories. Barb says that she was happy every time she got to see Julie and she'd jump on her lap, "I'd sit on her lap and she'd talk to grandma as I sat on her lap." Together, Julie and Barb's grandmother talked about her grandmother's stories from Fort Selkirk, including what Barb calls "the moral of the story – kind of stories." Julie and Rachel eventually published these into a chapter in one of Julie's books.
Barb remembers that when she was small her grandmother enjoyed the visits with Julie because they were nice visits all the time. Barb recollects that "Julie was very interested in hearing my grandmother's stories and my grandmother was very interested in telling her the stories." Once the stories were published, her grandmother kept the book in her house. Barb isn't sure how Julie met her grandmother, but likely it was through other Elders in Whitehorse that Julie was working with, Annie Ned or Kitty Smith. Barb's grandfather was also one of the hereditary chiefs from Selkirk First Nation, so he was one of the Elders that Julie wanted to talk to for her research so Julie talked to both her grandmother and her grandfather.
Some of the highlights of Barb's time with Julie include going on spring picnics out to Lake Laberge, Fox Lake, and Kusawa, and going boating there as well with family. These days Barb and Julie keep in touch whenever either visits Vancouver or Whitehorse and they make a point of being in touch. In thinking about the collaborations between Julie and her grandmother Barb remembers, "Well, I think Julie was one of the first people that came to interview a lot of the Elders and before that nobody was really interviewing Elders. What I experienced personally, having grown up with my grandmother, we would go to either Marsh Lake or Lake Laberge or wherever my grandmother's old friends would be and they would share stories amongst each other, in Tlingit, and I didn't understand it, but I would go with her and play and do whatever, but I knew why she was there. She was there to relate with the other women, catch up, and share with each other. And when Julie came along, she started talking about the [oral history] projects and my grandma was all for it because she knew that if she didn't tell her story to Julie then, you know, there wouldn't be anyone to record it. Because I guess she had the good foresight that no one was going to pay attention to her, I don't know, so it was a good thing that she did talk to Julie because now we know the stories that my grandmother was told from her grandmother or her mother."
Barb's favourite part of Yukon is being on the land. She likes to go for a hike or pick berries, moss berries. She usually spends a lot of time in Atlin, BC, and when she's there she tries to get out hiking or on the land, and this last time she was up there she went on the canoe trip from Atlin to Juneau for Celebration so that was huge. Barb doesn't have a favourite place in Yukon, for her, it's the whole place that's special, being on the land.
When asked if she has any last comments about Julie, Barb replied, "we've been friends for, I don't want to say it because it's so crazy, 46 years! Because I was 7 when she met me and I'm 35 now, so it's just crazy. It's my whole life."
---
This book won the 1992 John A. Macdonald Prize in Canadian History, an annual prize given to the best scholarly work in Canadian history published each year. ↵