Introduction
Jennifer Kong
Welcome to this ever-evolving learning resource for students and learners interested in and/or involved in Health Care Professions and Health Care Professional programs.
The goals of this resource are to:
explain the pathology underlying a selection of common ,
link the to the pathology
introduce interprofessional collaboration between health professionals that are involved in a patient's diagnosis and treatment.
This resource is a result of a collaboration between British Columbia Institute of Technology (BCIT), and the University of British Columbia on both the Vancouver and Okanagan campuses (UBC-V and UBC-O, respectively). We gratefully acknowledge the financial support for this project provided by the BCIT Open Education Grant, UBC-V OER Fund, UBC-O Aspire 2040 Learning Transformations (ALT2040) Grant, and the UBC-O Irving K. Barber Faculty of Science Curricular and Teaching Innovation Grant (CTIG).
Do I need to pay for this online text?
NO!! This resource is part of Open Education, thus making it available to everyone for free.
How was this resource funded and created?
The authors were awarded funding by BCIT, UBC-V Open Education groups, UBC-O Provost's Office and the UBC-O Irving K. Barber Faculty of Science to prepare this resource. This funding made videorecording and editing possible  by BCIT Video & Digital Media producer Ian Whittlesey. As well, this funding also allowed students from UBC-V and UBC-O to contribute to this resource (see  Authors and Contributors  at the back of this resource).  Some UBC-V students also volunteered to contribute, out of a passion for pathology & education.
Do I require a lot of prior medical knowledge to understand the information in this book?
No. You can think about this resource as a beginner's guide to a disease. Each section on a disease starts with going over the normal structure and function of an organ and then what changes occur with a particular disease. We demonstrate the changes at the structural gross (macroscopic), and microscopic levels, and functional levels. We then bring in various health professionals to talk about how they participate in either diagnosing or treating patients with a particular disease.
How will I know what I am looking at?
We have provided videos with descriptions pointing out what you are to look for. The examples used in this book often show severe instances of a disease as in these cases the changes are obvious enough for everyone to see and appreciate.
What if I come across a term I don't understand?
Terms that are bolded in red lettering are defined in the glossary. You can hover over one of these terms and the definition will pop-up below the word or term.
It seems like there would be a lot information presented. How do I know what is important? How will I know if I am actually learning anything?
Each chapter has a section outlining the key points you should learn and interactive exercises to reflect on what you are learning. Each Chapter also has a quiz at the end where you can test your knowledge.
There are a lot of videos in this resource. Why is that?
A lot of pathology is describing the changes in appearance of an organ brought about by a disease process. It is easier to point out how to look for these changes using a moving image than a still one.
I found that I wanted to learn more about a disease. Where can I find more information?
Each Disease section has links to other resources that are available under "Further Reading". This resource isn't meant to be an in-depth examination of a disease but to highlight the main features of a disease and its impact on the function of an organ and how that will affect the person with a disease.
Where are the specimens from? Can I explore more on my own?
All pathology specimens shown are from the David Hardwick Pathology Learning Centre (DHPLC) within the Department of Pathology and Laboratory Medicine at UBC.  Further  exploration of the DHPLC (either virtually or in-person) can be accessed through https://pathology.ubc.ca/dhplc/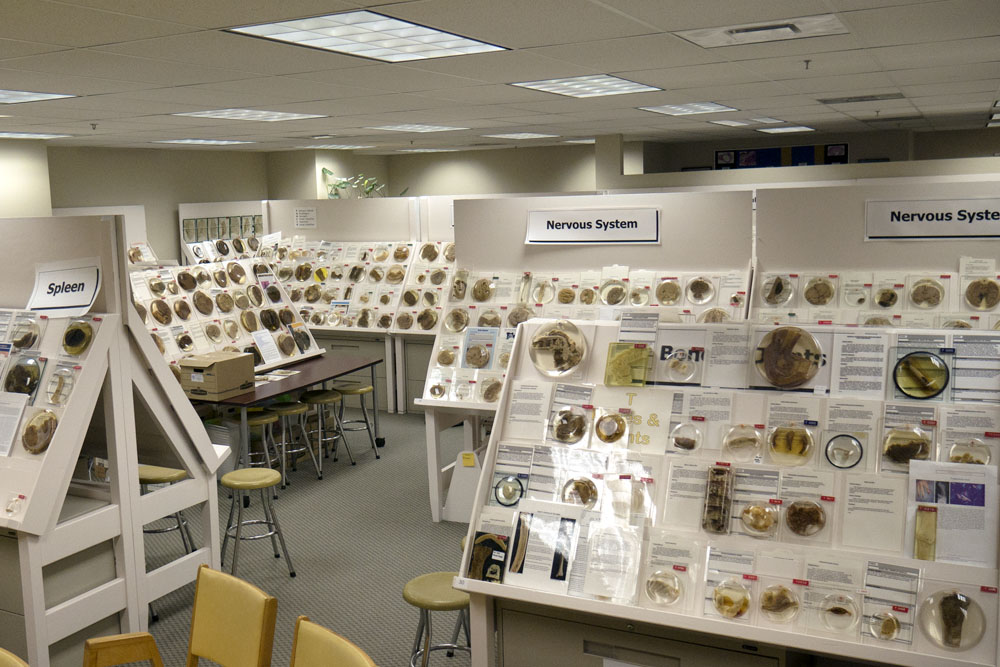 Please contact the manager of DHPLC at  dhplc.info@ubc.ca to arrange for an in-person tour or access to the virtual collection.
Pathology is the study of abnormal changes to cells, tissues and organs that negatively impacts their structure or function
symptoms that a person experiences because they have a disease